Food
National Peanut Butter Day Plus Top 10 Peanut Butter Desserts
Jan. 24 marks the annual "
National Peanut Butter Day
," in which peanut butter fanatics honor one of America's all-time favorite guilty pleasures.
Studies have shown that the average individual consumes more than six pounds of peanut products annually, and the addictive spread is considered a staple in more than 90 percent of American households.
While it is often perceived as a comfort food—cue childhood nostalgia of PB&J sandwiches—peanut butter also has several health benefits. These include the following:
• Decreases Heart Disease: Since peanuts contain fiber, diets high in fiber reduce bad cholesterol levels. The monosaturated fat found in peanut butter has been said to decrease the risk of heart disease. Vitamin E, an antioxidant associated with reduced risks of heart disease, is also found in peanut butter.
• High in Potassium: High-potassium diets can improve one's health and reduce the risk of heart disease.
• Reduces Risk of Cancer: The fiber and antioxidants found in peanut butter can help reduce the risk of cancer. Fiber helps to move waste continuously through the intestines, while antioxidants rid the body of radical activity.
• Boosts the Brain: Per two-tablespoon serving, peanut butter contains about 4.3 milligrams of niacin, an ingredient that helps prevent cognitive decline.
Aside from the health benefits of peanut butter, the ingredient is simply desirable because of its texture and flavor. This "Top 10" list features some of L.A.'s best peanut butter-infused desserts. Check out these restaurants or bakeries to celebrate "National Peanut Butter Day" in style … or whip up some of your own favorite peanut butter snacks.
Top 10 Peanut Butter Desserts in L.A.
Adam's Peanut Butter Cup Fudge Ripple
The Cheesecake Factory is well known for its grandiose cheesecake selection—in addition to its wide-ranging menu—but one of its most decadent cheesecakes is the Adam's Peanut Butter Cup Fudge Ripple. With an Oreo cookie crumb crust, the Adam's Peanut Butter Cup Fudge Ripple features a creamy cheesecake mixed with Butterfinger's, Reese's Peanut Butter Cups, peanut butter and caramel and is adorned with a dollop of peanut butter spread. This sinfully sweet dessert will attract the most hardcore peanut butter fanatics with its intense peanut butter flavors.
Reese's Peanut Butter Chocolate Cake Cheesecake
A close cousin of the Adam's Peanut Butter Cup Fudge Ripple is Cheesecake Factory's Reese's Peanut Butter Chocolate Cake Cheesecake. This dessert, however, stands taller than most cheesecakes because it contains layers of moist, fudge cake interspersed with layers of caramel and cheesecake infused with chunks of Reese's Peanut Butter Cups. Contrary to popular belief, this cheesecake is a tad less sweet than the Adam's Peanut Butter Cup Fudge Ripple, due to the spongy cake layers.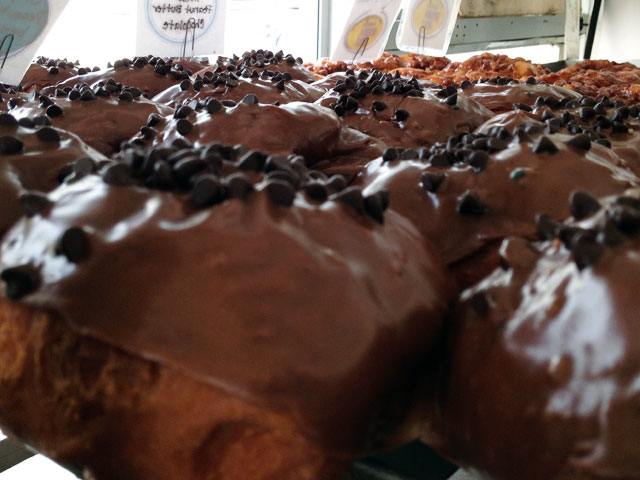 Peanut Butter Donut
Currently known as the "Huell Howser" donut—named after the late host of the "California's Gold" travel show, who raved about this creation—the Peanut Butter donut is one of the "exotic [donut] best sellers" at Stan's Donuts, located in Westwood.
"He [Howser] featured the Peanut Butter donut about four years ago on his show and people still talk about it," says Stan Berman, donut shop owner.
Berman first created the Peanut Butter donut about 45 years ago, when a customer came into his store, requesting a peanut butter donut. The customer gave Berman a jar of fresh, creamy peanut butter, which Berman ended up sealing inside the donut like "a peanut butter pocket" to retain the flavor and keep the peanut butter texture.
Today, the Peanut Butter donut at Stan's remains as glorious and indulgent as it did when it was first created. Upon biting into the chocolate-covered, chocolate chip-laden donut's exterior, customers will be delighted to taste the creamy, strong, peanut butter donut filling … which looks as if it were spread onto the donut straight from the JIF Creamy Peanut Butter jar.
Peanut Butter on Peanut Butter
Westwood hotspot Diddy Riese is well known for its reasonably priced cookies—what other store can beat the three-cookies-per-dollar price?—and equally-reasonably priced ice cream cookie sandwiches ($1.75 each). With Diddy Riese's customized menu, peanut butter fanatics can create the perfect dessert by selecting peanut butter cup ice cream to go between two soft, crumbly peanut butter cookies.
Peanut Butter 'n Chocolate Ice Cream
With 31 flavors, Baskin-Robbins is sure to have a peanut butter-inspired flavor … and its Peanut Butter 'n Chocolate ice cream does not disappoint. This creamy treat features smooth, silky, rich chocolate ice cream with a ribbon of chunky peanut butter interspersed throughout.
Peanut Butter Chip / Peanut Butter Chocolate Cupcakes
Sprinkles Cupcakes has such an extensive cupcake menu, it's no wonder that the national cupcakery offers peanut butter addicts not one, but two types of peanut butter cupcakes to choose from. The Peanut Butter Chip cupcake (available on Tuesdays and Sundays) features a chocolate chip-studded, peanut butter cake and smothered with creamy, rich peanut butter frosting and garnished with milk chocolate sprinkles. Its sister, the Peanut Butter Chocolate cupcake (available on Wednesdays and Saturdays), showcases a chocolate chip-studded, peanut butter cake topped with rich, fudgy milk chocolate cream cheese frosting and milk chocolate sprinkles. While the cupcakes contain slightly different frosting flavors, they both have one important factor in common — peanut buttery goodness in every single bite.
Peanut Butter Cup
Located adjacent to the Sprinkles Cupcakes Beverly Hills store is Sprinkles Ice Cream, serving up a list of ice cream flavors just as varied to match the cupcake varieties next door. Sprinkles Ice Cream's Peanut Butter Cup flavor in particular—comprising creamy peanut butter ice cream infused with shards of milk chocolate and peanut butter cup shards—is a decadent indulgence sure to please peanut butter fanatics everywhere (available Tuesdays, Thursdays, Saturdays and Sundays). Sprinkles Ice Cream also sells soft, chewy cookies, ranging from traditional chocolate chip to the more unique salted oatmeal cornflake. Among its cookie flavors is the Peanut Butter Pretzel Chip, featuring a creamy, peanut butter cookie mixed with crushed pretzel twists and semisweet Callebaut chocolate chips … a perfect sweet-and-salty combination.
Peanut Butter Cup Cupcake
Known for its colossal cupcakes and elaborate designs, Crumbs Bake Shop gives Sprinkles a run for its money with the Peanut Butter Cup, its take on the classic peanut butter cupcake. The Crumbs' rendition features a moist chocolate cake with peanut butter buttercream frosting and topped with crushed peanuts, chocolate chips and peanut butter cup wedges.
Chocolate Chip Peanut Butter Cream Cookie
With a mission to "take the ordinary and make them extraordinary," Xtreme Desserts takes the meaning of "dessert" to an entirely new level. One of Xtreme Desserts' most popular treats is its Chocolate Chip Peanut Butter Cream cookie. A twist on the traditional chocolate chip cookie, this dessert comprises a smooth, peanut butter cream cheese filling sandwiched between two chewy, soft, cocoa chip cookies. The untraditional cookie sandwich is topped off with a chocolate ganache drizzle.
BJ's Famous Pizookie
While deep-dish pizzas gave BJ's Restaurant and Brewery its claim to fame, equally popular and famous are the eatery's "pizookies" — warm, freshly baked cookies topped with ice cream and served in their own deep dishes. Customers can choose cookie flavors ranging from White Chocolate Macadamia Nut to Peanut Butter … and even better, undecided customers can opt for half of one type of cookie and half of another. Peanut butter lovers can turn their decadent fantasies into reality with the creation of a half chocolate chip, half peanut butter cookie pizookie topped with two scoops of creamy vanilla bean ice cream.
Interested in adding to your list of perfect peanut butter desserts? Visit the Consuming L.A. blog for more of the City's peanut butter hotspots.
Reach Kelli Shiroma here.