Los Angeles
Los Angeles Metro Riders Go Pantless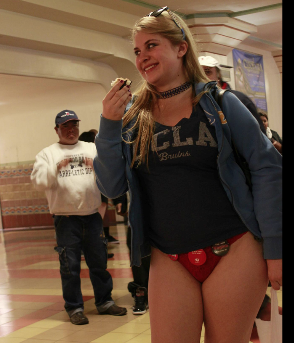 Los Angeles locals appeared pantless on Metro bus and light-rail lines Sunday despite chilly weather and flu season. Only in their underwears, people showed up from Union Station to Hollywood to celebrate the fifth annual No Pants Metro Ride. The event happens early in the new year just to celebrate wearing no pants. The idea is to have a normal day without wearing pants. People started at stations of North Hollywood, Whilsire/Western, Culver City,
Atlantic Station
and
Sierra Madre Villa
Station, and gathered in the Union Station. After that all of them went to Hollywood to take a group photo. There are no set rules, but the Facebook page for the event had said,
when asked why no pants,

it's best to give a simple answer such as "I forgot them."
The celebration also took place in San Francisco (see pictures). Meanwhile, the Wall Street Journal reported Sunday night that the national organization that advocates for public nudity is looking for a major corporate sponsor.