USC Sports
Kevin O'Neill Leaves A Complicated Legacy At USC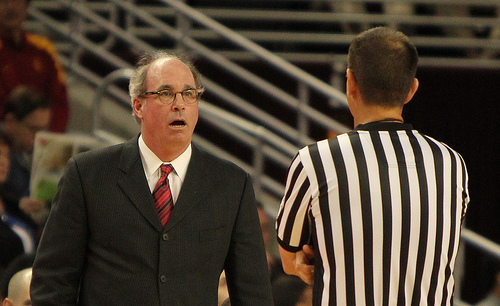 In the end, it was soft-spoken J.T. Terrell who summed up Kevin O'Neill's tenure as USC coach best.
"K.O. any day of the week is just priceless," said the junior guard with a laugh. "Just being around K.O., you never know what you're going to get. I always expect a fun time with K.O."
The fun ended Monday morning, when USC fired the bombastic 55-year-old coach midway through his fourth season.
In a vacuum, the move wasn't surprising. The timing might be, what with the Trojans playing their best game of the season in Saturday's 76-59 smackdown of Utah, during the stretch O'Neill called the team's "best basketball of the season" in a phone conversation Monday afternoon.
But the change itself seemed inevitable. This was a team built to win in the here and now, a cast of "rejects" – as O'Neill sometimes called his roster of 10 transfer players, and himself – banding together to redeem their college basketball careers, and by extension, USC basketball. The script was there for a Hollywood ending set in the shadows of Tinseltown, only the plot spun out of control in the first act.
Expected to challenge for a NCAA Tournament berth, the Trojans instead scuffled their way to a 7-10 mark to open the year, their postseason hopes all but dead in the water before Christmas. Couple that with last year's injury-fraught disaster and USC has won a grand total of 13 games over the past two seasons, the lowest mark of any power-six conference team.
There was no tomorrow left for O'Neill to sell to Pat Haden with his roster of last chancers, either, not with all of them exhausting their eligibility by the end of next season. The only play left before pressing the reset button was to audition longtime consigliore Bob Cantu in O'Neill's role, to see if the 38-year-old who has outlasted four different head coaches (five, if you count Rick Majerus' five-day stint) can rise to lead billing. And in the Monday morning haze of an 8:00 a.m. meeting, Haden opted to do just that.
We live in a world increasingly devoid of nuance and so, fair or not, O'Neill seems destined to be remembered at his worst. His epitaph as USC's coach will be that unlucky number 13, in particular the interminable grind of last year's six-win campaign. It only matters so much now that he brought the Trojans to the Big Dance just two seasons ago on the broad shoulders of Nikola Vucevic, whom O'Neill played a large role in developing from a clumsy big guy off the bench to a first-round draft pick now on his way to a breakout season in Orlando. Basketball is ultimately a bottom line business and O'Neill was the first to acknowledge that USC "just didn't win enough games" with him at the helm. Winning coaches don't tend to get fired.
As a person, he is unfailingly frank, equipped with an inclination to speak his mind and a mouth that routinely spews previously undiscovered permutations of four-letter words. If that makes him come off as gruff or abrasive, so be it; honesty is his whetstone. It just so happened that, sometimes, it sharpened more than his players' skills, the way it did in his infamous altercation with an Arizona fan before the 2011 Pac-12 Tournament.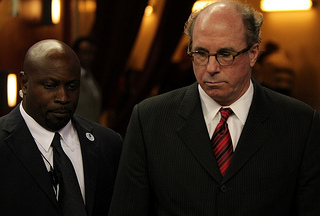 The media loved him, of course. The only thing O'Neill was more generous with than a money quote was his cell number, which he distributed as freely as an Altoid. The coarse exterior was sometimes evident there, too, but he was unfailingly accessible, willing and able to give his time to anyone who asked.
What mattered far more, though, was how his players saw him. Speculation often fell on the side of them loathing him, and some might for the way he could ride them mercilessly in practice. For what it's worth, O'Neill didn't mind all that much if they did; in his eyes, they could hate them all they wanted if they so chose, as long as they were doing it together as a team.
Yet on Monday, the kids who spent more time than anyone around that sometimes gruff, abrasive, and vulgar man appeared heartbroken. Flanking Cantu at his introductory press conference, Eric Wise looked shell-shocked, while the typically upbeat Jio Fontan was noticeably sullen. Asked about a phone call he placed to O'Neill earlier that day, Fontan couldn't help but still refer to him as "my coach."
"My relationship is a lot deeper than basketball with K.O.," said the senior point guard. "It's somebody I'll remain in contact with hopefully for the rest of my life. He taught me a lot about what it takes to be a pro at the next level, about going through life changes and how you have to fight through a lot of adversity. He's been extremely important in giving me an opportunity not only to play here but to get a degree from here."
Then there's Terrell. No one endured the brunt of O'Neill's discipline more than the North Carolina native, who yo-yoed his way from the starting lineup to the end of the bench, and back again. Nobody had those struggles aired to the media more by O'Neill, either. But the player who had the most reason to bristle instead expressed nothing less than gratitude.
"It wasn't a bad tough, it was a good tough," he said. "It was always learning, when he was tough on you. From when I first got here until now, K.O. has taught me to play a lot harder on both ends of the court. It's changed my thinking a little bit on the offensive end... everything I've learned since K.O.'s been here has been great."
And the coach himself?
As he drove up from his home in San Diego to clean out his office, Kevin O'Neill spoke of love.
For Fontan ("Jio is like a kid to me").
For Terrell ("I love J.T. He's had some challenges, and he was finally starting to get it. I appreciate with how he's dealt with those challenges and how he kept doing his job").
For his bosses ("Pat [Haden]'s a great guy. Steve Lopes. I couldn't ask for better people to work for").
For the school itself ("I liked USC. It's a great place with great people. It's a fantastic university. It's a great job. I would love to still have that job").
Most of all, for his team of rejects.
"I enjoyed coaching these guys, and I wish I could still coach them," O'Neill lamented. "They're great guys. I hope they win every game.
"I'm going to miss coaching them."
The man is complicated. The results were not, however, and so the man was fired, deservedly so. All eyes now rest upon Haden, tasked with making his first big hire as athletic director. Odds are O'Neill's successor will bring improved results, and by extension, making the Galen Center a more fun place to be.
But it's also tough to imagine that new coach, whoever he is, being more of a fun time than Kevin O'Neill.
Reach staff writer Mike Piellucci here. Follow him on Twitter here.