National
Jerry Sandusky Denied New Trial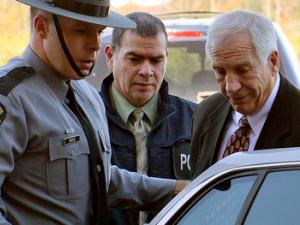 Jerry Sandusky's bid for a new trial was rejected Wednesday, after a Pennsylvania judge ruled that the former coach's defense team had adequate time to prepare for his trial last year.
According to the Huffington Post, Judge John Cleland pointed at findings by lawyers for Sandusky who determined in their post-trial review that there was no material that would have changed he proceedings.
In his decision, Cleland wrote, "I do not think it can be said that either of the defendant's trial counsel failed to test the prosecution's case in a meaningful manner."
ALSO SEE: Sandusky Has Every Right To File An Appeal
The judge also denied other motions relating to jury instructions, hearsay testimony and the prosecution bringing up media interviews Sandusky had done after his arrest in light of his failure to testify in court, determining that none of the above impacted the trial's fairness and integrity, as the Huffington Post reports:
"Cleland said the prosecution's closing was not presented in a way that 'was either calculated to, or did, create in the jurors a fixed bias toward the defendant.'

Sandusky also argued that charges should have been thrown out because they were not sufficiently specific, but Cleland said the lack of specific dates did not prevent Sandusky from pursuing an alibi defense.

'The defendant has simply argued the offenses did not happen,' Cleland said.

One of the jury instruction issues was whether Cleland should have talked to them about the amount of time it took for the victims to inform authorities that Sandusky had abused them.

'No one who has had the slightest experience with child sexual abuse or given a whit of thought to its dynamics could conclude that failure to make a prompt complaint, standing alone, is an accurate indicia of fabrication,' Cleland said."
The 69-year-old former Penn State assistant football coach was found guilty of 45 counts of child sex abuse and was sentenced to 30 to 60 years in prison last fall, bringing shame to the storied history of Penn State football and tarnishing the legacy of legendary coach Joe Paterno, who succumbed to cancer shortly after Sandusky was initially accused of these crimes.
Penn State was hit with punishing NCAA sanctions, including a $60 million fine, which state legislators are trying to keep in state with an Assembly bill, according to the Centre Daily Times. Pennsylvania Gov. Tom Corbett has filed suit against the NCAA over these sanctions, claiming they are excessive and unfair.
An attorney for Sandusky said that the next step will be to appeal to the Superior Court within 30 days.
Read more of Neon Tommy's coverage of the Penn State scandal here.
Reach Executive Producer Matt Pressberg here.