California
Jerry Brown Desires More Disciplined, Prudent California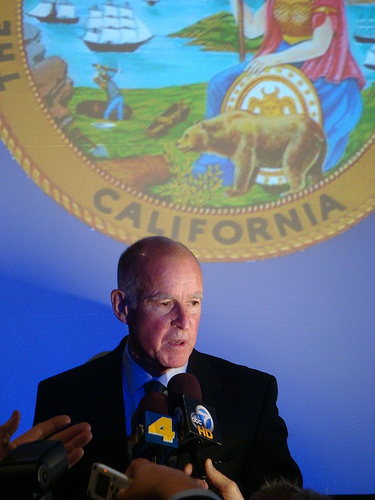 After heralding the resurgence of California during the past two years, Gov. Jerry Brown in his State of the State speech Thursday morning urged lawmakers to scale back "the coercive power of government" while still doing "big" things in the education, health care, trade, water, energy and transportation sectors.
"All around us we see doubt and skepticism about our future and that of America's," Brown said. "But what we have accomplished together these last two years, indeed, the whole history of California, belies such pessimism."
Citing the story of Joseph and the pharaoh in the Bible, Gov. Jerry Brown warned lawmakers that the seven years of higher taxes Californians entered into 2013 requires the government to both pay down debts and save up for the years of famine that might follow.
"Fiscal discipline is not the enemy of our good intentions but the basis for realizing them," Brown said. "It is cruel to lead people on by expanding good programs, only to cut them back when the funding disappears. That is not progress; it is not even progressive. It is illusion."
One of the progressive ideas in Brown's proposed budget for this year is to give extra funding to schools where he thinks students need the most help, whether because English is their second language or they come from foster homes.
"Equal treatment for children in unequal situations is not justice," he said.
Brown was clear that the state should send money for cures, though stay away from dictatating the prescriptions.
"We seem to think that education is a thing--like a vaccine--that can be designed from afar and simply injected into our children," he said. "I would prefer to trust our teachers who are in the classroom each day, doing the real work - lighting fires in young minds."
On higher education, Brown promised to let college and university students bear anymore tuition hikes anytime soon. He said he would help bring jobs to California by opening a trade office in Shanghai, China in April.
Back at home, Brown compared the cost of a water tunnel project in the San Joaquin Valley to that of the London Olympics.
"The London Olympics lasted a short while and cost $14 billion, about the same cost as this project," he said. "But this project will serve California for hundreds of years."
Reducing electricity consumption through higher efficiency standards remains a priority, Brown said. And so does building the high-speed rail network California voters approved start-up funding for in 2008. Even Morocco is building a high-speed rail line, Brown said. Like the "The Little Engine That Could," Brown said the project would get over any obstacle it faces.
"What we have done together and what we must do in the coming years is big," Brown told state lawmakers. "But it pales in comparison to the indomitable courage of those who discovered and each decade thereafter built a more abundant California."
Like reporter Paresh Dave on Facebook, follow him on Twitter, circle him on Google+ or send him an e-mail.