NFL
Joe Flacco, Colin Kaepernick First Pair Of Super Bowl QBs Never To Make Pro Bowl
(Photo via Football Schedule)
Before we can get on to New Orleans and Super Bowl XLVII between the AFC Champion Baltimore Ravens and NFC Champion San Francisco 49ers, there's this All-Star game we have to get to.
This year's Pro Bowl will be played on Sunday at Aloha Stadium in Honolulu, Hawai'i. Some are focusing on the potential demise of the game if it is played with the same intensity of a flag football game. Others are marveling about the longevity of Denver Broncos QB Peyton Manning (12th Pro Bowl), while being awed by the three rookie QBs who were selected to participate (Indianapolis' Andrew Luck, Washington's Robert Griffin III, Seattle's Russell Wilson). Personally, I look forward to watching the Pro Bowl, if only to see if this year's group of All-Stars blow the game for the future generations. I don't think they want to do that.
But in looking at this year's Pro Bowl, I thought about the quarterbacks who were either selected to play or selected to be an alternate due to injuries. There are ten Pro Bowl QBs this year: Peyton Manning, Luck, Houston's Matt Schaub, and New England's Tom Brady for the AFC, and Griffin, Wilson, Green Bay's Aaron Rodgers, Atlanta's Matt Ryan, New Orleans' Drew Brees, and New York's Eli Manning for the NFC. Of the six quarterbacks who have already won a Super Bowl, five of them were selected to play this year (Peyton Manning, Brady, Eli Manning, Brees, Rodgers). Pittsburgh's Ben Roethlisberger, a two-time Pro Bowler, was the only omission.
That is, Roethlisberger is the only omission until we know who wins this year's Super Bowl. Baltimore's Joe Flacco and San Francisco's Colin Kaepernick did not make the Pro Bowl this season, so one of them will join Roethlisberger as Super Bowl-winning QBs who did not make this year's Pro Bowl. By itself, that isn't too crazy. The last QB to win a Super Bowl without making the Pro Bowl that season was Rodgers, who beat Roethlisberger's Steelers in Super Bowl XLV while Brees, Ryan, and Philadelphia's Michael Vick made the 2010 NFC Pro Bowl team. Super Bowl XLV was also the last time neither starting QB was a Pro Bowler that season, as Roethlisberger was passed over in 2010 (no pun intended) for Brady, Peyton Manning, San Diego's Philip Rivers, and Kansas City's Matt Cassel.
But at least Roethlisberger (2007) and Rodgers (2009) had been selected to a Pro Bowl before they met in Super Bowl XLV. Flacco and Kaepernick have never been selected to the Pro Bowl. Neither has 49ers QB Alex Smith, who started the previous 26 games for the 49ers before moving aside for Kaepernick.
This marks the first time in Super Bowl history that neither team's starting quarterback has ever been selected to the Pro Bowl at least once in their career before the game. That's right - every Super Bowl before this one had at least one QB that you could point to and say that they have been a Pro Bowl player, going back to Bart Starr vs. Len Dawson in Super Bowl I. It's an especially jarring note for a game that, for the first time in 10 years, won't feature Tom Brady, Peyton Manning or Ben Roethlisberger as the AFC QB.
That makes sense for Kaepernick, a 2011 second-round pick out of Nevada who began the season as Smith's backup. Kaepernick took over for Smith after Smith suffered a concussion in the ninth game of the season vs. the St. Louis Rams. The move by 49ers head coach Jim Harbaugh (a Pro Bowl QB in 1995 as a member of the Indianapolis Colts) was reminiscent of Patriots head coach Bill Belichick's 2001 decision to stick with Tom Brady over Pro Bowl QB Drew Bledsoe on the way to a Super Bowl XXXVI win in New Orleans. Smith, the first pick in the 2005 NFL Draft, was having a Pro Bowl-caliber season (He finished with 13 TDs, 5 INTs, 6-2-1 record, 70.2% completion percentage, 1,737 passing yards, 8.0 yards per attempt, 104.1 passer rating).
Kaepernick, whose athleticism was already becoming an increasing part of the 49ers' gameplan, tied the Rams that day while winning his first two starts (MNF vs. the Chicago Bears, then on the road vs. the New Orleans Saints). Kaepernick would join Griffin and Wilson as first-year starters who have dynamic arms (10 TD passes, 8.3 yards per attempt), dynamic legs (see: Divisional playoffs vs. Packers, 181 rushing yards and two TDs, a record for QB rushing yards), and great decision-making (zero multi-INT games). Kaepernick is trying to be the third second-year QB to win a Super Bowl (Brady, Roethlisberger). Yet, he was passed over this year by rookies (Griffin, Wilson) and veterans (Rodgers, Brees, Eli Manning, Ryan).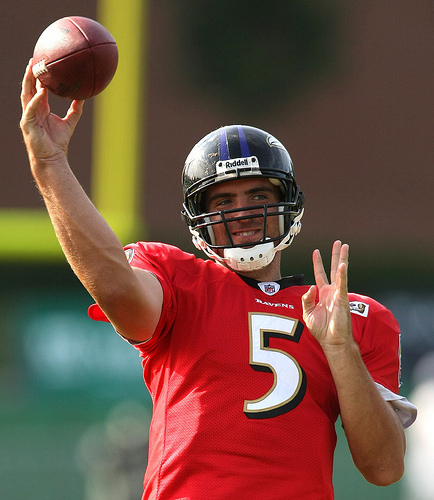 Flacco, a first-round pick of the Ravens in 2008 out of Delaware, has started every game for the Ravens since being drafted, yet has not been selected to the Pro Bowl. Flacco has a 54-26 record as a starter in the regular season, and has won at least one playoff game in every season, holding an 8-4 record going into the Super Bowl. He has more playoff road wins then any QB in NFL history.
While his stats aren't spectacular (never has thrown more than 25 TD passes or 3,900 yards in a season), they are steady (102 career TDs, 56 career INTs, 86.3 career passer rating). He has only 12 career multi-INT games in the regular season, and just two in the playoffs. His contract is up at the end of the season, and he has eight TDs and zero INTs this postseason. Yet, he was passed over the last five years by the following AFC QBs: Peyton Manning, Kerry Collins, Jay Cutler, Tom Brady, David Garrard, Philip Rivers, Vince Young, Matt Schaub, Matt Cassel, Andy Dalton, Ben Roethlisberger and Andrew Luck.
The last time a Super Bowl-winning QB had never been selected to the Pro Bowl was Eli Manning in Super Bowl XLII. Manning was in his fourth season and had never had a passer rating higher than 77. After winning the Super Bowl MVP, he went on to three Pro Bowl selections. The last time a Super Bowl-losing QB had never been to a Pro Bowl was the year before, when Chicago Bears QB Rex Grossman lost Super Bowl XLI to Peyton Manning's Indianapolis Colts. As you may imagine, Grossman never made the Pro Bowl after that. That was also the last Super Bowl that featured two starting QBs who were both playing in their first Super Bowl.
Both the Ravens and 49ers are well-represented as far as Pro Bowl selections go. The Ravens had six Pro Bowlers this year (KR Jacoby Jones, FB Vonta Leach, DE Haloti Ngata, FS Ed Reed, RB Ray Rice, and RG Marshal Yanda). The 49ers had an NFC-high nine Pro Bowlers this year (ILB NaVorro Bowman, FS Dashon Goldson, RB Frank Gore, LG Mike Iupati, OLB Aldon Smith, DE Justin Smith, LT Joe Staley, SS Donte Whitner, and ILB Patrick Willis).
In future years, there is no guarantee that Flacco and Kaepernick will have to be considered for the Pro Bowl. The last time the Baltimore Ravens were in the Super Bowl, Trent Dilfer was the starter. Dilfer had made the Pro Bowl in 1997, but like Kaepernick, he was a midseason replacement (Tony Banks was benched for not producing enough points). Like Flacco, Dilfer was a free agent at the end of the season. Dilfer wasn't even re-signed after winning Super Bowl XXXV, going on to start 29 games for the Seattle Seahawks, Cleveland Browns, and San Francisco 49ers before retiring in 2008, not making another Pro Bowl.
But then again, Flacco has proven to be an effective passer of the deep ball while avoiding interceptions and winning games. Meanwhile, Kaepernick has shown the ability to pass, run, and protect. A Super Bowl win by either of these QBs will change the way we view and value QBs, one way or the other.
And if those guys don't get Pro Bowl love in the future? No big deal. Not that either of them would want to actually play if selected. It's much better to have that week off anyway to prepare for the Super Bowl.
Reach Staff Writer Law Murray via email or follow him on Twitter.