Nation and World
Republicans Create PAC To Lobby For Immigration Reform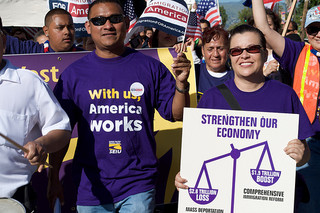 In an effort to reel in the Latino vote back from Democratic waters, Republicans Carlos Gutierrez, former commerce secretary under President George W. Bush and Charlie Spies, a Washington lawyer announced their creation of a super PAC to raise money to support immigration reform.
"This is not small ball," Gutierrez said during a press conference hosted by the National Immigration Forum.
"We're serious, and we are going to push the debates on immigration reform to a place where I believe the Republican Party should be in the 21st century."
READ: Mayor Villaraigosa Urges National Immigration Reform
Following the latest 2012 election, Republicans seemed to have realized the importance of the Latino vote, one which made up more than 10 percent of the electorate and which the GOP alienated due to their opposition to government assistance programs, healthcare and most importantly, immigration reform.
While Gutierrez is adamant about the need for Republicans to acquire a significant chunk of the Latino electorate in order to keep growing, Latino Fox News reported that neither Spies nor Gutierrez have yet to outline a fundraising goal.
"First they have to be legalized," Gutierrez said. "Then you have to find a way to get into a line for the green card. ... There will be requirements. And we'll have to negotiate some sort of requirements."
The Republican Party remains divided over the issue, however, they have called for a 'piece-meal' approach which would entail having a "series of steps" towards achieving citizenship. The Democratic Party, on the other hand, has been calling for comprehensive immigration reform.
READ: Obama Plans To Pursue One-Step Immigration Reform In Second Term
Chamber of Commerce President and CEO, Tom Donohue, told the Huffington Post that it doesn't bother him that the Republicans want a piecemeal approach:
"I believe we ought to just move forward on all of the arrangements so that ... we'll develop an understanding of all of these issues and then finally decide whether we'll do it in one, two or three pieces," he said. "That is the least of our worries, the fact is that they do it. For us, we'll continue to talk about a comprehensive bill."
Similarly, Gutierrez elucidated that he was not worried over his fellow party members' reluctance towards wide-sweeping reform. "That is the least of our worries, the fact is that they do it. For us, we'll continue to talk about a comprehensive bill."
For now, Donahue named legalization for undocumented immigrants, border security, laxer visa program and an enhanced employer verification system for immigration reform at the conference. The ultimate goal, he told ABC , should be allowing more immigrants to come to the U.S. to fulfill the needs of businesses.
"Even with high unemployment," he said, "we have millions of job openings that go unfilled. Either the workers come here to fill them or those jobs go somewhere else."
Read more of Neon Tommy's immigration reform coverage here.
Reach Executive Producer Francesca Martens here. Follow her here.