California
Secret Docs Show L.A. Church Leaders Hid Sex Abuse Cases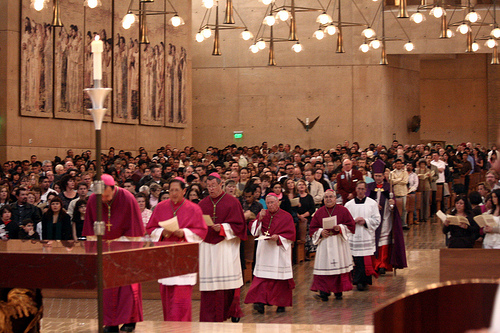 Recently released documents from the late 1980s show that Retired Cardinal Roger Mahony and other top Roman Catholic Archdiocese of Los Angeles officials concealed child-molesting priests from investigation, provided damage control for the church and kept their followers in the dark, according to church personnel files released Monday.
The once-confidential documents show church leaders moved priests out of California to avoid prosecution, as well as highlighted the leader's desires, in their own words, to prevent authorities from discovering that children were being molested, the Los Angeles Times reported.
The Roman Catholic Archdiocese of Los Angeles was forced to turn over all these documents earlier this month after a L.A. judge ruled the church must release all the names of the high-ranking church officials accused of sexually abusing children included in the confidential records. That decision also reversed an earlier ruling by a judge who approved blacking out the names of the officials to prevent further embarrassing the church, the New York Times reported.
Secret letters between Mahoney and Msgr. Thomas J. Curry, then the archdiocese's chief advisor on sex abuse cases, outline proposed strategies to prevent police from investigating three priests who had told fellow church officials that they abused young boys.
"More than 3,000 documents are used in this law suit to prove child abuse," said attorney Anthony De Marco, who represents a 35-year-old main who claims he was abused by one of the priests, in a televised interview with CBS News.
CBS reported that the 3,000 documents in De Marco's possession are only a tenth of the documents he requested. The attorney and his team are expecting to obtain the rest in the coming months.
One document from 1987 states that official Msgr. Peter Garcia had admitted to abusing about 20 young adult boys. More files show that Garcia told his therapist that he had sexually abused boys "on and off" since his 1966 ordination. Garcia left the church in 19189 and was never prosecuted. He died in 2009.
From the L.A. Times:
"The confidential files of at least 75 more accused abusers are slated to become public in coming weeks under the terms of a 2007 civil settlement with more than 500 victims. A private mediator had ordered the names of the church hierarchy redacted from those documents, but after objections from The Times and the Associated Press, a Superior Court judge ruled that the names of Mahony, Curry and others in supervisory roles should not be blacked out"
The archdiocese will release the remaining 30,000 pages detailing the actions of nearly 90 priests within weeks.
Read the whole story at the L.A. Times
Reach Executive Producer Brianna Sacks here