Entertainment News
Coachella 2013: Headliners And Hidden Highlights: VIDEO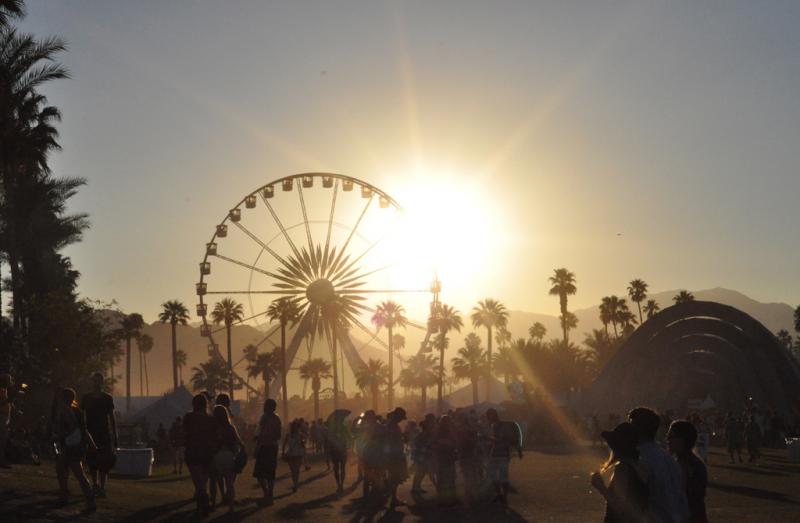 It's an interesting move, to release the
Coachella
lineup, with its alt-rock heavy acts, the night before the
Governors Ball
early bird tickets go on sale. This year, the NYC-based festival boasts Kanye West and Kings of Leon as announced headliners, which would seem more Coachella-ready than Coachella's actual opening acts are. But this isn't the same festival that had Arcade Fire, The Strokes, and yes, Kings of Leon and Kanye West as headlining acts back in 2011.
So, who are the headliners this year? Let's break them down:
The Stone Roses
Out of all the headliners for this year, the Stone Roses might be the most out of left field choice for the Indio festival. The English band was formed in 1983, when most of Coachella's current concert-going population hadn't even been born. They broke up in the mid-'90s, but as of 2011, they're back together, and while they performed together for the first time in years in May of 2012, this is the year that they're making their grand reentrance into the musical conversation.
The Stone Roses' entry in the Coachella lineup might be bigger news for music fans across the pond than the SoCal population though, since the band has a kind of nationally recognized status there that, well, they just don't have here. That's not to say that their style of Brit rock won't be enjoyable for us Yanks, but that their inclusion as a headliner is an interesting choice on the part of the festival planners.
Speaking of bands that are bigger in the UK than the US...
Blur
Okay, that wasn't a fair statement; as part of Gorillaz, Damon Albarn has thoroughly embedded himself into contemporary global music history, if only for the fact that "Feel Good Inc." was the default album printed on iPod packaging during the height of the iPod's (now the iPod Classic) popularity.
But Blur, like the Stone Roses, definitely has a more storied career and impact on British music than American music, though both acts heavily influenced American alt rock acts. And indeed, there would be no Gorillaz or The Good, The Bad & the Queen without this iconic group. '90s British rock music was a battle between Oasis (of "Wonderwall" and Gallagher brother tension fame) and Blur—a battle which this writer personally thinks Blur won.
Phoenix
This French band's inclusion in the lineup has some people scratching their heads as well, but their inclusion definitely has basis. While it's only their most recent album, "Wolfgang Amadeus Phoenix" (released in 2009) that caught peoples' attention with such poppy singles as "Lisztomania" and "1901," the band's been around since 1999. Additionally, they scored Sofia Coppola's Hollywood meditation film, "Somewhere," though admittedly, singer/frontman Thomas Mars is now married to the director.
But Phoenix is arguably on the same level of indie rock/pop fame that Arcade Fire is, though the Fire got a signal boost after "The Suburbs" won Album of the Year at the 53rd Grammys. While the same won't be happening with Phoenix's upcoming April 2013 release, the band's still more than capable of holding onto the Saturday headlining spot, even though bands like Sigur Ros, New Order, and the newly-regrouped The Postal Service are also playing.
...no, the Postal Service should still be headlining. But that's just one person's opinion, and the French band doesn't disappoint live.
Red Hot Chili Peppers
RHCP is a band's band. Every member has attained legendary status in the rock world, and for good reason. Whether you're a fan of the mad stylings on "Blood Sugar Sex Magik" or the more introspective but still musically innovative tunes on "By the Way" (or hell, even if you just like to belt out "Dani California"), you've fallen under the spell of the band's inimitable blend of punk, funk, and psychedelic rock.
Not into the headliners? Don't worry, there are plenty of amazing supporting performers filling out the rest of the lineup. Groups like Modest Mouse, Vampire Weekend, Yeah Yeah Yeahs, and Franz Ferdinand are all solid acts that straddle the line between indie/cult and the mainstream, and older musicians like Violent Femmes, Paul Oakenfold (who's one of only a handful of hardcore EDM performers this year), Lou Reed, and the motherf*cking Wu-Tang Clan will hopefully show up these young whippersnappers.
But if you're looking for something a little different, might I suggest these 5 acts. Whether older or right out of the gate, hip-hop or smooth electronica, these performers are worth checking out.
Four Tet
Kieran Hebden, aka Four Tet, is a British musician with a penchant for making really chill music. We're not talking vocal trance levels of smoothness, but Four Tet's music has a glassy, reflective quality to it. That's not to say that there's no uumph behind his tunes; "Pyramid" is a rolling and grooving track that really suits Coachella's expansive desert aesthetic. If you're looking for electronic music with less pop influence and more experimentation, Four Tet's your jam.
Purity Ring
Another electronic act, Purity Ring's got a more witchy style than Four Tet. The Canadian duo sounds a lot like another one of their countrywomen, the occult-inspired Grimes, if Grimes played around with the instrumentation of her songs more. The band's reliance on dub bass adds a heaviness to the free floating vocals, and that sound dichotomy, combined with their glistening production, makes for a heady listening experience, which would be perfect for a dry desert night.
The Neighbourhood
The LA-native band earned the love of local music fans (even KROQ noticed) with its catchy, sexy single "Sweater Weather," and while they've been playing locally at shows like Bloomfest, this might be their first big time festival gig. They don't have any albums out yet, but their EP "I'm Sorry..." is a great slice of aurally sun-drenched California sound.
Wild Belle
Can't lie, I only heard about this band via the film "Pitch Perfect." But hey, plenty of bands get their big breaks through music and TV, and it'd be great if Wild Belle could parlay their film appearance into more recognition. With a debut album, "Isles," coming out in March of this year, this could be a chance to see the band in their nascent state, before their reggae- and funk-inspired music gets picked up by everyone else.
El-P
Jaime Meline has been in the hip-hop world for a while, and while he hasn't reached the success even of fellow Coachella attendee 2 Chainz, El-P definitely has a cult following of socially conscious hip-hop enthusiasts. It's a warranted following, for his songs have consistently slick productions that could stand on their own as instrumental tracks, but his lyricism, symbolism, and delivery are not to be overlooked. Meline is a fantastic urban storyteller, and he can do it all without boasting broad assertions of endless swag, guns, and girls.
Coachella has been a little crazy these past couple of years, with its two weekend setup, hologram experiments, and seafaring adventures. It appears that the festival's taming things down a bit in terms of the lineup this year, but as music culture focuses more and more on festivals, and other festivals like Austin City Limits and Lollapalooza compete for prestigious and unique lineups, it'll be interesting to see what the reviews from Indio are like come April.
Reach Music Editor Lilian Min here; follow her on Twitter here and on Google+ here.