National
Boy Scouts Take Step Toward Revising Ban On Gays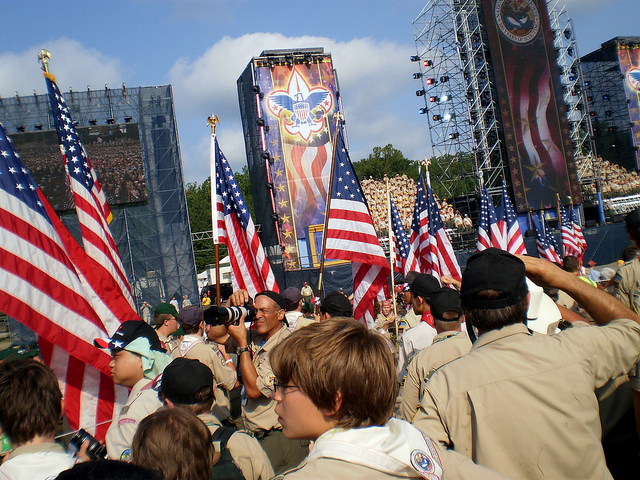 The Boy Scouts of America announced Monday that they were considering revising their ban on gay members. The change is a shift for the Boy Scouts, who went before the Supreme Court in 2000 to defend their right to keep gay members out and succeeded.
According to CNN:
"In the Scouts' statement Monday, the group indicated that the national board may consider passing any decisions on gay membership to the local level. Each troop's charter organization would be able to decide 'consistent with each organization's mission, principles, or religious beliefs.'

'The policy change under discussion would allow the religious, civic, or educational organizations that oversee and deliver Scouting to determine how to address this issue,' the statement said."
The move would presumably allow local Boy Scouts' organizations to make a decision on allowing gay scout members on a case-by-case basis, though some cautioned that would limit the effectiveness of the change.
Despite the organization's previously staunch opposition to allowing gays, the decision to rethink the policy is not much of surprise given the amount of pressure on the Boy Scouts in recent years. From the Wall Street Journal:
"The Scouts' turnabout highlights how quickly American attitudes on gay rights are shifting. Last year, President Barack Obama publicly supported same-sex marriage, and voters in three states decided to permit gay weddings.

The move also shows the growing influence of gay-rights groups and their backers. Throughout 2012, the Scouts were lobbied by organizations that collected more than one million signatures asking it to overturn the ban. Amid the tumult, several major corporate donors pulled their support from scouting organizations."
The gay rights group GLAAD applauded the move as a positive step forward against discrimination. Conservative groups have said the move would undermine the moral intergrity of the Boy Scouts.
Reach Executive Producer Salomon Fuentes here; follow him on Twitter here.