National
Updates: Alabama Boy Held Hostage Underground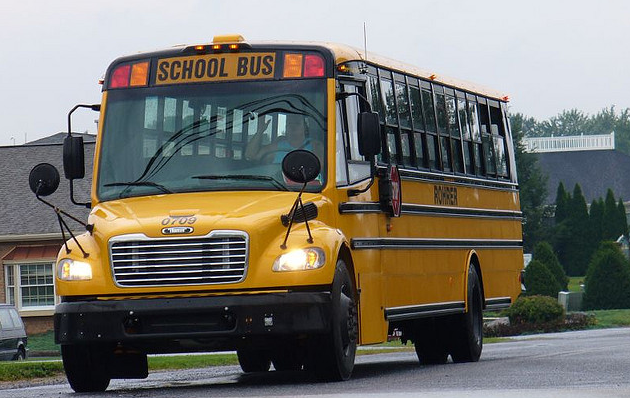 A kindergartener named Ethan, who was abducted from his school bus on Tuesday in Alabama, is believed to be in an underground bunker, held hostage by a gunman who shot the bus driver as the other 22 children on the bus ducked for cover.
CNN reported that the suspected gunman is 65-year-old Jimmy Lee Dykes, a Vietnam veteran and a retired truck driver. Dykes had been digging a hole on his property for a year and a half, telling neighbors he was building a storm shelter. But it was suspected that his "shelter" had other purposes:
"His friends and his neighbors stated that he did not trust the government, that he was a Vietnam vet, and that he had PTSD," said Tim Byrd, chief investigator with the Dale County Sheriff's Office, to the Southern Poverty Law Center's Hatewatch. "He was standoffish, didn't socialize or have any contact with anybody. He was a survivalist type."
On Wednesday, Dykes was scheduled to appear in court after firing two shots at his neighbor's truck that hit a dirt speed bump Dykes had built across the road.
Authorities told CNN that they were certain Dykes did not know the boy whom he abducted. Local authorities and the FBI still surround Dykes' bunker as the standoff goes into its third day.
UPDATE (7:15 PM): Alabama state senator, Harri Anne Smith and State Representative Steve Clouse, who have met with Ethan's mother, reported in a television interview early Thursday morning that food and Ethan's autism medication were delivered to the bunker through a 60-foot plastic pipe.
WATCH: Hostage's family "holding on by a thread."
National anxiety has risen over yet another school-related shooting and in Midland City, Alabama, where the shooting occurred, a debate has sparked over whether or not bus drivers should be allowed to carry guns.
National news media are posted on the scene, awiating developments. The people of Midland City continue to pray that the situation is resolved safely.
Find more Neon Tommy coverage on gun control here.
Reach Executive Producer Paige Brettingen here. Follow her here.
Reach Executive Producer Francesca Bessey here.