USC Sports
Women's Basketball: UC Davis Drains 14 Threes, Extends USC's Losing Streak To 4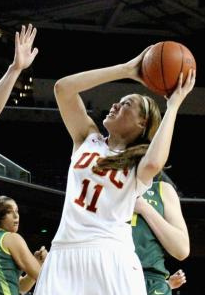 The losing streak extended to four games for the Women of Troy Friday night, and it wasn't pretty.
The UC Davis Aggies made 14-of-26 three-pointers and managed to hold on for a 78-69 road upset.
"We had some defensive breakdowns that left them open for easy shots," said USC associate head coach Daron Park, who was filling in for Michael Cooper during his one-game suspension. "They shot the ball extremely well from the three today and really kind of fed off of that."
USC forward Cassie Harberts attributed the surrendered three-pointers to poor communication: "If we're in a press, it's going to be really, really important that we talk out who gets which man."
"You just have to match up with whoever's around you, and we didn't do that.
"We always ran back to our specific player, and that just leaves them wide open shots. Tonight, they knocked them down."
The Aggies scored 42 of their 78 points (nearly 54 percent of their total output) from beyond the arc. The team's leading scorers, Cortney French and Sydnee Fipps, combined to convert eight of 12 three-point attempts, and Blair Shinoda and Idit Oryon contributed five additional treys.
In short, the Aggies made it rain all evening, with seven three-pointers made each half, and the Women of Troy's zone defense had no answer.
The Women of Troy were able to whittle down the Aggies' biggest lead of 17 once they switched to man defense and began bringing intense full-court pressure. USC got to within four points with 1:30 remaining, but had dug too deep of a hole for itself.
"I think we were on the road to coming back," said Trojans guard Brianna Barrett, who recorded eight steals and seven assists in the defeat. "We had some minor little breakdowns on our run, our offense…we had to keep pushing it, some missed shots, but we had a chance."
USC's leading scorer, Harberts, was limited to five rebounds and 10 points on just six field-goal attempts, well under her average of 11.5 field-goal attempts per game.
Opposing defenses have increasingly game-planned against Harberts by collapsing the paint with defenders. "Yeah, it is frustrating," said Harberts, "but if that's how teams are going to play us, then our team needs to find a way around that. If I can't score all the points, (I should) at least get a touch and then I can play the inside-out game."
Guard Ariya Crook led the Women of Troy with 18 points off the bench, but shot 38 percent and missed one of five two-point shots.
At times, the Women of Troy have struggled to come together as a unit.
"Sometimes it feels like we're all a team and sometimes it feels like five individuals," said Harberts. "Tonight was the one of the nights it felt like five individuals."
There's no rest for the weary, as the Trojans face the No. 4 Duke Blue Devils at noon Satruday. Park said the team would watch the first half of Duke's Friday night game against Cal State Bakersfield (UPDATE: Duke won 97-63) to "get a sense for them live." After that, he said the players would go home for some much-needed rest. Shootaround begins at 7:15 a.m.
Despite the Women of Troy's countless mistakes Friday night, they almost managed to pull off a comeback victory. Against a top-5 team like the Blue Devils, however, their margin for error will be slim to none.
"I know if we come and play the basketball that we can play, we have a chance to compete with them tomorrow and possibly win," said Harberts.
"But if we come out and we get down by 15-20 points like we have been in the past four games, they're going to blow us out of the gym."
Reach Senior Sports Editor Aaron Fischman by email, or follow him on Twitter.