Los Angeles
Will Bacon-Wrapped Hot Dogs And Other Street Food At Last Be Legalized In L.A.?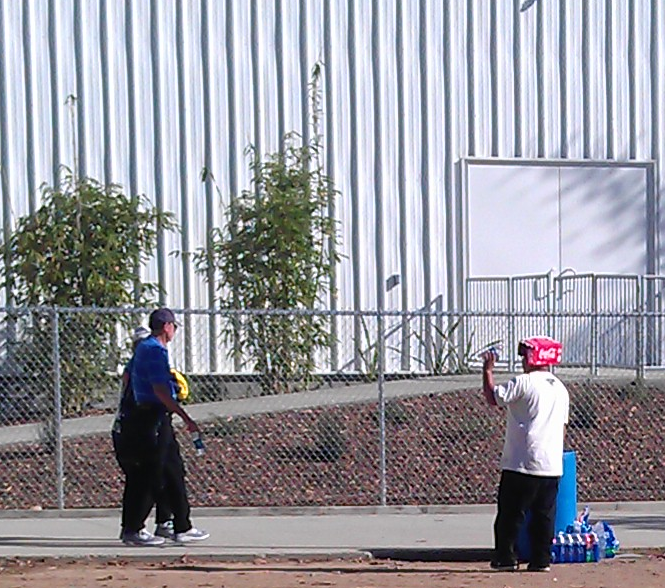 Along the sidewalk behind the metal shed in Exposition Park housing the space shuttle Endeavour, Luis Delgado shakes his head while staring at a waist-high plastic barrel filled with water bottles.
"Never again, never again," he says midway through his first experience violating the Los Angeles city ordinance banning the use of sidewalks to sell food, drinks, watches, toys or anything else.
Delgado normally vends from his family's two food trucks, which are legal in the city. However, the Hot Wheels-version of food trucks--self-rolled carts and coolers--are not.
Even the few vendors who secure a $671-a-year permit from the county can receive fines of a few hundred dollars or community service if city street inspectors or Los Angeles Police Department officers catch them selling on a sidewalk. The prohibition is designed to ensure clear paths for pedestrians.
Separately enforcing state food preparation rules, county of Los Angeles officials confiscate carts from vendors who don't have permits certifying that their carts have features such as sinks with running water. Few vendors in Los Angeles, the county's largest city, seek permits because of cost and hassle.
Delgado is breaking both the sidewalk and permit laws this Saturday afternoon. He brought his wife, eight-year-old son and four-year-old daughter to help him sell $150 worth of drinks to some of the 93,000 people heading toward the Los Angeles Memorial Coliseum for the final college football game at the stadium in 2012.
Delgado always wanted to sell on gamedays. But squeezing a food truck through the crowds was impossible. He decided to try sidewalks sales when he saw an old lady swarmed by customers during a family visit to the Endeavour days earlier. Though Delgado's fitted the flimsy cardboard box for a 12-pack of Coca-Cola atop his bald head to shield it from the midday sun, sweat still collects on his forehead. He's frustrated by the heat. He's confused by the lack of drunk customers clamoring for $1 water bottles. And he's especially worried about cops nabbing his merchandise.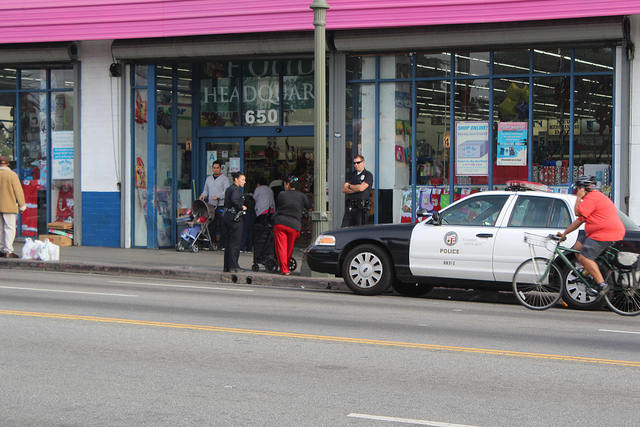 This summer, groups advocating primarily for Latino immigrants renewed an effort to legalize sidewalk sales of food, including burritos, mangos, hot dogs and Mexican sodas. Similar pushes have failed at least twice since the 1980s immigration wave fostered street food centers across the city, from San Pedro to Pacoima. The sound of police sirens on a recent Tuesday afternoon in MacArthur Park--another hotspot--sent a lady selling hand-rolled chicken quesadillas fleeing into a nearby alley.
"We feel like this should've happened yesterday, so there is an urgency to make this happen as soon as possible," said Rudy Espinoza, one of the legalization effort's leaders. "If we don't, there's still going to be tons of people hiding in the shadows."
The Los Angeles Police Department and 10 county public health inspectors regularly enforce the pair of vending laws when their binders, organized by police divisions, fill with complaints. A county official said anonymous complainers include people feeling ill after eating street food, food truck and restaurant owners, and residents "tired of the rats, grease, flies and cats" that trail carts. The county launch 21 food-borne illness investigations related to street vendors in fiscal year 2012.
Days after sweeps by authorities though, vendors who have no other employment return to business. About 4,400 vendors, or a dozen a day, received citations from the county in fiscal year 2012. They surrendered 1,407 pieces of equipment, such as coolers and carts. Five vendors faced criminal prosecution in court. Meanwhile, LAPD doesn't track the number of violations of the city's sidewalk vending ban.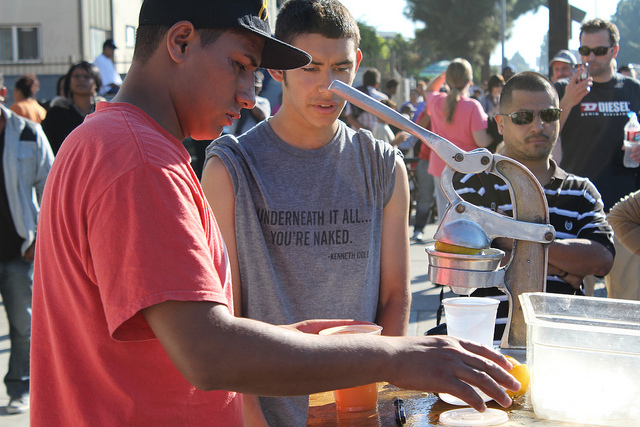 On Sept. 22, two county public health inspectors fanned out across Exposition Park during a three-and-a-half-hour span as the University of Southern California battled the University of California in front of 83,000 people inside the Coliseum.
County records show the early evening sweep came in response to an anonymous complaint received three months prior about permit-less vendors selling food "from carts and strollers" in the park on weekend afternoons. With a handful of police officers as bodyguards, the inspectors cited one ice cream cart, three coolers filled with water and soda and 15 makeshift grills on wheels topped with bacon-wrapped hot dogs and grilled vegetables.
All but one of the 19 vendors disappeared into that crowd before an inspector could get his or her name. Written on the inspection reports in the name field was the word "Abandoned." The inspectors trashed a few hundred pounds of hot dogs, buns, ketchup and relish. They transported carts, coolers and propane-fueled miniature grills to an impound room whose location a county official refused to disclose. Confiscated metal eventually is sold to recyclers, generating about $8,300 annually in revenue for the county.
Vendors whose supplies are tossed borrow money from friends or dig into savings to find the $150 it takes to furnish a new cart. About one in six vendors actually provides a name to inspectors and requests a hearing to get equipment back. But just one in five of them attend hearings--a total of 146 vendors in 2011.
Three weeks after that Saturday afternoon, it's another gameday. An elderly Latino woman sells sodas from a baby stroller. Five Latino men with steaming-hot trays full of hot dogs eye potential customers. An African-American man, who had collected drinks and food left behind by tailgaters hurrying to the stadium, now sells those superfluous supplies back to passers-by on a different Saturday. All told, fans see no difference in the number of vendors.
"It's convenient, right on the way to the stadium," said Jack de Guzman, an Orange County resident who's been eating bacon-wrapped hot dogs in Exposition Park six times a year for six years. Gripping his hot dog near where vendors had been cited two months ago, de Guzman calls them "entrepreneurs." Behind him, two vendors flip hot dogs bought from a supermarket, filling the hectic park entrance with their soothing aroma.
The case against these small business owners and their homemade delicacies has rested on two fronts: their negative impact on sales at fast-food restaurants in front of which they park and the assumption that all the vendors are illegal immigrants. Espinoza and other organizers call those arguments unfounded because no studies have been done to validate them. Instead, the activists are attempting to reframe the discussion as one about creating safer streets, delivering healthy food in areas where it can be hard to find, and creating jobs.
In mid-November, organizers met with owners of restaurants in West Los Angeles. Espinoza said the restaurateurs acknowledged that street food vending adds vibrancy to Los Angeles. He cited his own experiences near his Exposition Park office. Streets lined with vendors at night feel less scary than empty ones. "It makes a place out of a street," Espinoza said.
The city says the ban promotes safety too. "We need to ensure there's four feet of passable sidewalk at all times for people to properly use the sidewalk," said Gary Harris of the city's Bureau of Street Services during a recent radio appearance.
With consent from L.A. Mayor Antonio Villaraigosa to explore legalization options, the city's Food Policy Council nonetheless has begun drafting a proposal it hopes the city council considers next year to specifically allow the sale of food on sidewalks. Espinoza said the majority of the coalition involved with Food Policy Council on the legalization effort is "sympathetic to all entrepreneurs, but that food was the focus though "because we're concerned about the health of our communities."
The council includes one of the mayor's top legal advisors, business leaders and professors from local universities who have expertise in urban policy. Occidental College instructor Mark Vallianatos said studies show it's challenging for people without cars to buy fresh fruit and produce. Most of this car-less population also lives in areas where food carts thrive. If the city permitted sidewalk sales, it could reward sellers of healthy items with discounted permit fees.
"It's equally as illegal (on a sidewalk) to sell an orange as a bag of chips," Vallianatos said. By legalizing vendors and incentivizing the sale of the orange over the chips, the city would start to solve "the inequities in access to healthy food," he said.
Nearly 200 sidewalk vendors have heard the legalization pitch in recent months across community forums in Boyle Heights, MacArthur Park, Northeast L.A. and South L.A. The fifth and final forum will be at the Pacoima Library at 6 p.m. Dec. 11.
Organizers say the preferred policy would allow food carts to roam almost everywhere. The vendors still would have to comply with the state rules about food preparation. "They want to work," Espinoza said. "They understand they have to pay some sort of fee. They want to participate in the formal economy."
Getting councilmembers on board will be the next step.
"We are way overdue to do something to help (the vendors) out and to support our local businesses," councilman Jose Huizar said, noting all stakeholders would have to be involved.
Of the country's 10 most populous cities, Los Angeles is the only one without any legal street vending, according to a report in 2010 by an Oakland-based health advocacy group formerly known as Public Health Law & Policy. To be sure, some other cities remain as restrictive as Los Angeles. Las Vegas toughened its ban on street vending this summer, increasing a small administrative fine to a misdemeanor punishable by a $1,000 fine.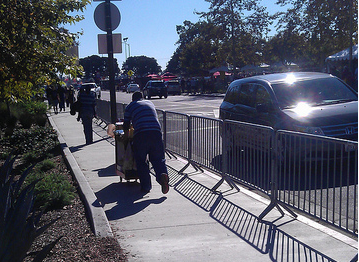 Closer to home, Pasadena ended a four-year ban on street carts in 1996. Pasadena Police Chief Phillip Sanchez said the department's relationship with vendors is terrific. Long before he reached his post, the city had decided it was better to regulate street sales for safety's sake after finding that vendors weren't going to disappear.
Sarah Jo Portnoy
, a Spanish professor at the University of Southern California, traced the resilience of vendors back to their roots.
"You don't ever see someone asking for handouts in Mexico," Portnoy said. "They are doing tricks on the corner. They are making tamales. They are doing something to make a buck. And they've brought that ability, to get out there and market yourself, to America."
One vendor found rushing his cart through Exposition Park to claim a spot in the shade refused to offer his name. However, he offered the best summation of street food life.
"This is like a lotto," he said. "Sometimes, you have a winning number. Sometimes, you don't, and the police come and take your stuff. Today, I hope I have a winning number because I have no other job."
Like reporter Paresh Dave on Facebook, follow him on Twitter, circle him on Google+ or send him an e-mail.
Stories from our 2011 Series About Street Food Vendors in L.A.:
L.A. County Health Regulations Don't Deter Illegal Street Vendors

What Kellix may or may not know is that the sale of dirty dogs—the classic grilled bacon-wrapped hot dogs that locals have dubbed as 'heart-attack dogs'—is forbidden by the Los Angeles County Environmental Health Department. Under its regulations, vendors can only cook hot dogs by boiling or steaming them.

Continue here.

For L.A.'s Illegal Street Vendors, Selling Food And Avoiding Police Is A Full-Time Job

In a metropolis marked by high crime rates, it would seem that criminalizing these street vendors would not be a top priority for the Los Angeles Police Department. Sometimes, however, it seems to be that way, concedes one immigrant rights advocate.

Continue here.

As L.A.'s Illegal Street Vendors Peddle, Licensed Businesses Struggle To Stay Afloat

Taco Perez is a veritable restaurant on wheels. Parked next to Ralph's on Vermont Avenue and Adams Boulevard, it is one of nearly 16,000 licensed food trucks operating in Los Angeles County. But like many of them, it is struggling to stay afloat.

Continue here.

Double Parking Tickets Suddenly Spike For Some L.A. Ice Cream Trucks

After years of double parking alongside South L.A. streets as they served their customers, ice cream truck driver after ice cream truck driver started getting dinged for the parking violation this summer.

Continue here.

L.A. Ice Cream Trucks, Food Carts Question A Revolution In Fees Amid Recession

Though neither the marcoeconomy nor the microeconomy had shown improvement, L.A. county supervisors earlier this year voted to dramatically increase the cost of doing business for ice cream vendors like George Calgua, who's been at it since 2004.

Continue here.

LAUSD Cops Try To Keep Up With Illegal Street Vendors

All of these vendors are well within 500 feet of the school. City of Los Angeles municipal code prohibits all forms of vending within 500 feet of schools between the hours of 7:30 a.m. and 4:00 p.m. on school days.

Continue here.

L.A.'s Illegal Street Vendors Well-Aware Of The Cop With Many Hats

Frank Martinez has repeatedly cited many of these vendors. On an average day, he writes two to 10 tickets depending on circumstances, he says. When the arrestee does not have proper identification, has received more than four tickets or is uncooperative, he books them into jail.

Continue here.

Carl Bergquist: A Nomad Finds A Home Championing Immigrant Rights

Clad in a crisp salmon dress shirt and pressed beige dress pants, Bergquist naturally emanates the scholarly vibe of a solemn law student. Short dirty blond curls top off his tall, sturdy stature; a pair of glasses frames his light blue eyes.

Continue here.