Los Angeles
Venice Beach Boardwalk Street Vendors Search For Meaning Of 'Art'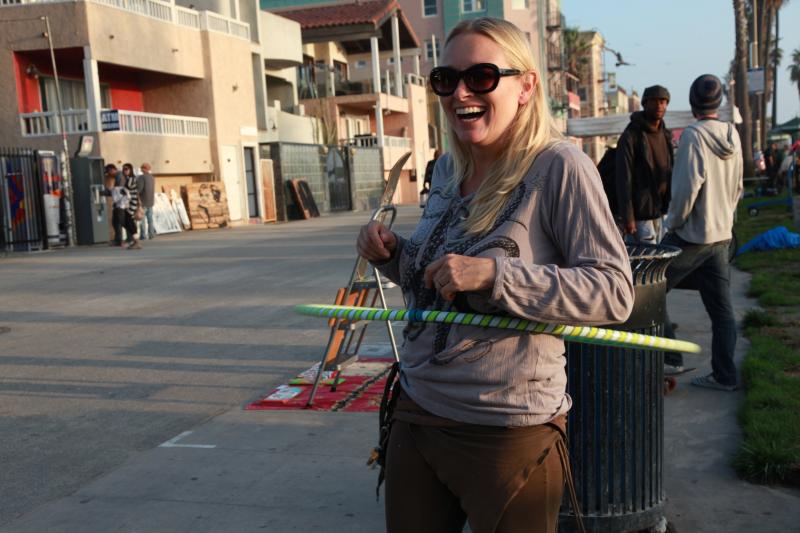 When Jennifer Jenson "sells" a hula-hoop on the west side of the boardwalk at Venice Beach, she gives customers a bumper sticker.
"Usually when I sell a hoop, I give someone a sticker, and say that they just paid $40 for the sticker, and I appreciate them so much that I give them a hula-hoop too," Jenson said.
Her handmade hoops, wrapped in colorful tapes are banned by a 15-page long City of Los Angeles ordinance regulating what vendors can sell on the boardwalk, a place cherished as a "first amendment zone" but plagued by the chaos and fights of hundreds of vendors.
The ordinance, LAMC 42.15, also forbids selling handcrafted jewelry and pottery that are too utalitarian, but gives approval to items "which have been created written or composed by vendors and performers."
Jenson tries to make her business a free speech activity by vending buttons and stickers. Still, she's received 15 warnings from the police. She risks a $250 fine by insisting on vending in that area.
Along with Jenson, vendors on the beach have been challenging specifics in ordinance, questioning what counts as original art work.
Phillip Klein, a watercolor artist that moves between Santa Monica and Venice, said the ordinance gives little clues to "what kind of mass production items" it tries to ban.
"Andy Warhol's painting is mass produced, but can you say it's not art?" he said.
Lisa Hudson, who makes masks with recycled material, said selling handmade pottery should be allowed.
"Pottery is art," she said. "That's how we look it as culture. You go to a site, dig it from an archeological standpoint, and you find pottery. It says a lot about the culture. Now if that isn't art. I don't know what is."
The city has been trying to get a grip on the over-commercialized boardwalk since 2005. Before the latest ordinance took effect in January, four previous versions of the ordinance had been declared unconstitutional and failed to last more than six months.
When fights among vendors over spots during weekends exacerbated in 2006, the city came up with a lottery system, which authorized only people with a permit to sell. Under the same cause, the Supreme Court banned the lottery, ruling it violated the First Amendment.
Arturo Pina, district director for City Councilman Bill Rosendahl, is relieved that the latest version survived this summer without being challenged. But he said the city was pushing forward citations and urging judges to take them seriously. The police have given at least 100 citations this year, with over half dismissed in court.
"We have our area sergeants and city attorney's office who are working with our court to get the court to understand the nature of these citations and why it is important to get convictions and get these vendors cited," Pina said.
"The challenge is balancing the right of residents and the right of artist and performers," he said. "You have to understand that Venice Beach is a city park and that makes it has a unique atmosphere."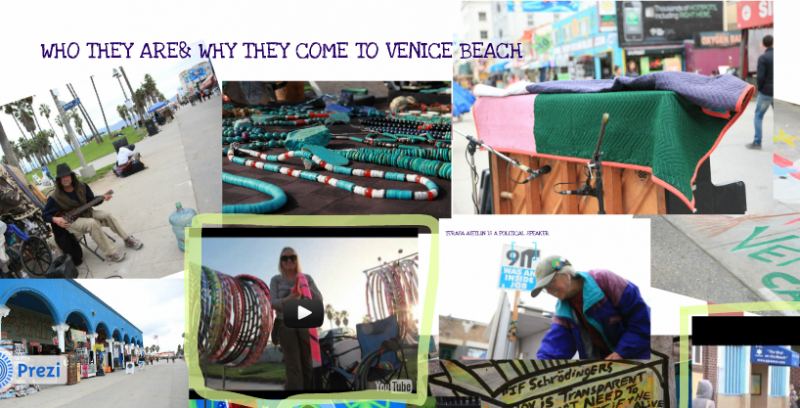 Hudson moved from Florida to what she calls " a very special place, where you got the super wealth walking side by side with the really poor, it's a beach, it's a public forum and it's a mile long first amendment free speech area and on other side it's the commercial and residential zone."
"I get the birds chirping, I get to feel the sand sometimes, when the wind blows really strong, I can go to the ocean and watch the full moon come up and I can see just a mosaic of humanity here," she said. "When you get in the system, you can never get out."
Hudson quit her job as a financial manager in Florida after she got breast cancer. She settled in Venice and became an artist, sleeping in her van every night.
"I make little money now, but I left the corporate world by choice," she said, "My life is so prosperous now."
Much as Hudson loved the place, Lieutenant Paola Kreeft said it almost become a headache for police who have to chew through the ordinance to decide what vendors can sell. The ordinance also left loopholes, as many items vendors sell never appear on the ordinance.
"What's burglary? 'The criminal offense of breaking and entering a building illegally for the purpose of committing a crime.' One sentence," she said. "What you can sell on boardwalk? You've got to go through 15 pages before coming up with an answer."
Kreeft said the newest version is clearer compared to the one she got two years ago, which banned any item that was "inherently communicative and has nominal utility apart from its communication."
Kreeft has received complaints from vendors who said the police are micromanaging the ordinance as well as residents blaming the police for not doing enough.
"I simply can not cite every vendor on the beach," she told Wendy Kimler, a new resident irate by the blasting music in her neighborhood.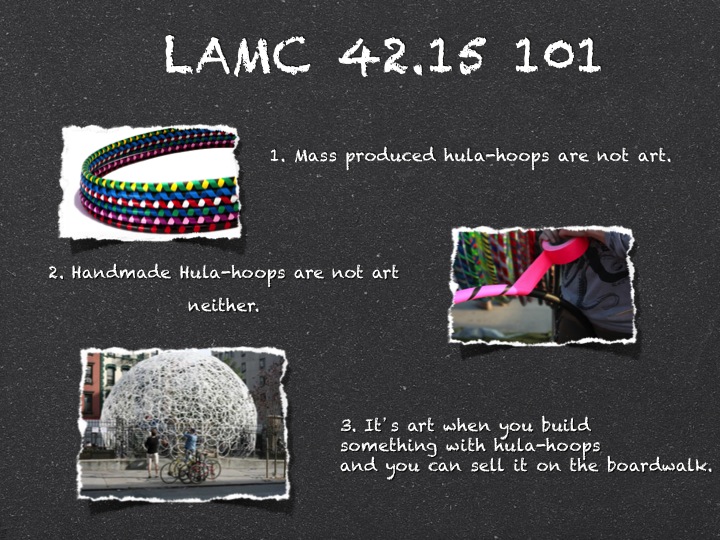 Sgt Daniel Gonzales, who has been patrolling the boardwalk, has been bombarded with the question "what is art." But he thought the right question should be "what is commercial?"
"What the city really don't want to see is people taking an opportunity to undercut the legitimate business that sit on the east side," he said. "Businesses on the east side, the rent is really high and it's really not fair for them. A toe ring maker told me, 'I make toe rings, yet I look across the road, somebody makes toe rings and he doesn't have to pay the same rent as I pay".
Gonzales said people have to come up with creative ideas to stay there. Hula-hoop vendors, for example, may have to break the hoops and make something out of them.
Reach Staff Reporter Meng Meng here.