Los Angeles
Used Bookstores A Happy Story In Book-Starved East L.A.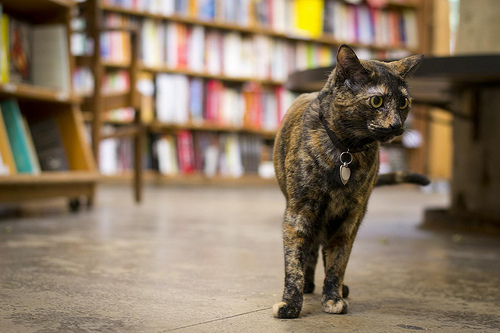 When a man hesitates in the doorway of David Kipen's used bookshop, a small storefront in Boyle Heights' Mariachi Plaza, Kipen seizes the moment.
"Hi, come on in! Welcome!" he says, waving over the potential customer, a middle-aged Latino man, with a young, elementary school-aged daughter in tow.
"I'm looking for the music place, where they sell the music sheets," says the man, but he pulls his daughter into the shop anyway. They spend the next half hour paging through the children's books but the young girl finally settles on a worn copy of E.B. White's Stuart Little. Kipen lets her take it home to borrow for free.
A report released last year by the Central Connecticut University found that Los Angeles was one of the country's least literate cities – L.A. placed 61 of 75 of America's biggest cities, listed from most literate to least. The rankings were based on factors including number of bookstores, education level, library resources, and newspaper circulation. Los Angeles scored low on almost all fronts.
Worse, however, are the literary inequities between higher-income neighborhoods and lower-income neighborhoods like Boyle Heights. The few bookstores in the city are clustered in affluent West L.A. neighborhoods like Beverly Hills and Santa Monica. But just east of the Harbor freeway, in neighborhoods like Downtown and Boyle Heights, which suffer from crippling poverty, the number of bookstores is in the single digits. There's the Last Bookstore and Caravan Books in Downtown; Seite Books in unincorporated East L.A.; Libreria Discoteca in Boyle Heights (a recent addition); and Kipen's Libros Schmibros.
All of them sell used books.
"This is a working class, intellectual neighborhood that's been starved of books for too long," says Kipen, seated at a table piled with books in his store, "…Boyle Heights is not a rich neighborhood, but it sure as hell is not a dumb neighborhood. There's a ravenous appetite for learning."
Libros Shmibros began in a small loft space Kipen owned in the neighborhood. Kipen's the former director of the National Endowment for the Arts' Reading Initiative and he spent years before that working as a book critic. In that time, he'd amassed a large collection of books, most of it locked away in storage. He'd just moved to Boyle Heights when the city of Los Angeles passed a budget with massive cuts to the public library system. The libraries would close on Mondays, cut hours and lay off staff.
"Here's this neighborhood that's about to have less access to books than it used to and I'm sitting on this enormous pile of books. I'm drowning in them," Kipen said. "There's gotta be a way for me to make them available." So he opened up shop in his own home. "I improvised a sort-of half-loft, half-hovel, which was, I'm sure, violating every code regulation in the book and started ferrying all my books in storage back from Calabasas," he said.
City voters would vote to pass a measure allocating more funds to Los Angeles libraries, reopening libraries on Monday once again. But Libros Schmibros is still here, a community fixture.
Kipen's been applying to grants to fund his nonprofit project. Under the NEA, he spearheaded "The Big Read", a campaign to encourage literary reading among youth. He has an unrelenting enthusiasm about the power of books in a neighborhood like Boyle Heights. He says it doesn't matter how rich someone is, or what city they grew up in, or even who their family is. "What makes a bigger difference is did you have books on the shelf of the house you grew up?" Kipen said.
Books, however, are expensive. On average, a new hardback book retails for around $30. Paperbacks retail for around $15. In East Los Angeles, officially just west of Boyle Heights, the average income is around $38,600. That's below the national average. When Adam Bernales and Denise Diaz began selling books at their store, Seite Books, they realized that their success depended on how well they could cater to the immediate community.
"We thought about carrying new books but it was a little overwhelming for us just because it's such a large investment to make," Diaz said. "People here lean towards buying used books because they're cheaper. It's just more accessible."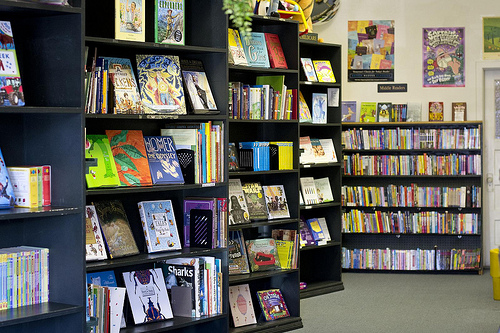 Diaz grew up in this neighborhood. She used to have to drive all the way out to a Border's Bookstore in Pico-Rivera to buy books from a brick-and-mortar store. But then Borders closed down and for a while there was nothing. Her and her boyfriend, Bernales, a Chicago transplant, began Seite Books two years ago. Diaz's mother had been renting a shop to sell women's clothes and cosmetics, but the business wasn't taking off. She asked them whether they wanted to do something with the extra space. With books they collected on road trips from L.A. to Chicago and back, they set up a small shelve in the store and thus Seite Books was born.
"We used to see a lot of little kids that would come by and we could hear them through the glass, 'is that a library?'" said Bernales. The local library is small, with a collection of 40,000 items, including CDs, DVDs and newspapers. The Los Angeles Public Library system allocates its funding based on demand – but there's a chicken-or-the-egg question that can't be ignored. Demand may be low because books are inaccessible. Books are inaccessible because there's no demand for books.
Bernales and Diaz say that not a month has passed since they began Seite Books where they didn't see a growth in profit, even if by a single percentage point. Their local customers save up dollars to purchase a book from their store, Spanish-language zines or obscure titles.
One of Seite's regular customers once complained that he could buy fourteen cheeseburgers with the money he was spending on a $14 math textbook. He bought the book anyway. A math textbook, purchased new, would cost ten times that price at the local community college bookstore. If a demand for books wasn't there before, it is now and it's not difficult to see how the presence of Seite Books helped create it.
In Downtown L.A., the Last Bookstore is paving a similar path. The cavernous store, located inside the building of an old bank, is stacked wall-to-wall with new and used books. Local art hangs in the empty spaces. One section of the store is dedicated to old records. Book-lovers entering the store for the first time instinctively gasp before spending the next few hours picking through the books and leaving the store with a teetering stack in their arms.
But a used bookstore like The Last Bookstore doesn't just sell books: it promotes a sense of community. The Last Bookstore's customer base has no discernible demographic, much like the transients and residents of Downtown L.A. Itself.
Artists who own studios and lofts in the area frequent the store, as do businessmen and women who work in the financial district. Local neighborhood kids drop by after school. Students from nearby USC pick through the books on a weekday night. The store is just a few blocks away from Skid Row, so many of the local homeless men and women seek refuge in the store and in the books, says store manager Katie Orphan.
"A lot of those shelters [on Skid Row], people aren't allowed to stay during the day," Orphan said. "So during the day, they're out doing whatever. We've got a lot of people who end up coming in here. Because we have a lot of affordable books."
All items are priced at one dollar – half the proceeds go to a local charity that serves kids on Skid Row. One dollar is just affordable enough for lower-income customers.
"Unlike the library, where you have to get it back in a certain amount of time or where if it gets damaged, there's a penalty, [the book's] a dollar, it's yours," Orphan said. This is especially convenient for customers who live outside or in less-than-pristine conditions.
On a Monday night at the store, Alysica Wong, a 22-year old student at L.A. City College, browses the young adult stack for something to read.
"This is like the only place that's open, you know, past five o'clock," she says. Her cousin, visiting from Palmdale, nods in agreement. They'd heard about the store and drove from Koreatown to check it out. Now they visit once a month.
"There's only like Barnes & Noble left, so we don't really have any book options," Wong said. "[New books] are really, really pricey, which doesn't make any sense because it's a book. I just feel like it should be cheaper so people would want to actually buy it. I guess that's why this place exists."
Wong and her cousin glance curiously over at the stage, situated in the middle of the store. A long line of people carrying instruments and notebooks stand in front to sign their names to a list. The Last Bookstore hosts everything from author readings to indie concerts. Tonight, people crowd the store for an open mic night.
"We didn't know about the open mic!" Wong said with excitement. They decide to stay to watch the show, a mishmash of spoken word poetry, music and stand-up comedy.
"Unlike the library, we don't worry too much about people making noise in the store. People aren't really studying in here," Orphan said. She and the staff have discussions about the role The Last Bookstore plays in Downtown L.A. It's the same kind of idealistic narrative that brings the light into David Kipen's eyes.
"I think it lends itself to a different community responsibility than other types of retail because the thing that we're selling is story and information," Orphan said. "I hope that it is a place where people come to think. We want to be a crossroads."
Reach Senior Staff Reporter Tasbeeh Herwees here.