International
Thousands Of Egyptians March On Presidential Palace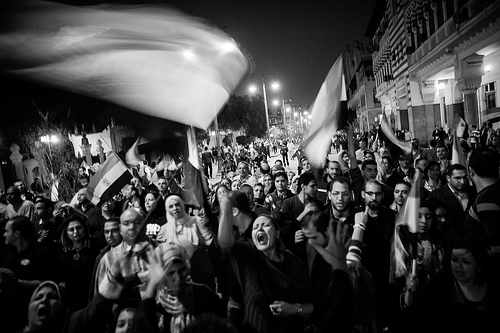 Tens of thousands of Egyptians overwhelmed riot police and tore through barbed wire Tuesday, swarming the gates of the Presidential Palace in Cairo,
The Wall Street Journal
reported.
Demonstrators protested the Islamic-backed draft constitution, considered a power grab by Islamist President Mohammed Morsi, and the president's Nov. 22 decree granting him nearly unrestricted powers.
"We woke up one day and found a very radical Islamic situation," said Walid Ahmed, a 37-year-old engineer protesting outside the palace, to the Journal. "The president is pushing us toward civil war."
From The New York Times:
Morsi's supporters say the constitution establishes a new democracy, not a theocracy. But while it does not impose religious rule, his opponents say, it does not preclude it, either. They say it contains major loopholes in individual liberties, could enable Muslim religious authorities to wield new influence and still leaves too much power in the hands of the president.
Eleven newspapers didn't publish on Tuesday. The newspapers said their action was aimed specifically at the draft constitution's failure to protect free expression, reported The New York Times.
A Muslim Brotherhood spokesman told the Journal that Morsi left the palace for his home in a remote Cairo suburb.
Morsi wants Egyptians to vote Dec. 15 on whether or not they approve of the constitution.
Riot police attempted to fend off protesters with truncheons and tear gas. When the crowds swelled, riot police retreated behind palace walls.
According to the Journal, the decree gave Morsi nearly all state powers and placed him above the judicial branch.
Read more of Neon Tommy's coverage on Mohammed Morsi here.
Reach Executive Producer Agnus Dei Farrant here.