Theater and Dance
Theater Review: "Donny and Marie: Christmas In Los Angeles"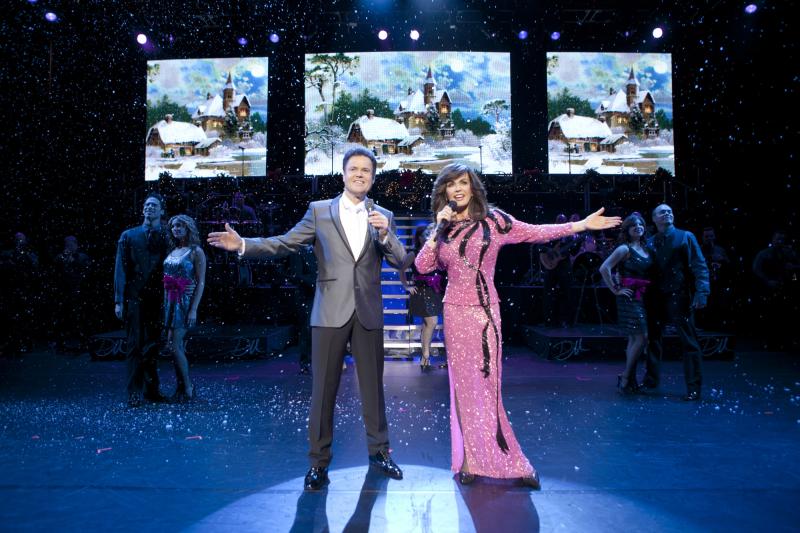 Take a box of classic hits. Add a dash of humor, followed with a pinch of nostalgia while taking a stroll down memory lane. Sprinkle the box with sequins and a bit of snow. Tie it all together with a bow of iconic singing siblings and sit back and enjoy the perfect Christmas package this month at the Pantages Theatre through December 23rd.
"Donny and Marie: Christmas In Los Angeles" awaits audiences at the Pantages for the next three weeks. Premiering last night to standing ovations and lots of good cheer, it looks like this highly anticipated engagement will not disappoint.
They say it's the most wonderful time of the year and the Osmond duo helps us all remember just why that is. Not especially a Christmas Carols, fa-la-la-la-la fan? Don't worry. There's a little bit of country and a little bit of rock n' roll. There's a touch of Broadway as Donny sings songs from his stint as Joseph in "Joseph and the Amazing Technicolor Dreamcoat" and Marie revisits her Maria from "The Sound of Music." You'll also find MoTown, reggae, jazz, pop, opera and a nod to the big bands. Mix it all together with a duo harboring fifty years of show business experience and you get an electrifying variety revue filled with incredible energy and contagious joy.
While the dyanmic duo shares the stage for much of the show, they also give indivudal performances that highlight their individual skills, as well. The Osmond brother knows how to work a crowd, and nearly half a century after he first made young girls swoon on "The Andy Williams Show," his charming smile still can melt hearts. 54-year-old Donny shows of his range in evertyhing from a mash up of "Celebration," Taio Cruz's chart-topping "Dynamite," and the latest phenomenon, "Gangnam Style," to an emotional "Moon River" tribute to his old friend and mentor, Andy Williams, who passed away earlier this year.
The other half of the pair, Marie, is a versatile goddess. Few performers can transition from receiving a standing ovation for an operatic excerpt from "Madame Butterfly" into a medley of Kander and Ebb hits like "All That Jazz," "Cabaret" and "The World Goes Round." She rocks knee high boots and her magnetic smile and her powerful, dynamic voice serve as reminders that she certainly isn't just the "Osmond little sister"—she's the real deal.
Individually they are incredible. Together they are magic.
The siblings draw from their extensive and eclectic backgrounds beginning from the early Osmond Family Christmas Shows and culminating in their ongoing performances in Las Vegas at the Flamingo Hotel. They bring it all together in this glittering spectacular by opening the overall gift that is their show one number at a time; they add spunk to a rendition of "Jingle Bells," family humor to "Let It Snow!," and a little California respect with the Beach Boy's "Little St. Nick." Their familial chemistry drives the show into its finale and there is not a doubt about that incredible bond between them that glues it all together.
A wonderful warm glow permeates from the stage and infects the entire audience. While some shows seem insincere in their attempts at audience participation, this show makes it endearing. From a group singalong of "Jingle Bells" to dozens of men getting kisses on their foreheads from Marie and even more women swooning as Donny shakes their hands, everyone in the audience feels they are part of the fun. For on this night, everyone in the room is a member of the Osmond family: invited into their home and their hearts for this holiday season.
Reach Staff Writer Jessica here.
"Donny and Marie: Christmas in Los Angeles" is playing at the Pantages Theatre (6233 Hollywood Blvd., Los Angeles, CA 90028) through December 23, 2012. Tickets are $25-$150. More information can be found at BroadwayLA.org.