USC Sports
Sun Bowl Halftime: USC, Georgia Tech Tied 7-7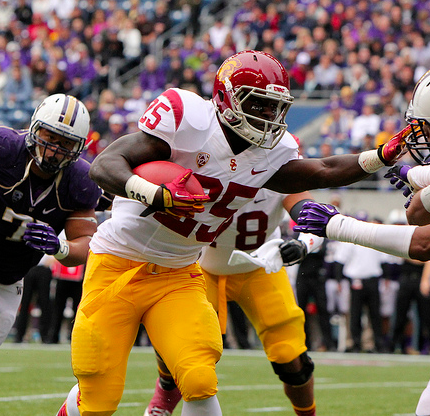 Georgia Tech held USC to just 116 total yards and four first downs in the first half, but a late score by the Trojans tied up the Sun Bowl 7-7 in El Paso, Tex. USC running back Silas Redd led the Trojans with 60 total yards in the half, including a nine-yard juggling touchdown catch with 49 seconds left before halftime.
An odd moment occurred in the first quarter saw USC score points, then quickly lose them. Kyle Negrete's 38-yard field goal attempt drifted wide of the left post, but referees signaled the kick was good. It took a video review to correct the call and take Negrete's three points off the scoreboard.
The Trojans struggled with the strong wind in El Paso, as quarterback Max Wittek went 7-for-13 passing in the half for 58 yards. Biletnikoff Award winner Marqise Lee was held to just 18 yards receiving for USC. In the running game, ground-heavy Georgia Tech outgained USC 136 yards to 58.
Redshirt freshman quarterback Vad Lee led Georgia Tech with 54 rushing yards in the half. Georgia Tech scored first on a 14-play drive that lasted nearly seven minutes. Lee led the Yellow Jackets down the field and finished with a four-yard touchdown pass to David Sims.
The second quarter saw three straight drives end in turnovers around midfield. Trojans linebacker Lamar Dawson intercepted a pass from Lee with about six minutes left. Two plays later, Georgia Tech's Rod Sweeting stepped in front of a pass intended for USC tight end Xavier Grimble to intercept Wittek. On the ensuing drive, Trojans defensive end Morgan Breslin stripped Lee of the football, and it was picked up by Wes Horton.
USC scored its only points on the following drive, one that saw four straight runs by Redd to put the Trojans on the doorstep before his scoring catch.