USC Sports
Sophomore Setter Hayley Crone Has Improved Immensely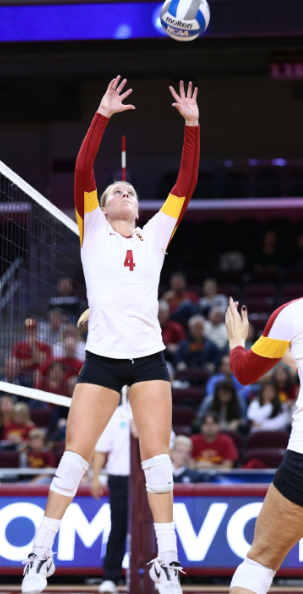 LOS ANGELES- Southern California women's volleyball head coach Mick Haley labels it a "tremendously tough position" to play.
Associate head coach Tim Nollan's eyes light up as he explains how the position is the key to the offense.
Both Haley and Nollan know volleyball inside and out, and both of them understand the significance of the setter more than perhaps any other position on the team. Both of them were setters in college, experience they put to use while discussing and developing USC's starting setter, sophomore Hayley Crone.
"Her position is very, very important to the success of everybody that has put in their time," Haley said of the position. "If you put all of that on you, most people won't be successful. Some people will rise in that situation," he adds.
Crone acknowledges the pressure her position brings. She also expects it.
"The pressure is more than I've ever had in my life, but it's something that is kind of the job of the setter, to take all the pressure, take all the heat," she said.
Though Haley didn't specify if he sees Crone thriving in the face of pressure, she says she is comfortable.
In a way, she says she enjoys the pressure.
This was not always the case.
"In the beginning, it was really hard to deal with all the pressure. I had to rethink a lot of things and make sure this is what I wanted to do," she said.
Crone credits Haley with providing some pressure, and also with helping her improve and cope with the difficulties of her position.
It is tough to imagine a setter better suited for the Women of Troy.
As a sophomore, she is young enough to relate to the three freshmen in USC's lineup but she also had a year to play with the team and learn from two-time All-American setter Kendall Bateman, whom she calls "awesome."
To help her improve and deal with her new role as starter, Crone works with a variety of individuals, including Haley, Nollan, a sports psychologist and the team's athletic trainer.
Crone's personality certainly seems to be a good match for her position as setter.
During an interview, for which Crone arrived shoeless, she joked about how someone stole her warm-up suit while she was in the training room.
She is also quite thoughtful when she responds to questions and her statements provide unique insight into how she feels in the middle of her first season as a starter.
"In life, there are pressures everywhere. Nothing is going to be as easy as in high school or middle school."
Haley and Nollan are quick to point out Crone's strengths, but both acknowledge that it is her improvement–something they see continuing in the future--that impresses them most.
"Her defense is 10 times better than it was when she came here, her serving is better and her blocking is better," Nollan said. "Every year, I expect her to get exponentially better."
For Haley, ever the educator, Crone represents an opportunity to teach.
"I think she's made great improvements that she can't see," he said. "I don't think she is anywhere close to where she can be, and we don't view that as a negative, we view that as learning."
This season Crone has been proving she can handle stress.
Playing in the nation's toughest conference for women's volleyball, she hasn't missed a set and is averaging almost 11 assists per set.
Playing alongside offensive stars Samantha Bricio, Katie Fuller and Sara Shaw means sometimes her performance may go unnoticed, but Crone feels this is part of her position.
"You don't really get recognition," Crone said of being the setter.
While that would get under the skin of many athletes, Crone brushes it aside.
"The recognition I get is if my hitters are successful," she said, adding, "I love setting up other people to succeed."
Nollan can see a connection between her outgoing personality and her success as a setter. He believes Crone's relationships with her teammates are as important an element as any other part of her game.
"She reaches out to all of them and has a friendship with all of them which is important because, for us to be successful, the ball has to go through her so she has to be personable," Nollan said.
Despite her clear love of the game, Crone is noncommittal about her volleyball plans after college.
"I may play overseas. I may be done. We'll see," she said.
Like her coaches, this setter does some teaching, as well.
She braids her hair with a technique she learned while riding horses on her family's property in Temecula. She has taught her teammates how to braid their hair that way, too.
She occasionally rides horses. But right now there's no time for that.
Right now, she has her eyes set on something else; setting her hitters up for a shot at a kill, and her team for a chance at a championship.
Reach Contributor Willy Nolan here.