Nation and World
Port Of Los Angeles Strike: Day 8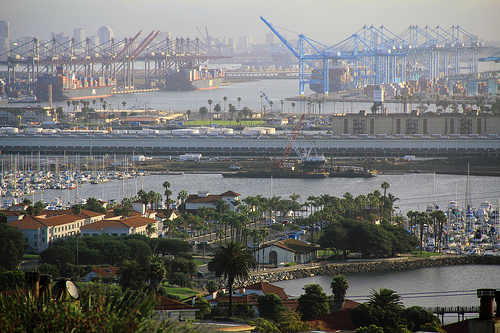 On Tuesday, the strike at the Port of Los Angeles and her neighbor port, the Port of Long Beach, entered its eighth day. As of Tuesday morning, there were 12 ships waiting to enter the Port of Los Angeles and now the shipping companies are feeling the negative impact.
The longshoremen have not crossed the picket lines out of consideration for the clerical workers on strike, and this decision is causing a major back up of cargo, both entering and exiting the United States via the Port of Los Angeles.
The two sides have agreed to meet with a federal mediator. This comes one day after the White House said the president was keeping an eye on the labor situation and one day after the Harbor Trucking Association called for a federal mediator. An additional bright spot is most, if not all, of the items to be sold during the holiday season are already here, which means shoppers should not feel the impact of the strike this holiday season.
Depending on how long the strike lasts, however, all bets are off for after the holiday season. Even though goods for the holidays are here, shipping companies, such as UPS, have customers waiting on packages.
UPS and other shipping companies are lucky for they can offer their customers other modes of transportation. That is exactly what UPS is doing. They are informing their customers of the other available options to get their package to its final destination. Cargo is still moving through the UPS system at the present time, but UPS too said they "continue to monitor the situation."
John Gold, Vice President of Supply Chain and Customs Policy for the National Retail Federation told the USA Today, "'The majority of our members have been impacted. Cargo that's already arrived is just sitting at the port. Right now there isn't a whole lot they can do."'
Reach staff reporter Max Schwartz here; follow him on Twitter here.