USC Sports
No. 4 Duke Too Much For The Women of Troy, Wins 75-60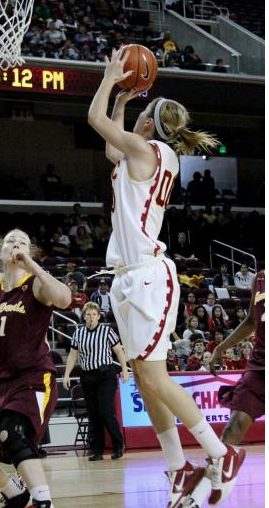 The No. 4 Duke Blue Devils handed the Southern California Women of Troy their fifth consecutive loss, as Duke improved to a perfect 10-0.
USC's last lead of the game (7-5) came early in the first half, but the Women of Troy hung with the talented Blue Devils for much of the game.
"I thought we played extremely well against the No. 4 team in the country," said USC coach Michael Cooper, who returned from a one-game suspension.
"One of our biggest nemeses has been our effort and our physicality down low, but these two young ladies (forwards Kate Oliver and Alexyz Vaioletama) came and took on the second best center in the country (Elizabeth Williams).
"To outrebound them 44-36 shows not only that we're headed in the right direction, but that we can control the paint."
Oliver and Vaioletama secured 10 and eight rebounds, respectively, as well as combining for 25 points on 11-of-17 shooting.
"Coach Cooper said before the game, 'We're at war. We're going to war,'" said Vaioletama. "So we took that literally like we had something to prove."
Oliver added, "We came out today thinking that we had nothing to lose, coming out against the fourth-best team in the nation. We haven't had the best track record so far, so we really had that mindset that we have nothing to lose and we're coming out aggressive, and we were going to take it to them."
Cassie Harberts also contributed 17 points for the Women of Troy, but Duke's talent and depth proved too much for USC in a 75-60 Duke victory. Each of Duke's five starters finished in double figures, as the Blue Devils made eight-of-12 three-point attempts, scored 21 points off 20 USC turnovers, and committed just 13 turnovers of their own.
"They're well-disciplined," said Vaioletama. "They come with that execution as far as executing all the plays and schemes that they have defensively."
The Women of Troy were not nearly as disciplined, missing 10-of-20 free-throw attempts and of course, committing the aforementioned 20 turnovers.
Ariya Crook, USC's second-leading scorer who had been logging 30 minutes per game, came off the bench and scored just two points in 11 minutes of play. Instead, Cooper elected to start freshman Brianna Barrett for the second straight game.
"She (Barrett) is a true point guard, and that's why we had to put her there and move Ariya, because of the fact that Bri understands how to get people the ball, when to take her shots and how to run our team," said Cooper.
Barrett finished with nine assists and only three turnovers, giving her a total of 16 assists for the two-game Women of Troy Classic and a spot on the All-Tournament team alongside Janae Coffee (CSUB), Sydnee Fipps (UCD), Blair Shinoda (UCD), Elizabeth Williams (Duke) and tournament-MVP Chelsea Gray (Duke).
Gray, who scored a game-high 18 points Saturday afternoon, received high praise from her head coach, Joanne P. McCallie: "Chelsea, I think, is the best point guard in the country. She is because she does everything. That productivity day in and day out is something she takes a lot of pride in."
The 5-foot-10 point guard from Stockton, Calif. nearly posted a triple-double Friday night against Cal State Bakersfield, finishing with 11 points, nine rebounds and eight assists in a 97-63 blowout of the Roadrunners. For the tournament, Gray totaled 29 points, 19 rebounds, 11 assists and eight steals.
Saturday's loss brings USC's record to 3-7. On Dec. 29, the Women of Troy will have one last chance to snap their four-game home losing streak (and five straight losses overall) before heading to Oregon to begin their Pac-12 schedule in 2013.
Reach Senior Sports Editor Aaron Fischman by email, or follow him on Twitter.