International
Mali's Prime Minister Arrested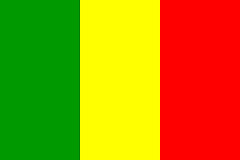 Mali's Prime Minster was arrested by the military in the second coup d'etat in 12 months. He was arrested as he tried to leave the country, according to
Al Jazeera
.
Prime Minister Cheikh Modibo Diarra appeared on television to say his government was resigning, according to the Daily Beast.
Bakary Mariko, a spokesperson for the soldiers who seized power in March said a new prime minister would be named soon.
Al Jazeera reported:
Jim Terrie, a former senior analyst with the International Crisis Group, a think-tank, told Al Jazeera that the prime minister had quit due to pressure from those behind the coup.
"I think it's a way of saying to the prime minister and the interim president - those civilian aspects of the current government - that 'we're still in control,'" Terrie said from Sydney, Australia.
For several weeks, tension has been mounting between the soldiers who led Mali's coup and Diarra.
Last weekend, Diarra organised a demonstration calling for a UN resolution to back a planned military intervention to retake Mali's north from armed groups. 

Diarra, a noted astrophysicist who has worked on several NASA space programmes and served as
Microsoft's chairperson for Africa, had been due to leave for Paris for a medical check-up, AFP reported.
He cancelled plans to head to the airport when he learned his baggage had been taken off the plane meant to take him to France.
The source said Diarra had recorded a short message which was to be broadcast on state television, but soldiers went to the broadcaster's headquarters to confiscate the tape.
Sanogo, previously unknown, ousted President Amadou Toumani Toure's government as a rebellion by Tuareg separatists was under way in the north.