Los Angeles and Region
L.A./Long Beach Port Strike Gets A Federal Mediator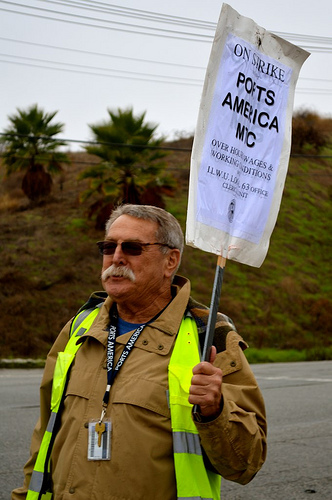 The clerical workers union and their employers at the Ports of Long Beach and Los Angeles have agreed to meet with a federal mediator to help resolve a two-year-long contract dispute.
The International Longshore and Warehouse Union, Marine Clerks Association Local 63 Office Clerical Unit entered the second week of a strike on Tuesday. The union has said they want a new contract from members of the Harbor Employers Association that guarantees positions that union members currently hold aren't outsourced or eliminated.
After a late night meeting with both sides, L.A. Mayor Antonio Villaraigosa on Tuesday morning that the union and companies had agreed to enter a mediatation session later Tuesday. The Federal Mediation and Conciliation Service was credited with helping end the lockout of referees by the National Football League earlier this year.
"The parties need a mediator," Villaraigosa said. "They need someone to get us back to work. There are almost 20,000 people impacted by this."
The strike has effectively shut down shipping operations on the port. Ships full of goods docked at the habor are waiting to be unloaded while other ships diverted to other ports instead.
"Obviously the goal is to get back (to work) if we could, and I'm certainly hopeful that can happen," Villaraigosa said. "But I know this -- if they're not at the table, one you can't get a deal, and two, ... they need a third-party intervention, and that's what they have agreed to.''
Like reporter Paresh Dave on Facebook, follow him on Twitter, circle him on Google+ or send him an e-mail.