Los Angeles
L.A. Mayoral Debate: Observations From First Televised Debate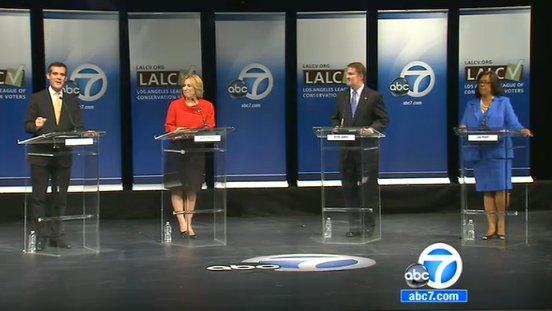 Attempting to distinguish their positions on improving both L.A.'s business and physical environments, the four major candidates to become the next mayor of Los Angeles turned to jokes and platitudes in a fast-paced hour-long televised debate.
The Los Angeles League of Conservation Voters and the League of Women Voters sponsored the first televised debate of the 2013 L.A. Mayoral Race.
The four major candidates vying to replace Antonio Villaraigosa stood in behind clear podiums and in front of cameras from ABC7 at the Aratani Japan America Theater in Little Tokyo Saturday, asking each other some softball questions, taking some rapid-fire simple questions and answering broad questions about the environment. Here's some observations.
Both of the female candidates, city councilwoman Jan Perry and city controller Wendy Greuel, chose good colors to wear even if Perry disappeared a bit into the blue background. Greuel's big old balck button was annoying.
The first question bounced off a tribute to the victims of the Sandy Hook Elementary massacre. No surprise that all three Democrats support gun control. But Republican Kevin James' support of gun control legislation was revealing. He's a former federal prosecutor and conservative radio show host.
City councilman Eric Garcetti, always on top of technology, used the gun question to plug his website, where you can sign a petition to renew the assault weapons ban. Later in the debate, he used a question about traffic to show off a mobile app which shows available parking spaces in his district. He even mentioned there was four spaces currently open on one street in his area.
Kevin James talked about all these improvements to the Ports of Los Angeles and Long Beach, included an electric truck rail line on the Interstate 710. He referred to a technology known as ALEX, as A-LEX...why not just Alex? Anyway, nothing about his port proposals is on his website yet.
At one point, Greuel said about L.A., "We need transportation." Yes, yes we do.
James offered a unique answer to a question about how to reduce traffic: more right-hand turn signals and more underground parking garages.
Perry said her view of fixing traffic has been shaped by her daughter's lack of desire to get a car. I would love to know more. Perry's typically been quiet about her family.
Garcetti said people in Los Angeles choke on asthma. Well, I didn't know you could swallow asthma.
Perry was the last candidate to chime in with a joke when she said that there's definitely a lot of "hot air" in Los Angeles. Overall, the men beat the women in funny points. James let it be known that he wears boxers, to which Garcetti replied, "TMI." The candidates were supposed to explain whether they supported paper or plastic.
Studies from UCLA, included this one about the environment and this one about sustainable communities, were mentioned several times.
One study from USC -- about business taxes from Professor Charles Swenson -- received a shoutout.
Three questions about the environment. Yet, not a single question about water and power rates and the powerful Department of Water and Power employees union?
James and Perry both emphatically said they do not support a measure on next year's ballot to raise the city's sales tax rate. Garcetti and Greuel dodged the question, though Greuel, firing back at James, eventually said she didn't support it either.
Greuel talked about creating $160 million in efficiencies by doing things like not having as many taxpayer paid subsidies. That would chop 2 percent of the city budget if it worked.
Perry suffered by following James on the question about raising the sales tax because James answer was so good and she's just not as good of a public speaker. James has been on television. Perry's not the most photogenic.
When given the chance to ask each other questions, Perry and Garcetti traded softballs. They said exactly what you would expect them to say about creating more green space and punishing teachers who molest students.
James had a great dig at three Democrats, all of whom said they carpooled regularly. "I didn't know staff drivers counted as carpools," James said.
Garcetti's idea to grow the L.A. economy is to essentially invest in television shows. He said he would waive filming fees for all pilots. If they get picked up, the show would get another year of fees waived.
Greuel seemed to be starting to say that one way to grow L.A.'s economy is to keep students who study at UCLA, USC, etc. in L.A. by building better public transit. But then she started talking about incubators and high-tech hubs and other tangential issues.
HEADLINES
PERRY: 'WE CAN'T TAX OURSELVES OUT OF THE RECESSION. WE HAVE TO BUILD OURSELVES OUT.'
Favorite spot in L.A.: Slauson and Compton at sunset.
GARCETTI: 'WE CAN BE GREEN AND CREATE JOBS.'
Spot: L.A. River
JAMES: 'ABOVE ALL CRISES, WE HAVE A LEADERSHIP CRISIS IN L.A.'
Spot: Griffith Park
GREUEL: 'I HAVE A KID IN PUBLIC SCHOOL. I'M THE STRONGEST CHOICE FOR EVERY PART OF L.A. I WON THE DEBATE.'
Spot: Griffith Park
Like reporter Paresh Dave on Facebook, follow him on Twitter, circle him on Google+ or send him an e-mail.