Arts+Culture
L.A. Art Reimagined For A Digital Age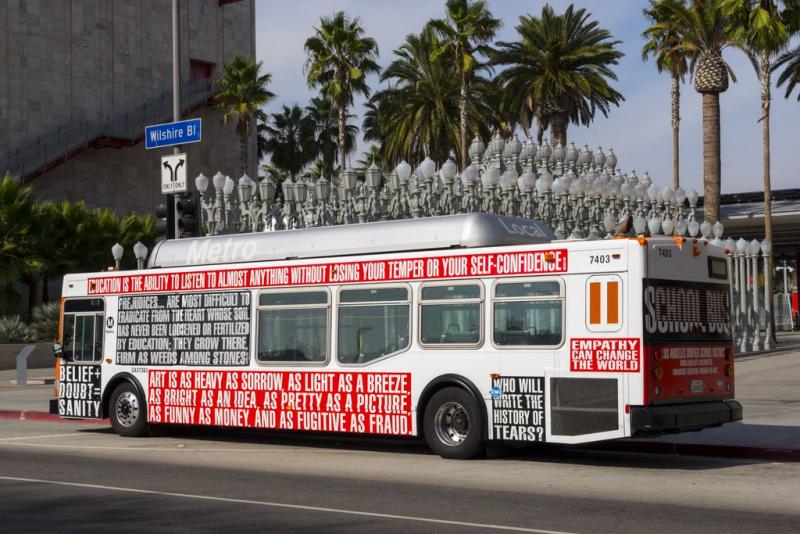 This article is part of an ongoing content partnership between Neon Tommy and L.A. Currents.
If public art has long been a facet of life in Los Angeles — think murals, graffiti art, and sidewalk installations — then we are currently in the midst of a citywide reboot. Open your front door, walk outside, and there splayed out before you is the "canvas" — you just may not know it yet.
Last week Game Room opened in the foyer of the Hammer Museum. The exhibit includes sailboat piñatas, playing cards of Walt Whitman quotes, and an actual scavenger hunt that sends participants out onto the streets of Westwood in search of Target shopping bags and "For Lease" signs.
"The games are complicated to play," says Allison Agsten, the museum's curator of public engagement. "The ideas they are addressing are as nuanced and compelling as anything else you'll see in the galleries."
All the games are astutely crafted to perplex, puzzle, and — most importantly — to "engage": the "it" word buzzing around L.A.'s art world these days.
SEE ALSO: Serving Art In L.A. With A Side Of Breakfast
As art shifts from monologue to dialogue, the sculpture in the city square no longer suffices. Instead, the sculpture is being reimagined in a way that allows people to engage with art in new, technologically innovative ways.
"There's a moment . . . when the work suddenly becomes yours," says Agsten. "That's when things change."
Artistic public engagement is not new, but audience participation and response, especially in these digital times, is becoming more integral to art's presence and, at times, relevance.
Take the Barbara Kruger buses.
Kruger's School Bus (for the LA Fund) envelops L.A.'s Metro buses in boldly lettered quotations on red-and-black backdrops. They have sparked dialogue on multiple levels, from a surge of social media attention to a conversation between museum leaders led by philanthropist Megan Chernin. The project, produced by ForYourArt on behalf of the LA Fund for Public Education, is part of their Arts Matter campaign, which aims to raise $1.5 million to help restore arts funding in LAUSD schools.
SEE ALSO: "Arts Matter": L.A. Unified Seeks Money To Add A Stroke Of Art In Every Class
While the Kruger buses are attached to a philanthropic goal, other public art initiatives are there simply to probe the L.A. consciousness.
Out the Window — a project by artist Anne Bray — also uses public buses as its medium. The project will resurface in the spring, when videos will appear on the bus monitors.
Some Out the Window videos evoke pure wonderment, such as No Strings Attached, in which a chair's bouncing in midair casts an almost hypnotic spell.
Other videos provoke deeper thought, such as Have You Noticed How Much Junk Food We Eat?. Teenagers in white biohazard suits methodically fill a beaker with greasy gobs of lard. It's a visual representation of the amount of fat in a bag of chips. But the video doesn't end there. There's a task required of the viewer: "Text how many ads for junk food you see before the next stop."
The number of responses the project received was "very satisfying," says Bray. She hopes to develop that call-and-response aspect even more the next time around.
Through her nonprofit organization Freewaves, Bray also hosts SOC(i)AL, a series of conversations about the concept of public art as public engagement. The series dissects a variety of themes that can border on the polemical. A recent topic was whether museums actually needed artists to survive.
SEE ALSO: For Your Art Celebrates Queer Without Boundaries
For Bray, it's not about inundating the public with art simply to remind them that it's there. The aim is to create a more cohesive symbiosis.
"My hope for the next step is integration," Bray says. "Having art in public space with deep interchange with community isn't extraordinary. It eventually becomes normal and that's . . . what I'm hoping for."
Though still an experiment in some ways, L.A. institutions are making social engagement a permanent fixture. L.A.'s Museum of Contemporary Art is the first to establish a digital extension of the museum as a YouTube channel.
MOCAtv features three to four pieces of film each week by and about MOCA artists. Subscription to the channel is free, and those who subscribe also receive a free three-month museum membership.
"I think it's just inevitable. Everything is moving quickly, but the art world isn't moving as quickly as it could be," says Emma Reeves, who heads MOCAtv.
SEE ALSO: MOCA and USC In Talks Of Partnership
One of MOCAtv's most viewed pieces is Mutual Core, a music video directed by Los Angeles filmmaker Andrew Thomas Huang featuring Björk standing in an undulating sand pit as a fantastical volcanic display morphs around her.
"There is some resistance to a YouTube channel with artists, and the gallery system doesn't realize it needs to promote its artists. I think it's a shame. The more one can share the extraordinary creative in the art world, the better. . . . We want it to be a welcome mat," Reeves says.
In addition to attracting local visitors, the museum is building its global brand, says Reeves. But the dive into digital public engagement is not a substitute for the museum's exhibitions. MOCAtv will host artists featured in the museum's exhibits, such as Chris Burden, Theaster Gates, Raymond Pettibon, Sterling Ruby, Kenny Scharf, Jim Shaw, and Marnie Weber.
For the Hammer Museum, the concept of visitor participation has evolved within the last few years since the museum began the public engagement program. But the program does not exist for marketing purposes.
"It's to change the way you experience the museum when you're here," says Agsten.
Game Room is a first in that it makes public engagement part of an actual exhibition.
SEE ALSO: The Game Of Making Games
Another public engagement initiative at the Hammer, United We Stand, involved redesigning security guards' uniforms to provoke dialogue between guards and visitors. The museum also held a private group therapy session where participants stitched needlepoint art. Most recently, the museum broadcast the presidential debates: a gallery was divided into two sections with red and blue carpeting. On the red side, the monitor was tuned to Fox News, while the monitor on the blue side broadcast MSNBC.
When preparing Game Room, Agsten approached it from a digital perspective. Instead of typical curated exhibits where elaborate descriptions accompany each piece, key words are bolded for those who prefer to gloss over the text.
"We are skimmers. . . . We consume so much information that by virtue of the volume, we have to address it differently," she says. As a former CNN producer, she knows a thing or two about adapting to digital.
Every aspect of Game Room fits the theme — even the brochure is decorated with vibrant kaleidoscopic patterns that can be folded into new shapes.
"This is still a place where experiment is actually the tradition," Agsten says about L.A. as a whole. "I think we're all enabled here to do the kind of work even within the context of an institution that perhaps we would not be able to do elsewhere."
While ideas surrounding public engagement continue to bubble up, public art in Los Angeles is not without its challenges. Limited arts funding to nonprofits has been one hurdle Bray faces.
Despite being awarded a two-year grant, Bray is dismayed that Los Angeles receives only a fraction of the funding that San Francisco does. Hollywood's expansive shadow can paint creative nonprofits in need of funding into a corner, Bray says.
Bray's next goal is to further infiltrate the city's advertising with art.
"Advertisements are all commands of what to do. To me, art is a question," she says. "Whether it's visual or implied . . . it's opening up another part of the viewer's mind to themselves. It makes life more interesting."
For MOCAtv, the next step is to curate the audience's personal submissions starting early next year — what Reeves refers to as a "user-generated call to action."
"It's yet another new expression in allowing people to feel like they have dialogue with the channel," says Reeves.
Find more Neon Tommy coverage on L.A. Art & Culture here.
Reach Managing Editor Paige Brettingen here. Follow her here.