Los Angeles
L.A. Planners Look To Ensure Expo Line Doesn't Price Residents Out Of Their Homes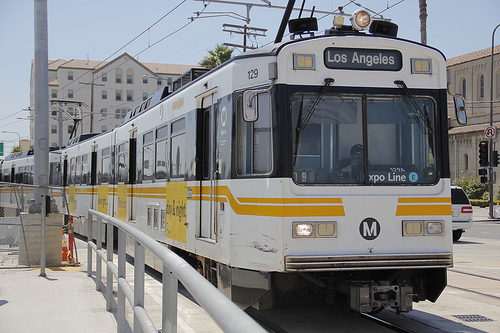 Despair, confusion and worry flooded through David Mosley's mind when he was told he'd have to move out of the Los Angeles apartment he had been living in for about 13 years. The 71-year-old feared he would be back sleeping on the streets.
Mosley's apartment is near the new Expo Line light rail route through central L.A. It had been so-called Section 8 housing, meaning the federal government partially paid Mosley's rent. But in 2011, with the Expo Line opening approaching, building owner Jeffrey Greene decided to convert the property to market-rate rentals with the expiration of the Section 8 convenance.
Mosley's situation illustrates one of the unintended consequences of the Expo Line as it creates a new mass-transit alternative for the Westside: Current residents who might benefit the most from using the line could be priced out of their homes and apartments as those properties become more desirable.
A report presented by the Los Angeles Business Council last month recommended raising density thresholds for housing projects along transit corridors, particularly the Expo Line. Authored by UCLA real estate professor Paul Habibi, the report said the biggest housing shortage in Los Angeles County was workforce housing for middle-income earners, those with household incomes between $42,000 and $64,000.
As a result, the report said, middle-income families are leaving the county for affordable housing elsewhere, making it more challenging for companies to find quality employees.
Noting the potential of the Expo and Blue Lines, the report concluded that one effective way to boost ridership is to build more affordable housing along the transit lines, thereby connecting residential communities and workplaces.
"The Expo will create new access to affordable land in several neighborhoods in L.A. and Culver City south of the 10 freeway that are ideal for workforce housing," the report said.
Yet the added economic value of the Expo Line makes it harder for some communities to maintain the affordable housing that already exists.
For example, low-income families are confronted with a greater risk of being priced out when competing for housing with students around the University of Southern California campus. Three Expo Line stops surround the university's University Park campus.
The 48-unit property that Mosley lives in is on W. 38th St., one block away from the Expo Line. It was built as affordable housing in 1981 with government funding. From 2004 to 2011 Greene rented it exclusively to people who had Section 8 vouchers.
When Greene sought to convert the building to market-rate rentals, an affordable-housing advocacy group charged that he failed to give renters proper notice, and threatened to take him to court. Instead, Greene settled with the group, known as TRUST South LA, which bought the property for $9 million in July, according to Sandra McNeill, TRUST's president.
TRUST South LA, a community land trust, is maintaining the property as Section 8 housing. "Our goal is to rebuild our site within five years," McNeill said. "It's a perfect site to have more density."
McNeil said the group's plan is to enlarge the site to 150 units, and current tenants will have to temporarily move out but will have the first right to return. The new units will better accommodate their family size and financial situation, she said.
According to a 2011 study jointly released by AARP, Reconnecting America and the National Housing Trust, in the next five years the country could see as many as 160,000 renters in 20 metro areas losing their affordable apartments near transit because contracts on their privately owned, government subsidized rental units are due to expire.
"Without sufficient policies in place to ensure that low-income families can remain in neighborhoods after light rail infrastructures are built, low-income families will get pushed out," McNeill said.
Richard Green, director of the USC Lusk Center for Real Estate, said however that it typically takes a long time for property values along new transit lines to rise significantly and displace current tenants.
Los Angeles Mayor Antonio Villaraigosa on Nov. 26 called on the city's department managers to create the Los Angeles Transit Corridors Cabinet, a central entity to oversee the region's investment in transportation infrastructure, including affordable housing resources near transit lines.
On the jobs front, the mayor's separate Council on Innovation and Industry released its initial report on Wednesday. Among other things, it calls for using city-owned land to create a corridor of technology businesses along the Expo line, naming the strip the "(T)expo Line."
"By leveraging the (t)expo Line development, Los Angeles can create new growth-oriented hubs in currently low-cost, underdeveloped areas with access to mass transit in between the bookends of thriving economic centers and major universities," said in a statement David M. Hernand, founding partner of the Los Angeles Office of Cooley, LLP, and a member of the council.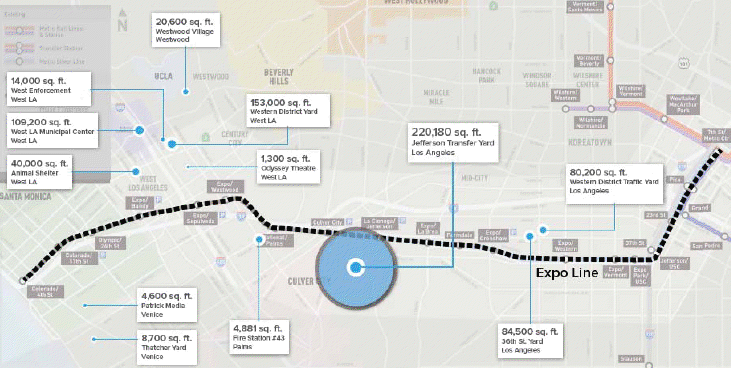 As far as housing, Deputy Mayor for Housing Mercedes Marquez in a statement pointed to the city's recent deal with USC to fund affordable housing. USC will provide $20 million to the City's Affordable Housing Trust Fund. The money will be used to create and preserve affordable housing near USC's University Park campus.
The opening of the Expo Line presents significant opportunities for the city to address affordable housing issues, Marquez said.
As part of a five-year plan, the city has engaged in an analysis of its existing affordable housing stock along light rail and Bus Rapid Transit lines. Marquez said, a review of the Expo Phase I area analysis reveals that rent-stabilized units, affordable housing trust fund projects and at-risk units are heavily concentrated in this area.
Richard Katz, a Metro boardmember, said the transit agency's goal is to create housing density around the transit lines. He said Metro is working with city governments to determine which lines need workforce housing (mid-income families) and which need affordable housing (low-income families).
For Mosley, the arrival of the Expo Line to his neighborhood means convenience that he couldn't have living in many other parts of the city. He said he is paying TRUST South LA $272 a month for his apartment, which he shares with his 15-year-old daughter.
With the Expo Line, Mosley said, "You don't need to take the bus to go long distance, and it takes less amount of time."