Sports
Alabama Beats Georgia In Thrilling Fashion To Reach National Championship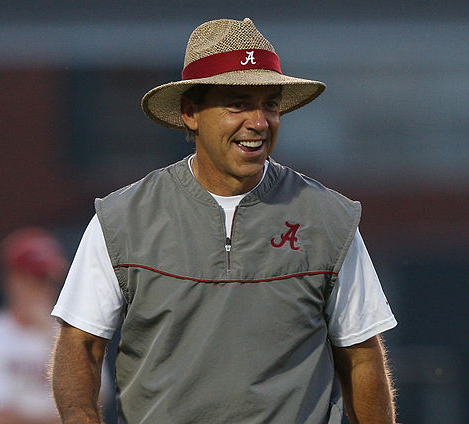 The wait is over. The Alabama Crimson Tide will roll into the BCS Championship Game against Notre Dame.
The much-anticipated SEC Championship Game did not disappointment. No. 2 Alabama beat No. 3 Georgia in a thrilling contest at the Georgia Dome. This game will go in history as an instant classic. It was a wild roller coaster game for the ages. Both teams went toe-to-toe. Alabama just won by five yards.
"It came down to one play to win the SEC championship and play for the national championship," Georgia quarterback Aaron Murray said to a reporter after his Bulldogs' rally fell just short of sending UGA to its first national title game since the 1982 season.
After Georgia linebacker Alec Ogletree returned a blocked field goal for a 55-yard touchdown to increase the Bulldog's lead to 21-10, the crowd in Atlanta was going nuts. It was looking too good to be true for Georgia.
Then again, it's Nick Saban and Alabama. They know how to change the tide quickly. Alabama outscored the Bulldogs 22-7 to end the game. Flash back to the 2011 SEC Championship game, Georgia got out to an early 10-lead on LSU and dropped a pair of potential touchdown passes that could have resulted in a bigger lead. The Tigers overwhelmed the Bulldogs in the second half last season to win 42-10.
Flash forward to the 2012 SEC Championship Game. Georgia receivers weren't dropping balls. Instead they were taking hits down the middle to keep drives alive.
With one minute and eight seconds remaining, Murray gave his team a chance to win. Stuck at their own 15-yard line, it seemed impossible for the Bulldogs to drive down the field against Alabama's defense with so little time.
Murray completed four passes, three to tight end Arthur Lynch and one to Tavarres King. It seemed the game might have ended after an interception by Alabama's Dee Milliner, but the play was overturned when video review determined the ball hit the ground. There was life again after another 26-yard completion to Lynch at Alabama's eight-yard line.
Bulldogs fans believed the impossible could soon turn into a reality. Then Murray's pass was tipped and Georgia's receiver Chris Conley caught the deflection and was stopped at the five-yard line. Georgia had no time left to run another play.
After such a promising drive, it was disappointing it had to end by poor clock management. It might have been best for Murray to spike the ball after the first down completion instead of passing short of the end zone. Now Georgia will have to put their national title hopes on pause until next season.
Alabama, on the other hand will be playing in its second consecutive BCS National Championship Game. The ironic twist to this game was the fact it was won by a touchdown pass.
"It probably would have been the greatest comeback in Georgia history," Murray said to a reporter. "It was exciting, that's for sure."
Murray completed 18 of 33 passes for 265 yards with one touchdown and one interception in the game that almost changed Murray's career on the big stage.
But it was the Alabama quarterback who took over the show. Alabama's game plan consisted of run, run, run then go deep. The Alabama run may have dominated this game, but it was the one pass play that determined the outcome.
It was the perfect play call that sealed the victory for the Crimson Tide. Alabama called for misdirection at the perfect time. Quarterback A.J. McCarron connected with freshman sensation Amari Cooper on 45-yard touchdown pass to take a 32-28 lead with a little over three minutes remaining.
McCarron's numbers weren't off the charts. He completed 12 of 21 passes for 162 yards with an interception. It was his one 45-yard-touchdown pass to Cooper that will be remembered.
Coming into this game, Georgia's opponents averaged 150.8 rushing yards per game. Alabama's running backs combined for 350 yards. Eddie Lacy had 181 yards with two touchdowns. T.J. Yeldon added 153 yards rushing with a touchdown.
Now the college football world will wait in anticipation to see Alabama's powerful run game matched up against Notre Dame's dominant defensive unit, led by Heisman Trophy candidate Manti Teʻo.
Reach Staff Writer Annette Irwin here or follow her on Twitter.