Sports
Adrian Peterson Eyes 2,000 Yards, Single-Season Rushing Record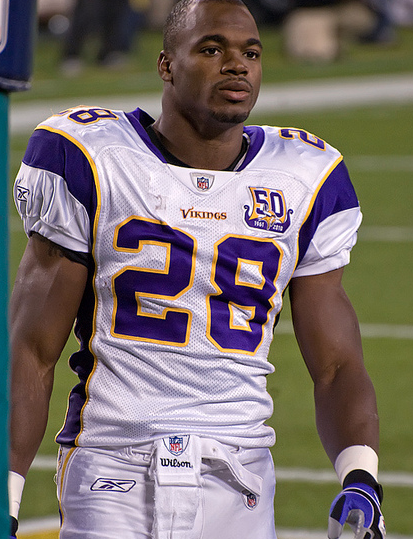 The Minnesota Vikings control their own destiny. A win and they're in the playoffs.
While the Vikings-Packers game will be critical for both teams (our panel predicted the game), an extraordinary individual achievement could be reached in the game. If, exactly one year ago, someone had predicted Adrian Peterson would be having one of the best seasons of all time, would you have believed it?
After tearing both his left ACL and MCL on Dec. 24, 2011, Peterson was miraculously back on the field in time for the 2012-13 NFL season. Peterson hasn't just played every game; he's inflicted serious damage upon opposing defenses.
Peterson needs 102 rushing yards to join a select group of six 2,000-yard rushers that includes Eric Dickerson, Jamal Lewis, Barry Sanders, Terrell Davis, Chris Johnson and O.J. Simpson. He's also 208 yards away from breaking Dickerson's 2,105-yard mark, which the Ram running back set in 1984.
While 208 yards may seem like a lot (and it is), Peterson has eclipsed 200 yards twice in his last four games, including Minnesota's Week 13 matchup against the Packers. In the game, he ran for 210 yards on 21 carries.
There were six games this season in which Peterson produced more yardage than Christian Ponder. The statistic may say more about Ponder than it does about Peterson, but it's extremely telling, nonetheless. It's so rare for the obvious reason that a quarterback touches the ball on virtually every offensive snap. Let's take a look at these players' respective statistics in those games:
Week 4 at Lions: Ponder – 111 pass yards, 5 rush yards; Peterson – 102 rush yards, 20 rec yards.
Week 7 vs. Cardinals: Ponder – 58 pass yards, 2 rush yards; Peterson – 153 rush yards, 6 rec yards.
Week 9 at Seahawks: Ponder – 63 pass yards, 23 rush yards; Peterson – 182 rush yards, 11 rec yards.
Week 13 at Packers: Ponder – 119 pass yards, 28 rush yards; Peterson – 210 rush yards, 10 rec yards.
Week 14 vs. Bears: Ponder – 91 passing yards; Peterson – 154 rushing yards, 15 receiving yards.
Week 15 at Rams: Ponder – 131 passing yards, 6 rushing yards; Peterson – 212 rushing yards.
Prediction: Peterson will rush for at least 150 yards (on 30 carries) to comfortably get into the 2,000-yard club, but the performance will neither be enough for the single-season record nor a much-needed Minnesota victory. Pro-Bowl linebacker Clay Matthews didn't play against the Vikings in the teams' first meeting, but he's back for the Packers. That should help, as they've had better success at stopping the run in the 11 games he's played. Even when defenses know the Vikings are running the ball, Peterson remains so difficult to bring down. Still, 208 rushing yards is a lot to ask of one man. Minnesota, who is 6-1 at home, should pose a stiff challenge, but the Packers have too many offensive weapons while Minnesota is extremely one-dimensional.
*The Detroit Lions' Calvin Johnson broke Jerry Rice's single-season receiving mark of 1,848 yards in Week 16 against the Falcons. On Sunday, Johnson needs only 108 yards to become the first player in NFL history to reach 2,000 receiving yards in a season. Needless to say, if he does it, this would be the first season to feature both a 2,000-yard rusher and 2,000-yard receiver.
Reach Senior Sports Editor Aaron Fischman by email, or follow him on Twitter.