Los Angeles
99Rise Activist Pays Bills By Organizing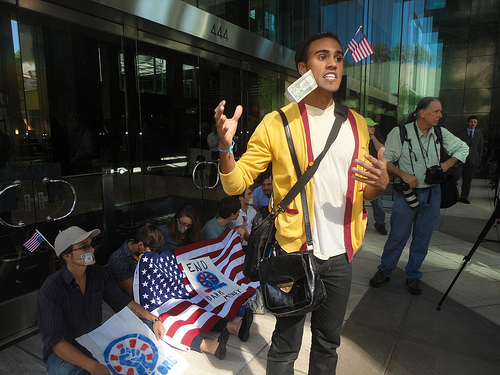 Dimitri Groce's father has been unemployed for most of his life. Having spent his childhood working farm fields with his own father in Maryland, Groce's father didn't have the opportunity to go to school. As a way out, he joined the military, but after serving he had a hard time finding work in civilian society.
An African American man, he met a German immigrant and had a child with her. After hiding his homosexual identity, he came out of the closet after Dimitri was born. He gained sole custody of Dimitri when he separated from Dimitri's mother.
Dimitri's now 24, an Occidental College graduate, tall and thin with an enthusiastic voice. At times, he's supported both his father and himself on the funds he earned working at a group home in South Pasadena.
He had a passion for community organizing, but he couldn't stray from the steady paychecks. "It maintained a lot of my brain space when I graduated: what am I going to do to be fulfilled?" he said. He said he saw the plight of marginalized America embodied by his father, who had pushed him to work hard in school.
"Good people that are poor, all they really want to do is work," Dimitri said. "They want to be a foundation for their family, to do the right thing and work. I'm proud that he still had that drive. He can't do it for himself so he does it for his family."
Dimitri's dad moved from their home in Seattle to L.A. when Dimitri was in high school. They met up again when Dimitri started at Occidental five years ago. "College was an escape," Dimitri said. "I was pretending to be someone I wasn't. Since I graduated I came more into myself."
The spirit of activism that the Oxy campus fostered inspired him, but he also had a keen sense of alienation, trying to fit into the privileged, academic scene. "I wanted to organize but there are some barriers [there] of wanting to intellectualize everything…It's a place that rationalizes organizing a lot…We'll sit and talk about things for a long time and not hit the street for awhile," Dimitri said.
Earlier this year, several Oxy alumni who had been a part of Occupy L.A. and Occupy Colleges formed an offshoot group called 99Rise that sought to keep undisclosed corporate funds out of politics.
Feeling welcomed by the empathy of the leaders, Dimitri told them about wanting to get involved but needing to keep the money flowing. He said that he'd have to avoid getting arrested because he couldn't lose his job. "What if you're hired to get arrested?" they told him. Surprisingly, he said, 99Rise offered to match what he was getting paid at the group home.
He said Oxy was the place that built the leaders who would create 99Rise, which is, he said, "the real deal, the real shit." 99Rise formed last summer with the help of $12,000 raised by Paul Engler, a marriage and family therapist and longtime activist who started the Center for the Working Poor, an activist and outreach base run out of a house in Echo Park. The 99Rise activists cook food there once a week, and the Center loaned Dimitri a car so he could be a more efficient organizer.
"It feels good to work in a house," Dimitri said, because the small duplex he shares with his dad can start feeling cramped after awhile. Over the phone, Dimitri talked about how his role in 99Rise offers a living, breathing insight into the group's struggle against corporate greed.
"I'm the heart guy on organizing. I don't know all the fine details, I might not be the best person to lead a class about how big money in politics affects me. In this environment you don't need to have to talk with heady, jargon terms. You can talk about your own experience. It's just as serious as the educational, academic explanation behind it," Dimitri said. "I know my father would even feel empowered in this community."
The other organizers are cognizant of Dimitri's financial situation, and he said that he feels comfortable telling them when he's struggling to pay rent because it affects him as an organizer. "The other organizers are so sweet with what they say to me, sometimes I almost have to stop them and say 'I realize you understand this stuff. We don't have to talk about the distinctions of how I'm struggling with these things and you're not," he said.
Civil disobedience also gives the other more privileged protesters a chance to see what a different sort of American experience is like, Dimitri said. "To be within the legal system, in a room not knowing what's going to happen to you. It sucks that that's where the front line is in this country," he said.
In October, Dimitri and seven other protesters had a court date on trespassing charges for a protest they staged at the Downtown L.A. Bank of America. Dimitri and the other students had their charges dropped, but Paul Engler—who's been arrested nine times for civil disobedience—and Nick Wagner, an older protester with prior arrests faced probation.
Dimitri's father supports him through his organizing but remains vigilant of what their necessities are. Dimitri's currently looking for a new job to bring in more money. His father helps pay rent with veterans benefits and has started studying sociology at Pasadena Community College. They both have "shitty credit," Dimitri said, and Dimitri is in debt from his time at Occidental.
The struggle, according to Dimitri, always continues.
Read more of Neon Tommy's coverage of 99Rise here.
Reach Assistant News Editor Michael Juliani here.