NBA
A 2012 NBA Christmas: Exploring The Eastern Conference
One year ago, the NBA didn't begin the season until Christmas Day. This time, every team has played between 24 and 30 games. Because Christmas in the NBA serves as a day to get excited about the NBA season, it helps if you know what teams are looking like at this point of the season. Some teams are holding up great, while others wish the season really could start on Christmas again. One thing's for sure: everyone is dealing with injuries.
Ten teams are scheduled to play on Christmas, including five Eastern Conference clubs. The Brooklyn Nets will visit the Boston Celtics, the New York Knicks will visit the Los Angeles Lakers, the Miami Heat will host the Oklahoma City Thunder in an NBA Finals rematch, and the Chicago Bulls will host the Houston Rockets. Here's a quick take on all 15 NBA teams in the East: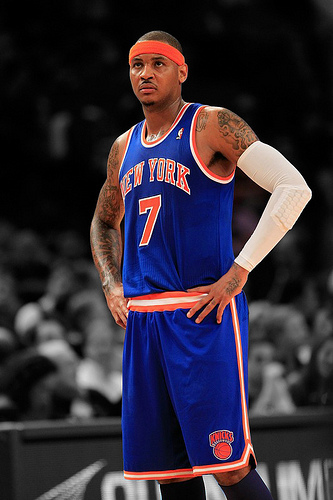 Atlantic Division
The New York Knicks have taken and made the most threes in the league without SG Iman Shumpert and PF Amaré Stoudemire; while PF Carmelo Anthony is averaging a career-low 1.9 assists, he is also averaging a career-low 2.6 turnovers while putting up three-point shooting numbers he has never come close to touching before (2.6 made threes a game, 44% from three). The Brooklyn Nets are forcing the fewest turnovers in the league, while PG Deron Williams is shooting a career-worst 40% from the field and 30% from three. The Boston Celtics could use SG Avery Bradley: they're not a top-10 defense for the first time since trading for Kevin Garnett and Ray Allen in 2007 and there's not a single shot-blocker on the roster. C Andrew Bynum may not play for the Philadelphia 76ers, and while they aren't any better offensively than they were last year, they have seen their top-five defense from last year plummet all the way to 21st (they're especially poor defending the three, allowing 37%, 25th in the league). The Toronto Raptors are 4-17 when PF Andrea Bargnani plays, 5-2 when he doesn't. The Raptors' defense has also fallen from 14th last season to 27th this season, but has not allowed 100 points in the seven games Bargnani has missed.
Central Division
As if you need more proof that defense keeps you afloat in the NBA, the Chicago Bulls have remained a top-five defensive team without PG Derrick Rose, and C Joakim Noah is averaging career-highs in points (13.5), steals (1.4), and blocks (2.2) to go along with 10.6 rebounds per game. Likewise, the Indiana Pacers are dreadful offensively (28th overall) without SF Danny Granger (knee), but they have the best defense in the NBA, allowing a league-best 41% FGs and 31% threes. Milwaukee Bucks guards Brandon Jennings (17.3 points per game) and Monta Ellis (19.5 points per game) are the only two starting guards in the top-30 in points, but they are both shooting under 40% for a bottom-five offense. The Bucks are, however, yet another top-10 defense over .500 (Jennings ranks fourth in steals, C Larry Sanders leads the league in blocks per game). Detroit Pistons PG Brandon Knight ranks 10th in the NBA in turnovers and is averaging only 4.9 assists per game, which would lead only three other teams (two of those teams are missing John Wall and Ricky Rubio). The Cleveland Cavaliers place 29th in FG% (42%), and dead last in FG% allowed (47%), and while PG Kyrie Irving leads all point guards in points per game (22.8), he leads the NBA in turnovers (4.0). Cavs C Anderson Varejao is having a career-year, averaging a career-high in points (14.1) and leading the league with a career-high 14.4 rebounds a game.
Southeast Division
The Miami Heat have slipped out of the top-10 defensively, but are leading the NBA in FG% (just under 50%) and three-point % (41%), while SF LeBron James (55%), SG Dwyane Wade (52%), C Chris Bosh (55%) and backup SG Ray Allen (just under 50%) are all shooting career-highs from the field. The Atlanta Hawks rank fifth in the NBA in defense, and have committed the fewest fouls in the league (leading fouler PF Josh Smith is tied for 65th in the league in fouls, with 2.6 a game). The Orlando Magic are the only top-10 defensive team (seventh overall) without a winning record; their 29th-ranked offense has a lot to do with that. SF Hedo Turkoglu (hand) has only played 17 minutes this season, PF Al Harrington (knee) has been out all year, and now PF Glen Davis, who was averaging career-highs in points (16.0) and rebounds (7.9), will be out for a month (shoulder). The Charlotte Bobcats, who rank dead-last in the NBA defensively, are on a 15-game losing streak in which they have allowed over 100 points in 14 of those losses. The Bobcats also place 28th in the league in FG%. The Washington Wizards have failed to win back-to-back games without PG John Wall, and rank dead-last in the NBA offensively, shooting a league-worst 40% from the field and averaging a league-worst 88.8 points per game (no other team averages below 91). PF Jan Vesely, the sixth pick in the 2011 NBA Draft, has made only 5/19 FTs and has more fouls (45) than points (43), rebounds (39), and combined assists (12), steals (9), and blocks (5).
Reach Staff Writer Law Murray via email or follow him on Twitter.