USC Sports
The Women Of Troy Can't Finish Off No. 23 Nebraska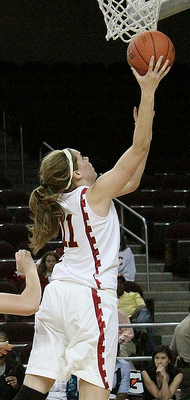 In the Southern California Women of Troy's biggest challenge to date, they came up short.
The No. 23 Nebraska Cornhuskers defeated the Women of Troy 74-65 Friday afternoon behind a 20-4 run in the final 4:20 of the game.
"I thought they did an excellent job of showing what poise and patience and discipline is about down the stretch," said USC head coach Michael Cooper. "We didn't handle it very well going down the stretch, and that's what cost us the loss."
The Women of Troy utilized a 19-4 run over a nearly 12-minute stretch in the second half to take a 61-54 lead. In the waning minutes, however, USC both struggled to score and became unable to get defensive stops.
"We're not finishers at all," said Cooper, "and I'm not talking about scoring points. I'm talking about making the plays that have to be made on the court at that time."
Early on, the Women of Troy led 15-5.
The Cornhuskers earned 32 trips to the free-throw line, twice as many as the Trojans. At the line, Nebraska missed only four times for a success rate of 87.5 percent. Nebraska guard Lindsey Moore scored 18 second-half points on 4-5 shooting, including 10-11 from the free-throw line. She finished with a team-high 23 points.
"It was just a matter of us (not) moving our feet, and them being really aggressive to the basket," said senior forward Christina Marinacci. "We just have to start working on our one-on-one defense and not letting them get such easy lanes to the basket."
In the loss, sophomore guard Ariya Crook contributed 25 points on 9-18 shooting, including 5-8 from beyond the arc.
Crook had already notched 25 points by the 7:09 mark in the second half. At that point, Nebraska's defense finally began paying special attention to her. She was held scoreless for the remainder of the game.
"Their main focus was just on me (at the end)," said Crook. "But we couldn't get the ball up the court, and that's pretty much the main thing we have to do down the stretch. That's our Achilles heel."
With the Women of Troy leading by seven, Moore came alive for Nebraska, and USC had no answer.
"In order for us to be considered one of the elite teams, we have to lock down on teams when they're trying to score and in the last four minutes, I believe they got easy baskets or free throws," said Cooper.
In the final 4:20, Moore single-handedly scored 15 points, while her teammates added five more points. Moore's last 15 points included nine free throws, two layups and a jump shot.
Cassie Harberts, USC's leading scorer through the first three games with 19.0 points per game, was held to 13 points. Nebraska's interior defense did a quality job of denying Harberts the ball. As a result, the junior forward only attempted seven shots, well below her average of 12 field goal attempts per game.
The Women of Troy will hit the road for a brief, three-city tour of California before returning home to face Texas A&M on Dec. 15. First, USC will face UC Santa Barbara next Tuesday.
"I feel like in the past couple of games, it's really been us (to blame) whether it's us messing up defensive schemes or just not running our offense correctly," said Marinacci. "If we focus on playing with energy, playing hard, playing together and focusing on the schemes that our coaches write up for us in the beginning of the game, I think we'll be really successful."
The Women of Troy have five more games before they'll host the No. 4 Duke Blue Devils in late December.
Reach Senior Sports Editor Aaron Fischman by email, or follow him on Twitter.