Politics
Voting Fraud Accusations In Ohio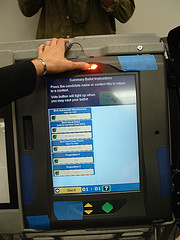 Accusations have risen in swing states over concerns that the use of uncertified and untested software may alter the election results, The Ohio-based Free Press editor-in-chief and Green Party candidate for Congress Robert Fitrakis published.
The "experimental" voting software is product of the Hart Intercivic that allegedly has ties to a Mitt Romney company that is now under criminal investigation.
SEE ALSO: Nevada Unions Make Final Push To Mobilize Voters
Fitrakis has announced his plan to file lawsuit against Ohio Secretary of State Jon Husted and the ES&S manufacturer of the unauthorized, experimental software that is in use in over 39 counties that allegedly violate state election law.
SEE ALSO: Hundreds In Florida Told They Could Vote Until Wednesday Evening
The Free Press originally Reported:
"The Free Press has learned that Election Systems and Solutions (ES&S) installed the software patches that will affect 4,041,056 registered voters, including those in metropolitan Columbus and Cleveland (click here for spread sheet from verifiedvoting.org). A call to the Ohio Secretary of State's office concerning the software patches was not returned by publication deadline. Previously, the Free Press requests for public records, including voting machine vendor contracts, have been stonewalled by Office Secretary of State John Husted's office through his public records officer Chris Shea."
The Free Press later released a statement against the accusations:
"A statement that Hart has nothing to do with the voting machines in Hamilton (Cincinnati) or Williams counties in the key swing state of Ohio is simply incorrect. Not only does Hart Intercivic have contracts to maintain some of their voting machines, but in Hamilton and Williams counties the tabulation software which will be used to count the votes on Election Day is also made and maintained by Hart, according to public records."