Sports
USC Women's Basketball Notches First Win Against Pepperdine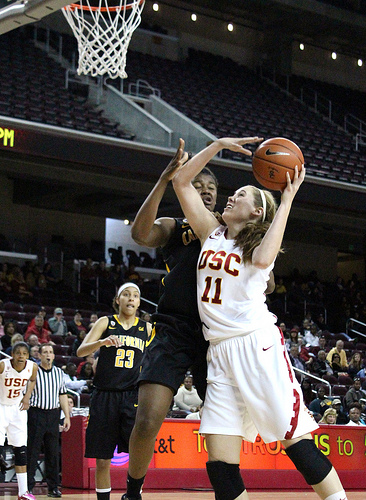 The Women of Troy finally came alive.
After a sluggish performance in a loss to Gonzaga in their home opener, the USC women's basketball team notched its first win of the season against the Pepperdine Waves 65-56.
An entirely different team took the court at Galen Center on Sunday afternoon. The team that started last Sunday struggled to find a rhythm, and was ultimately bested by a combination of committing too many turnovers and being unable to climb out of an early deficit.
This Sunday, the Women of Troy showed off their speed, focus and an aggressive—albeit at times erratic—energy in a much-needed win that makes them 19-0 lifetime against the Waves.
"The key for us was to bring a lot of energy," said head coach Michael Cooper. "We did an excellent job of shutting this team down."
In a complete turnaround from the home opener, USC's performance reflected its newfound speed and energy; the team fought for 40 minutes in a game where the score was tied and the lead changed eight times.
The Women of Troy fell into their early pattern of falling behind early, but didn't let Pepperdine's lead defeat them.
"We came out and we didn't dig ourselves a hole this game and I think that really helped us in fueling our energy," said junior forward Cassie Harberts, who recorded her second consecutive double-double, with 24 points and 10 rebounds.
Harberts got some offensive help from sophomore guard Ariya Crook, who earned a Pac-12 Freshman Honorable Mention last year but sat out the first game due to a coaching decision.
Crook put up 17 points, including both of the team's three-point shots, underscoring her contribution in her first game back with the team.
"It actually feels great," Crook said of getting back on the court. "I just want to continue on with the season and help my teammates out any way that I can."
The offensive performances by Crook and Harberts were supplemented by an aggressive and physical defense. The Women of Troy racked up a total of 47 rebounds, with 30 of those coming on defense.
"When every player is diving on the floor, someone takes a charge, they all jump on each other, it's so much more fun to play out there," Harberts said. "You want to work hard for each other. That's what we need every game."
USC's sudden surge in energy was noticeable, but so were its turnovers, which Cooper identified as a problem after the team's loss to Gonzaga.
The Women of Troy matched their home opener with 24 turnovers, committing 15 in the first half alone, giving them a total of 29 turnovers in first halves this season.
This time, however, the turnovers came as a result of their overexcitement; players lost control by moving too quickly and rushing passes.
"When we do that, it creates some bad turnovers," Cooper said. "We don't like to have turnovers, but we'll take the win."
Even though the team has turned the ball over 48 times in just two games, they focused briefly on the positives before looking ahead to the future and honing in on the skills that will help them win.
"That's the nature of our team this year," Cooper said. "We've got to do what we have to do to win and we know it's going to be tough but we have the players that can persevere and get it done."
The Women of Troy will play twice more this week; they play Arkansas State on Wednesday at 7 p.m. and Nebraska on Friday at 2 p.m.