USC Sports
USC Football: Max Wittek, Cody Kessler Patiently Wait Their Turn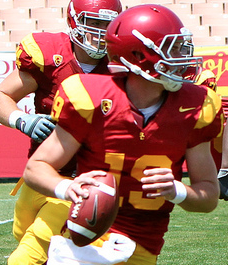 LOS ANGELES--After a junior season in which Southern California's Matt Barkley torched defenses to the tune of 3,528 yards and 39 touchdowns, the NFL was calling. But Barkley wasn't ready to leave.
Barkley's return to the Trojans kept him together with wide receivers Robert Woods and Marqise Lee.
It also meant that promising backup quarterbacks Max Wittek and Cody Kessler would have to ride the pine for another year.
Although both quarterbacks badly want to start, they're using the extra year with Barkley to further progress their games.
Wittek and Kessler got an early jump on their respective collegiate careers by graduating a semester early from high school in 2011. Early graduation is not uncommon, especially among quarterbacks looking to join their new team for spring practice. In 2009, Barkley did the same thing.
Both Wittek and Kessler elected to redshirt last season. Throughout much of the 2012 preseason, coach Lane Kiffin remained silent on who would be named Barkley's backup. Finally, just four days before the team's home opener against Hawaii, Kiffin said he was going with Wittek.
Wittek attended Mater Dei High School, like Barkley and former Trojan quarterback and Heisman Trophy-winner Matt Leinart. The Orange County school has enjoyed a long history of cultivating young quarterbacks. In 1964, Mater Dei alumnus John Huarte won the Heisman trophy playing quarterback for Notre Dame. Forty-three years later (and two years after Leinart won the honor), another Mater Dei graduate, Colt Brennan, was a Heisman finalist at Hawaii.
Even with the backup title and the Mater Dei history attached to Wittek's name, Kiffin has been clear that there are no front-runners for next year's starting job. To further murky the waters, five-star recruit Max Browne has committed to USC and plans to enroll in the spring. The 6-foot-5 quarterback from Sammamish, Wash. has been lauded by numerous analysts, including Greg Biggins of Scout.com, who wrote, "Mechanically, you could do an instruction (sic) video on him as his ball placement, release and drops are college level right now."
Wittek can't wait for the real competition to begin in the spring and summer. "That'll (Browne) be another good addition to our team, another good competitor," he said. "So the more competition there is, the better we're all going to be."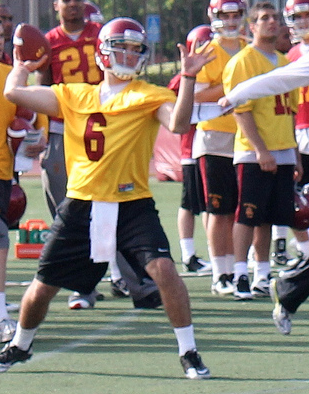 Kessler, who starred at Centennial High School in Bakersfield, concurred. "It's nice having competition every day," said Kessler. "We never come out here and go, 'Oh. We're just going to mess around and hang out.' It's always we come here and compete. Push the guy next to you."
When pressed on the differences between Wittek and Kessler, quarterbacks coach Clay Helton said if there are any, they're insignificant. They are way more similar, he maintained.
"We felt that both of them could come in and be very successful in the pro-style offense," said Helton.
"They're not running quarterbacks by any means, but they do have great pocket presence, and both of them have tremendous feet in the pocket.
"Both of them have very good arm strength, and they pick up the system extremely well."
Wittek and Kessler also share a characteristic often found in quarterbacks, Helton said: "Both of them are competitive, which I love. Even if it's throwing in that simple net drill, they're competing to see who can get as many in the net as they can. Both of them have a very fiery attitude to be the best."
Wittek knows he will have to work hard, but at the same time, he doesn't appear worried at the prospect of not starting next season: "I feel very confident in myself that I will win that starting job. That's what I came here to do, and I plan on doing it."
This season, Barkley has provided ample hands-on training for his understudies.
"What those two have done in game situations has a lot to do with Matt," said Helton. "He's like having a second coach in the room, so it makes my job extremely easy, because you have a guy that's very experienced and talented, and he's a great example for the young two quarterbacks."
Kessler reflected on the help Barkley has provided him through his preparation in the film room: "The stuff that he corrects off film, we can correct the same things, me and Max. So it's kind of nice having that to look up to."
Wittek, who is listed at 6 foot 4, a couple inches taller than Barkley, believes he has all the physical tools he needs.
Like Kessler, he said it has been invaluable watching Barkley plan for games: "Watching how he prepares every week for the game, watching his preparation in the hotels, subtle things, subtle reminders, little things that he writes down that are going to keep him prepared for the game."
There are certain problems that can't be diagnosed until a quarterback receives the bulk of his team's snaps, but both Wittek and Kessler were able to pinpoint one or two specific areas in which each of their games can be improved.
Wittek said he'd like to improve in the area of audibles and check-downs: "Knowing the very subtle hints and reminders that we have on say on a run play, for example, where we have to locate a certain (defensive) guy and if he comes down and looks like he's going to blitz, then we have to check to a different play. That's not necessarily game-changing, but it puts our team in a better position to get more yards on a certain play."
Kessler highlighted a different area of his game: "You never really focus on one thing, but, I mean, you notice your weaknesses at times, so just kind of speeding up my drop-back time or just making the right reads and kind of reading everything all the way through and then being ready to be throw."
According to Helton, USC grades its quarterbacks on three factors: decision-making, timing and accuracy. The two redshirt freshman quarterbacks, he said, have looked good on all three measures.
And it's important that both quarterbacks are ready to play immediately, considering the precarious nature of football. "We meet every day with coach Helton as a group and there's a good dynamic in there," said Wittek. "Everyone's getting asked questions, everyone is held accountable, because you never know what's going to happen."
What USC does know, regardless of who next year's quarterback will be, is that receivers Lee, George Farmer, Victor Blackwell and Nelson Agholor will return.
Lee, Farmer and Blackwell all came to USC the same year as Wittek and Kessler. Although Agholor has not been a Trojan for as long, he's already working hard to make up for lost time. "Last game (against Oregon), he (Agholor) kind of broke out and it's nice to see him come up," said Kessler. "Just going back to the offseason, he would always text, 'Hey, let's go throw. Let's watch film.' It's nice to have those guys that really care about the game coming up."
Reach Senior Sports Editor Aaron Fischman here or follow him on Twitter.