USC Sports
USC Football Behind Enemy Lines: Q&A With UCLA Writer Peter Yoon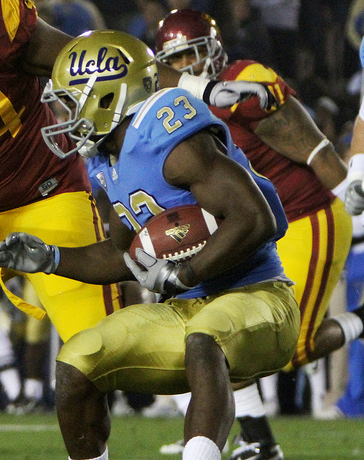 This is big time.
The winner of Saturday's noon affair will win the Pac-12 South and earn the right to face Oregon in the Pac-12 Championship game on Friday, Nov. 30. USC heads to Pasadena having won 12 of its last 13 against the rival Bruins, but for the first time since 2001, UCLA comes into the game with a better record and higher rank.
In last season's head-to-head matchup, the Trojans notoriously mauled the Bruins, 50-0. Despite the drubbing, UCLA went on to play Oregon in the conference championship, because USC was ineligible for postseason play. This season, the Bruins, who are now coached by Jim Mora Jr., have improved considerably. Armed with a new coach and starting quarterback, the Bruins are 8-2 and have won their last four games. In the Bruins' eight wins, they've averaged 42.5 points per game, while holding opponents to 22.1 points per contest.
Peter Yoon of ESPN LA has graciously agreed to come on for the second time in as many years to help us preview Saturday's crosstown battle. Let's get to it!
Aaron Fischman: In less than a year, what are the many ways in which coach Jim Mora Jr. has begun to transform the Bruin program?
Peter Yoon: The biggest thing Mora has brought to the program is focus. He put together a clear goal of making sure the team kept its eyes on only one day at a time. It's cliché, but it's worked. On practice days, the players think about having a great practice. In film sessions, they think about learning as much as possible. On games days, they think about playing well that day. Mora's insistence that the team stays focused only on the task at hand has helped the team improve and learn from its mistakes.
AF: How has freshman quarterback Brett Hundley immediately come in and given the Bruins a balanced scoring offense that ranks 22nd in the nation? Discuss his primary strengths and weaknesses.
Yoon: First off, he's benefitted from the offensive scheme. The Bruins are No. 22 in the nation because they run a lot of plays in the up-tempo style of offensive coordinator Noel Mazzone. If UCLA was still running the pistol, it's doubtful they'd be up that high no matter who was the quarterback.
But Hundley is also a very good fit for the offense. He's very smart and knows how to read defenses very well for someone of such little experience. He knows when to check down into a handoff or screen pass if he sees something he doesn't like in the defense. Little decisions like that help keep drives alive and allow the Bruins to keep running a large number of plays per game.
Another of his strengths is his ability to use his legs to extend plays if something breaks down. He can also get extra yards on designed quarterback runs.
His biggest weakness is a lack of experience. Sometimes he makes the wrong read because he's seeing something in the defense he's never seen. Other times he doesn't throw away the ball when he should. Accuracy on deep balls has also been an issue for him at times. He overthrows downfield receivers a lot.
AF: Nationally, both teams rank in the Top 5 in sacks. To what extent do you expect Bruin linebacker Anthony Barr and/or Trojan defensive end Morgan Breslin to make a significant impact on the outcome of the game?
Yoon: It will obviously depend on how the game plays out. The pass is a major part of the offenses for both teams and protecting the quarterback will have to be a major priority. There are several ways to do this early in the game, such as with screens, quick slants and three-step drops to get the ball out before the pressure reaches the quarterback.
If teams get into second or third and long situations a lot, however, the defenses can let the pressure fly so the impact of the pass rushes will rely on the effectiveness of each team in the early downs.
USC's offensive line has done a better job of protecting Matt Barkley this season. They've given up only 14 sacks while UCLA has given up 31 and the teams pass the ball an fairly equal amount so the advantage will be for the Trojans here, especially considering UCLA starts three freshmen on the offensive line.
AF: UCLA enters Saturday's game with a better record and higher rank than its crosstown rivals for the first time since the teams played in 2001. This game will also decide the winner of the Pac-12 South. How do UCLA's success and the additional conference implications change the dynamic of the game?
Yoon: For fans and media, it changes the game completely, but for the coaches and players it shouldn't affect it at all. They are still playing football.
That said, there will be some added emotion because of the extra incentives and ramifications. The Bruins have had some success in big games this year and will have the type of confidence for this game that they have not had in quite some time and they are catching the Trojans at a time when their confidence has been shaken a bit, so there could be an edge for UCLA there.
But UCLA is also the team with something to prove. They have lost 12 of the last 13 in the rivalry and must beat USC to legitimize its season. That could serve as more motivation for the Bruins, but it could also add unnecessary pressure so it could impact them either way depending on how they handle it.
For USC, it will be trying to continue its dominance and show that despite UCLA's success this season, USC still owns this town. Again, that could work for or against the Trojans depending on how they handle it. It has been a while since USC has faced a UCLA team that has a realistic chance to win this game, so they might get caught up in trying to show UCLA is overrated.
AF: From the Bruins' perspective, what must they do in order to beat the Trojans this upcoming Saturday afternoon?
Yoon: Run the ball effectively and put points on the board. Let's face it: UCLA is not going to shut down the USC offense. Nobody really has this season and UCLA's defense has been suspect, especially against the pass.
So the key for UCLA will be to put together some extended drives and keep the USC offense on the sideline for as long as possible. A turnover or two and some good plays on special teams would also come in handy. The most important thing for UCLA, however, is to score touchdowns. USC can score quickly so even if the Bruins control the clock, the Trojans have the ability to keep pace with big plays. Field goals aren't going to cut it in this game.
AF: Last year, I'm not sure if anyone expected a 50-0 blowout (you predicted a 31-30 USC win...sorry I brought it up), but that's what happened. For this year's matchup, please predict the winner and final score.
Yoon: If anyone predicted 50-0 last year, I have yet to meet him/her. That was an aberration in a rivalry that generally produces a close game. Games at the Rose Bowl, especially, have almost always been close. This one is set up to be a classic with UCLA on the rise and USC seemingly in a downturn, especially with the stakes on the line, but I don't think UCLA is quite ready to get over the hump. USC 36, UCLA 30.
Thanks again to Peter Yoon for his time and insight.
Reach Senior Sports Editor Aaron Fischman by email, or follow him on Twitter.