USC Sports
USC Football Behind Enemy Lines - Five Questions For ASU Writer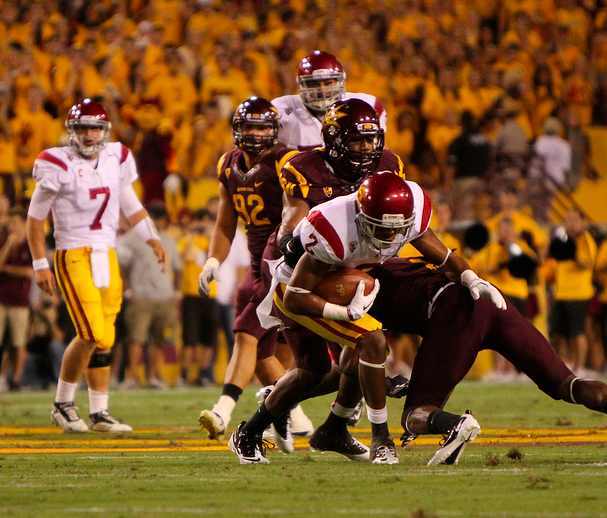 The USC Trojans welcome the Arizona State Sun Devils to the Los Angeles Memorial Coliseum on Saturday. It will be a Homecoming showdown where the Trojans will look to right their slowly sinking ship. After crumbling on the road at Arizona and getting outran by the Oregon Ducks in back to back weeks, USC will undoubtedly enter this contest angry and looking for someone to take it out on.
That's where the Sun Devils come in, nursing a three-game skid of their own after starting the season strong.
To gain more perspective of what this matchup will provide, we spoke to Brad Denny of SB Nation's Arizona site. Denny has been covering ASU football for a few years and really knows the inner workings of this team:
1. USC is coming off of two tough losses and is looking at Arizona State as an opportunity to right the ship once again. What Sun Devil weaknesses could the Trojans exploit in this contest?
Brad Denny: The biggest weakness for ASU just so happens to be the Trojans' greatest strength. I expect we'll see a lot of Barkley-to-Lee or Woods against an ASU secondary that has had major struggles and surrendered several big plays during the last three weeks. Cornerback Osahon Irabor has been very good this year, but he can't cover everybody, so I foresee a lot of big plays through the air.
On the other side of the ball, ASU quarterback Taylor Kelly—whose debut season had been mostly excellent— had his worst game of the season last Saturday, and the key was consistent pressure from Oregon State. The normally cool and collected Kelly got rattled, and as a result, the offense ground to a halt in the second half. Should USC be able to replicate that pass rushing success, it could make for another long night for the ASU offense.
2. Wide receiver Marqise Lee has had an incredible stretch for USC over the past two games, collecting more than 500 receiving yards in that span. How can the Sun Devils' defensive personnel contain him?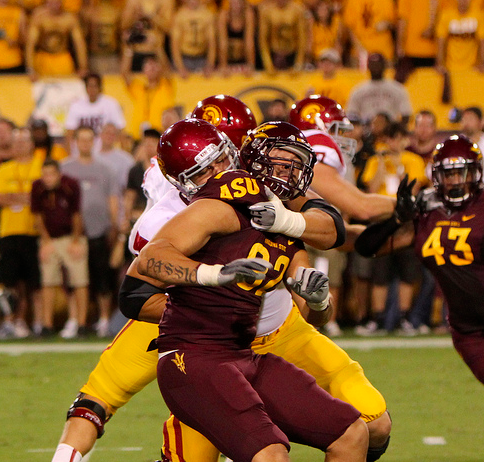 Brad Denny: The best bet is at gunpoint. But legally, the best way to limit his damage will be for the Sun Devils to attack Matt Barkley before he can get the ball to Lee. Over the last three games, the secondary has been gashed, and now they are facing the best and most dynamic receiver in the nation. Quite simply, the secondary alone has little chance to shut him down in coverage, so the pressure will fall to the pass rush.

Thankfully for ASU, that's one area in which they excel, ranking second in the nation in that category. Will Sutton, Carl Bradford and Junior Onyeali (22 combined sacks) have been excellent all year up front, and defensive coordinator Paul Randolph has been having success with blitzes from the linebackers lately, so he may amp that up to hit Barkley before he can hit Lee.

3. Aside from Lee, the USC offense has proved to be formidable in that same stretch, mixing up the passing game and running game in a fashion that makes them tough to contain. What should head coach Todd Graham do to avoid giving up hundreds of yards?

Brad Denny: As stated above, the best bet is to bring as much pressure as possible before USC's lethal playmakers can get going. In an open-field setting, the Sun Devils simply don't match up, so they'll need to strike first.

Schematically, the Sun Devils defense is all about attacking an offense from a variety of formations and angles. They've done very well in that regard all year (second in the nation in both sacks and tackles-for-loss), but here, it will be an absolute necessity if the team will have any hope of an upset.

The trio of Sutton, Bradford and Onyeali should be able to get to Barkley a bit, and ASU's athletic linebackers—Brandon Magee, Chris Young and Steffon Martin—will be counted upon to stuff the run and provide blitz pressure from all angles. If the front seven can do that consistently... game on. If not, USC is probably scoring over 50.

4. What weaknesses do you see that USC has that can be prodded by this ASU team?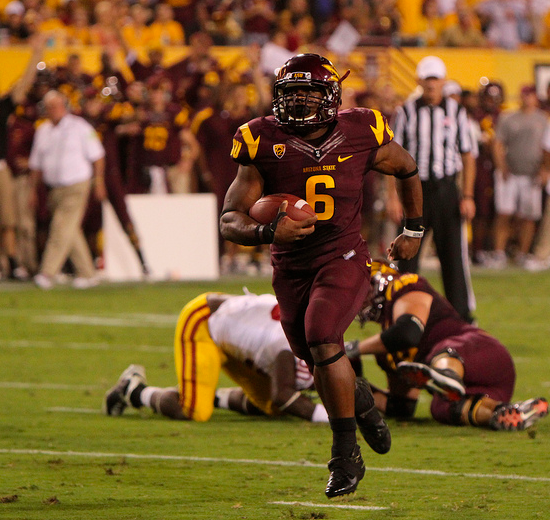 Brad Denny: Even though Oregon's offense is in a category all by itself, ASU should be able to find success offensively. They have a pair of running backs—true freshman D.J. Foster and junior transfer Marion Grice—who have been the team's best weapons both on the ground and through the air.

Foster in particular is very dynamic, with great speed, explosiveness and a poise beyond his years, and the team uses him in the backfield and as a wide receiver. The team likes to run him to the edges, and I believe he's in line for a big game. Think of him as a poor man's De'Anthony Thomas. We could also see more power runs by Cameron Marshall, who had a huge game last year against USC, to try some of the same schemes that Kenjon Barner thrived on last week.

5. Recently, ASU has a history of starting strong before a late season collapse to finish 6-6. Having lost their last three games, the season looks to be headed that way at this time. How worried do the Trojans--and their fans--need to be about another home upset?

Brad Denny: I think that USC should be able to win this game somewhat comfortably. Quite simply, they are the better team, and while ASU is certainly a team on the rise, their days of contention are at least a season away. In order to win, ASU will need some breaks to fall their way, and with their highly aggressive defense, they have the ability to cause some turnovers. If they can do that, and the offense is highly efficient, then this could be pretty close. But in the end, I think something like a 45-31 Trojans win is on the horizon.

Thanks to Brad Denny for taking the time to preview the game with us. You can follow him on Twitter, @BDenny29.