Los Angeles
Union Strike Shuts Down Los Angeles and Long Beach Ports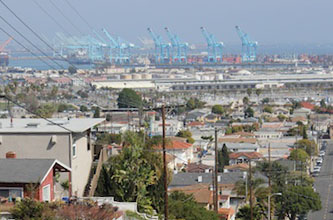 A local union of maritime clerks closed the ports of Los Angeles and Long Beach Wednesday in protest over wages and working conditions.
While cargo movement is relatively low this time of year, the closure raised questions about the importance of the keeping the fragile economy from risk.
The International Longshore and Warehouse Union Local 63 is only 800-members strong, but their picket lines reached seven of the eight terminals at the Port of Los Angeles -- the largest container port in the U.S.
They also struck three of six terminals at the neighboring Port of Long Beach.
Receiving an approval from the larger 50,000-member ILWU of dockworkers and clerks, who handle all of west coast cargo in the U.S., Canada and Hawaii, kept an additional 10,000 workers employed at the ports of L.A. and Long Beach from crossing the picket line.
Read the full Los Angeles Times story here.
Reach Executive Producer Lauren Foliart here.