USC Sports
USC Trojans Beat Sun Devils 38-17, But Concerns Remain
They got the win.
No matter how ugly it was or how erratic Matt Barkley played, regardless of how tunnel-visioned the passing attack became around Marqise Lee, USC upended the Arizona State Sun Devils 38-17 in front of over 80,000 people on homecoming weekend.
"It was a really good team win," said head coach Lane Kiffin. "It wasn't a perfect game, [but] we played a conference game and won by 21 points."
And even after a performance where the Trojans looked ugly, erratic, tunnel-visioned and a host of other adjectives, that's what stands at the forefront.
There were bright spots, to be certain, with none bigger than the diminutive tailback Curtis McNeal. Lee displayed his usual brilliance – 228 combined rushing and receiving yards – but with Silas Redd unavailable, it took a monster effort from last season's leading rusher to kick start the Trojans offense into gear after a sluggish first half. McNeal carried the ball a whopping 31 times for 164 yards to go with 22 yards receiving and notched three touchdowns, which improbably enough were his first of the 2012 season. But the key figure was 113 – the number of rushing yards came in the second half, propelling USC to a 24-3 advantage over the final 30 minutes after heading into halftime tied at 14.
"A lot of credit goes to Curtis," Kiffin said. "Curtis [had] 31 carries and only lost one yard today."
The defense, meanwhile, announced its comeback in a big way after conceding over 100 points and 1,300 yards over its past two games. The unit that looked so beleaguered looked something else entirely Saturday, forcing five turnovers and accruing seven sacks for 56 yards. Yet it wasn't in the big plays but the smaller moments in which Monte Kiffin's unit demonstrated its dominance. The zone read that so vexed them against Arizona and Oregon was snuffed out, with the Sun Devils held to just two yards a carry. ASU's offense wasn't much better as a whole, with just 250 yards total on the day with a meager 3.7 yards per play average. Factor in just 106 of those yards coming after the break and you have something the Trojans haven't seen in three weeks – a lockdown effort that actually improved in the second half.
"We really felt like we've played good defense for seven and a half weeks and for five and a half quarters we played bad," Kiffin noted. "We were aggressive and got to the ball, and that was great to see."
"We just played well," defensive coordinator Monte Kiffin said. "We got some pressures and did what we had to do. Everyone did their job."
"It was big to get our swagger back," TJ McDonald said of the win. "It's been rough… we needed to get that nasty taste out of our mouths."
No one on either side of the ball did their job – and then some – more than Lee. Not much more can be said of the player who in under a year has gone from second banana to runaway leader for the Biletnikoff Award and a probable Heisman finalist, and even less after he set the Pac-12 record books – and Wildcats' and Ducks' secondaries – ablaze over the past two weeks. Yet with 161 more receiving yards – half of which came on an 80-yard bomb in the first quarter to give USC its first touchdown of the game – on 10 receptions, Lee lived up to his billing as the nation's best receiver by putting up his 11th 100-yard receiving performance in just 22 career games.
And on the week where USC released a promotional video backing his candidacy for the Heisman, Lee unleashed a possible Heisman moment in the 4th quarter courtesy of a slaloming 38-yard reverse – in which he "reversed the reverse," according to Barkley – that validated Kiffin's comparison between Lee and Reggie Bush as the two biggest game breakers he's coached at USC.
Crazier still, he did it after suffering an allergic reaction that left him with a swollen face less than an hour before kickoff, and forced him to get an IV at halftime.
"He's arguably the best player in college football," Lane Kiffin said.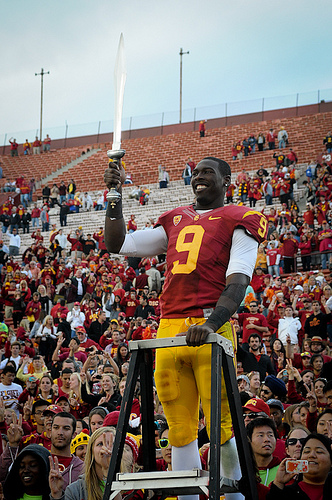 "You kind of expect greatness from him," Barkley allowed. "He's every bit deserving [of Heisman talk].
"He's the best player at his position."
But no matter how crucial this win – any win – was after the last two weeks, there were warning signs.
There was Lee, for all his brilliance, accounting for a seismic 72.5% of USC's receiving yards and half of its total receptions – something that's alarming in a vacuum but even more so when the consensus All-American opposite him, Robert Woods, didn't touch the ball after the first quarter en route to a miserable -3 yards on a pair of catches. Kiffin, for his part, said after the game that he "tried" to get Woods the ball and Barkley pointing to ASU's coverages assigning frequent double teams to Woods to take him out of the flow of the offense. Yet on the heels of Kiffin admitting earlier this week that he often forces the ball to Lee, it's tough for that excuse to hold water – especially not when Woods was open on plays like an inside post route in the third quarter that Barkley instead opted to look to a covered Lee for a shorter gain, or another route over the deep middle that Barkley threw just wide of what he admitted was a probable touchdown.
Similarly, it's hard to buy into Kiffin's repeated assertions that he caters to what the defense gives him when USC's second-leading receiver on the day, Nelson Agholor, managed a scant 22 yards in spite of how much attention is paid toward Lee.
On its own, this might not matter much; after all, USC's offensive yardage and point totals have exploded as Kiffin has leaned increasingly often on Lee. But it does when Barkley has heaved seven interceptions over the past three games, including three on Saturday, and considering why that's happened. There is no point in denying any longer that Barkley has regressed this season, which has as much to do with plays that are near misses or even big gains as they do picks. Indeed, his decision-making has lapsed, with more and more balls getting thrown into double or even triple coverage instead of taking easier gains. Often, those go to Lee; whether that's due to playcalling or the senior's own reads, is anyone's guess. Yet teams have caught on, the way ASU's Alden Darby did when he took a Barkley pass intended for Lee back 70 yards for a touchdown, or the way Barkley almost got picked again in the second quarter were it not for a lucky drop.
It's become eerily reminiscent of
his senior season at Mater Dei
all the way back in 2008, in which Barkley followed a sterling junior season with a strong, but turnover-prone, senior year. The difference is that Barkley had little to work with in the way of a supporting cast; this year, he is replete with it. With 13 interceptions, he is just one away from his single-season high 14 as a freshman and at the rate he's going, will break that dubious record too amidst so many positive ones.
Asked whether he was satisfied with his play, Barkley diplomatically said that he "was pleased with the win," if not the picks. Yet with a road tilt at UCLA followed by undefeated Notre Dame in the Coliseum left on the docket, USC's chances of winning again are slim if its senior quarterback makes so many mistakes.
If they start the way they did on Saturday, with just one score against three turnovers in their first seven drives, they'll be nonexistent.
The Trojans are back in the win column, and in the most basic sense, that means mission accomplished.
Big picture, though, it does little to alleviate concerns that, 11 weeks into the season, this team still cannot execute at high level for 60 minutes.
Yes, the Trojans won.
But they'll have to play prettier, more consistent and balanced to do that again this year.
Contact Mike Piellucci here. Follow him on Twitter here.