California
"Top Two" Primary System Pits Democrats Against Democrats, Republicans Against Republicans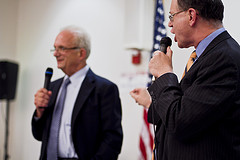 In 2010 Californians voted to eradicate traditional political party primaries and change to a "top two" primary system. The new system sends the top two vote getters in legislative, congressional and constitutional primaries into the general election regardless of party affiliation.
It was designed to reduce gridlock and extremism by promoting centrist candidates who can appeal to members of both major political parties.
As a result, though, voters in some districts are choosing between two Democrats or two Republicans this November and there are very few independents still up for election. Here are four congressional races that are the result of this new "top two" system:
Rep. Howard Berman v. Rep. Brad Sherman, 30th District
Redistricting collapsed Berman and Sherman's territories in the San Fernando Valley and forced them to run against each other. Both Democratic candidates are veterans. Berman, 71, is a 15-term congressman and Sherman, 57, has served eight terms in the House.
To make this race even more contentious, they have nearly identical voting records, sit on the House Foreign Affairs Committee and are some of the most liberal members of Congress.
Yet, Sherman appears to have the upper hand. Fifty percent of the new district's voters are already represented by Sherman and an additional 25 percent were part of his constituency before a previous round of redistricting in 2003.
But the race became exceedingly more heated when Berman and Sherman got into a physical confrontation during a debate at Pierce College on Oct.11. The argument stemmed from Sherman accusing Berman of not authoring the DREAM Act, which he did help write. Berman got in Sherman's face, at which point Sherman grabbed Berman by the shoulder and pullied him towards his chest. A sheriff's deputy then pulled the two apart.
"They agree on almost everything, which sometimes makes it more personal," Cal State Los Angeles Political Scientist Raphe Sonenshein told KPCC.
Rep. Gary Miller v. State Sen. Bob Dutton, 31st District
In this newly drawn Inland Empire Congressional District, Republicans Miller and Dutton are locked in a close race. To make things more interesting, the 31st District has a Democratic majority among registered voters.
During the June primaries, four Democratic candidates split votes, allowing Miller and Dutton to make it to the general election.
For almost 15 years Miller has represented the 42nd District, which includes Orange County and a small sliver of the Inland Empire. Dutton is a local favorite. He represents the area in the State Assembly and is a former Rancho Cucamonga city councilman.
Both candidates are considered pro-business Republicans, but Miller has positioned himself further to the right than Dutton. He is emphasizing his opposition to tax increases and President Barack Obama's health care law, while Dutton is courting Democratic voters to help give him an edge.
Rep. Pete Stark v. Eric Swalwell, 15th District
Stark, who was first elected to Congress 40 years ago, is facing his toughest competition yet in his new district, located in San Francisco's East Bay. Swalwell, 31, is using the same tactic that Stark used to get elected in 1972, telling voters that it is time for a change. Meanwhile Stark is telling voters that experience matters.
Both candidates are Democrats, but Stark is considered to be the more liberal of the two. This may hurt Stark in the end because his new district less progressive than his old one.
Meanwhile, Swalwell has focused on Stark's outbursts and erratic personality. Stark has called one Republican a "fruitcake" and said that troops were being sent to Iraq by George W. Bush to "get their heads blown off for the president's amusement."
Paul Cook v. Gregg Imus, 8th District
Republicans Cook and Imus beat out 11 other candidates to reach the general election. Imus garnered 15.5 percent of the vote, while Cook took home 15.3 percent.
But the candidates have significantly different campaign budgets. Cook, who is backed by construction companies, developers and American Indian Tribes has a budget of nearly $500,000. Meanwhile Tea Party-style candidate Imus has a budget of just over $100,000.
While the candidates are similar in many areas, Imus calls himself a strict constructionist and a supporter of small government. Cook says he is willing to work with Democrats to produce favorable outcomes.
Reach Staff Reporter Steven Covelman here.