Los Angeles and Region
USC Pro-Labor Group Mobilizes Students, Pushes For Better Working Conditions
Despite what have been called unwarranted actions from USC's Department of Public Safety, the Student Coalition Against Labor Exploitation is making moves. Last weekend, about 60 students from across the country met at USC as part of a conference co-hosted by the Student Coalition Against Labor Exploitation, Movimiento Estudiantil Chicano de Azatlan, Student Alliance for Nationalism and Democracy - an anti-genocide coalition - along with United Students Against Sweatshops.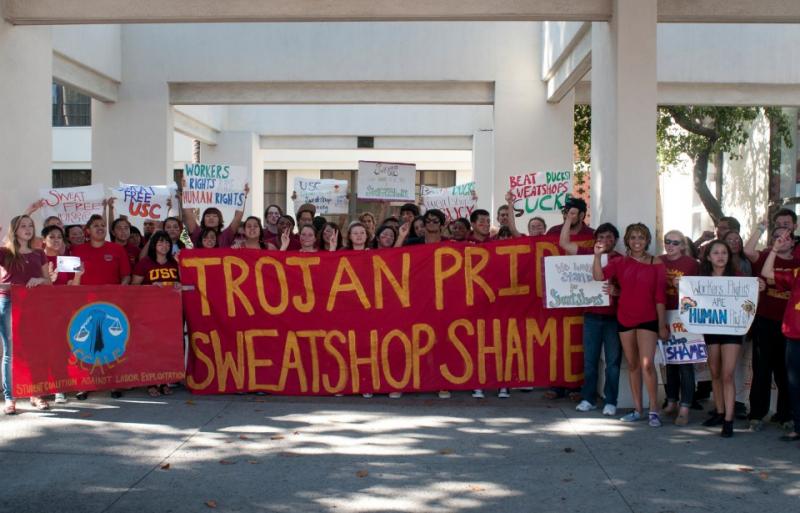 Last week, dozens of students and employees met for a brunch as part of an on-going campaign to share experiences.
USC hospitality workers and janitors who attended the brunch expressed a range of concerns related to work.
A number of employees from locations across campus – Everybody's Kitchen, TroGro, Parkside, Café 84, and the Tutor Center – reported being forbidden to speak the Spanish language during work and being told they could only speak to students for under one minute by their supervisors. According to one representative of a workers union, this has been on-going for about a month, and the legality of these rules is currently being investigated.
Another widespread concern is adequate wages and hours.
The space provided by the brunch for workers to voice their opinions was one of more brunches to come. The coalition of USC students and workers hopes to continue to ensure that university employees in Los Angeles - as well as employees who produce USC apparel abroad - are paid living wages in safe and respectful working conditions.
"What I like about organizing is that it empowers people to bring about change now. In their workplace, they don't have to hope for a new boss; they can come together now and make sure that happens," said Francisco Rios, a USC student involved with the group.
Maria Rodriguez, a sophomore who works with the organization, said she feels connected to the campaign for worker's rights for numerous reasons.
"From my family history and what they've gone through, I am part of this," she said.
Rodriguez's grandparents used to work in sweatshops when they lived in El Salvador.
When conflict between the government of El Salvador, backed by the US government, and left wing guerrilla groups broke out in the 1980's during the Salvadoran Civil War, they moved to the United States and worked minimum wage service jobs.
"If they hadn't made that decision, I would probably be in labor working somewhere," she said, crediting the opportunities before her today to her grandparents' immigration.
After moving to the United States, Rodriguez's grandmother had a greater amount of economic mobility, working as a flower shop and restaurant owner.
However, Rodriguez recognizes that sweatshop workers in El Salvador continue to work in unsafe conditions, earning below living wages.
One organization, the Workers Rights Consortium provides public reports on the conditions of apparel factories abroad.
The group evaluates whether the manufacturing Codes of Conduct adopted by colleges are being upheld - and that the basic rights of workers producing collegiate apparel are respected.
The constortium is the only international monitoring organization that is not overtly funded by the companies it reviews. More than 180 colleges and high schools in the U.S. - including Occidental College, UCLA, all of the UCs and Cal States, and most Ivy League Universities - have already joined.
They are soon to be joined by educational institutions in the United Kindgom, potentially leaving the University of Southern California in the dust.
USC currently uses four monitors, all of which are funded by the same brands they are monitoring, such as Nike, Gap, Russell Athletic and Silver Star Merchandising. Whether or not Trojan gear is manufactured by sweatshop labor is questionable due to this conflict of interests.
A garment factory that caught fire in Pakistan that left 289 employees killed a month ago, received acceptable fire safety ratings from UL Responsible Sourcing months before the fire. UL Responsible Sourcing is one of the monitors currently used by USC.
The Workers Rights Consortium meanwhile is funded by nonprofits and is comprised of University administrators and students, labor rights experts and local NGO members. The Student Coalition Against Labor Exploitation has pushed the University administration to sign onto the WRC for the past 12 years.
Last Thursday, when approached by the organization and asked to sit down and discuss signing onto the Workers Rights Consortium, President Nikias declined, asking them to "respect his time," for what is currently a third consecutive semester of refusing to meet. He delegated the group to Matt Curran, director of USC's licensing and trademark programs.
Curran claims to be waiting to evaluate the costs of membership. However, this information is readily available on the Workers Rights Consortium website: affiliation includes a letter of affiliation and payment of 1% of the university's 20 million dollar annual garment profits. USC would pay less than 1% because of a $50,000 cap on the fee.
USC has also refused to disclose a list of its garment factory locations, although the garment companies with licensed contracts with USC operate factories mostly located in the developing world: Mexico, El Salvador, Guatemala, Honduras, and Nicaragua, Asia (China, Cambodia, Bangladesh, Indonesia, Thailand and India), Africa (Swaziland and Kenya) and Turkey, in addition to the United States.
Student efforts to pressure the administration to adhere to its loudly advertised values of social responsibility among the Trojan Family have only begun to gain momentum.
Reach Constance Ge here.
Reach SCALE here.