Los Angeles
Proposition 36 Poised For Victory After Early Returns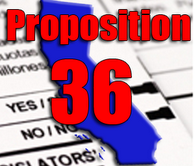 With 14 percent of precincts reporting, Proposition 36 appeared destined for an easy victory with 68 percent of voters in favor of amending California's Three Strikes Law.
"The three strikes law from the jump was incredibly unjust and this is just a tiny step in the right direction," said Kim Mcgill, organizer with the youth justice coalition at a Election Night party in Los Angeles.
"A lot of people did not realize what they were voting for when they passed the three strikes law," said Gayle Blackwell, former director of operations for Families to Amend California There Strikes. "There are so many people that have been so wrongly convicted and disenfranchised because of a law that was interpreted wrongly."
Geri Silva, the director of the group said the campaign worked because this proposition is a much more "modest" proposal than Proposition 66 was.
"It was nowhere near as strong," she said about 66. "Every measure like this has to do with the conditions, the time and the place. So the time was right."
Learn more about Prop 36 here.