Politics
Prince William County Voters Decide From Core Beliefs, Turn Out In Record Numbers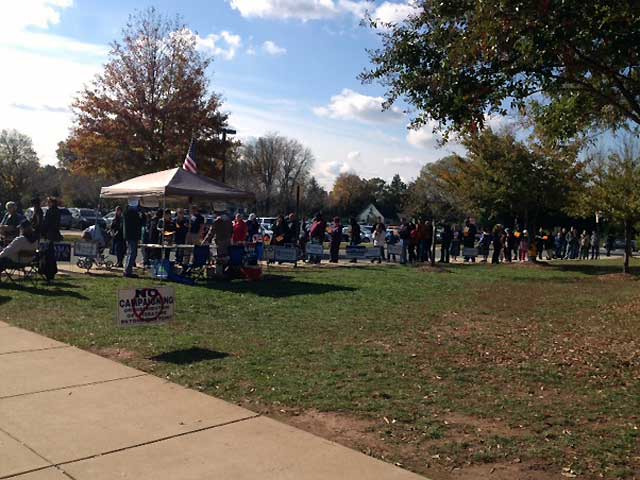 Election Day voting lines were the longest they have been in decades in
Prince William County
, Va., according to Harry Wiggins, chair of the
County's Democratic Committee
.
"I've been to 31 precincts [in Virginia] already," Wiggins said by phone at noon eastern. "People were standing in lines as long as five hours to vote this morning."
"I went to Bennett Elementary School [to vote]," said Democrat Neema Nene. "I have never seen this many people there before. There must have been at least 200 people in line."
The positive voter turnout is a good thing, said William Card, Prince William County GOP chairman. CNN recently reported that counties in northern Virginia may be the deciding factor between an Obama re-election and a Romney victory.
"There are historically long lines at every polling place," said Card. "The polling places reported high numbers — 48 percent of people have voted before noon. In some of the places, the lines ranged from 45 minutes to three hours. It's an absolutely huge turnout."
However, these long voting lines coupled with technical difficulties caused additional frustration for campaign officials.
"There are problems with the voting machines not working," Wiggins said. "One precinct has all broken machines so they switched to paper [ballots]."
Some of Democrats and Republicans we interviewed said they voted for their preferred candidate because they shared the same personal beliefs.
"[One thing I like about Obama is his stance] on women — their choices and equal pay," Nene said. "We are all human beings that should be treated the same way. Women are the glue to society and not paying them enough is not the right thing to do. Equalizing is what the Obama administration is doing; I feel very strongly about that as a woman."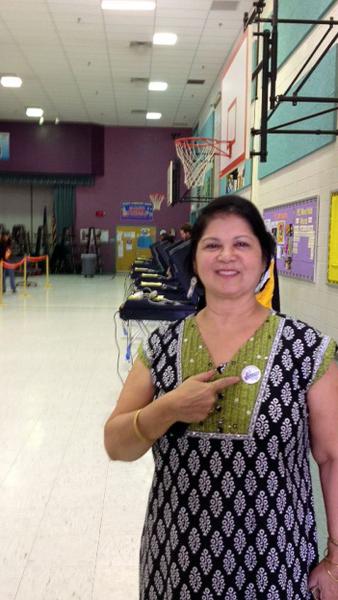 "I agree with Romney [on issues] like opposition to abortion and the United States' position against Asia," said Republican Joseph McDermott. "Romney comes from the same town as my father, and he did a good job in Massachusetts when he was governor there. I have a personal preference to him."
Other Democrats and Republicans voted the way they did because they have always voted liberally or conservatively.
"I've always been a Democrat, ever since 1950," Wiggins said. "The Republicans seem to hate people who aren't rich; if you're poor or middle class, they don't think you should exist. Democrats are for the common people; Republicans are for the aristocrats."
"I'm 59 and never voted Democrat," said Card. "What we need now is an experienced person who believes in the American system and constitutional law and who believes we can't tax our way to prosperity."
Prince William County is one of the nation's top counties in terms of highest average income and donated $141,189 in political contributions toward the 2012 elections, which was about three times as much as other counties. Most of the Democrats and Republicans we interviewed made small financial donations to the political campaigns.
"We are a wealthy county—families make on average $95,000 a year—but we aren't millionaires," said Wiggins. "We are the middle-class family County."
As far as the 2012 Election goes, every vote from swing-state counties like Prince William will be crucial. McDermott just hopes he will know who is the nation's 45th president by tomorrow morning.
"I don't want to see this [the voting] dragging on for days and weeks, which I do fear will happen based on the situation [the close race] now," McDermott said. "This kind of uncertainty is not good for the country. It happened four years ago [in the 2008 presidential election]. This time, I hope people can wake up tomorrow morning and know who is the next president. We don't want to have to wait for weeks and months to recount, as we experienced in 2007."
Reach Chhaya Nene here, Evie Liu here and Kelli Shiroma here.