Nation and World
Why Is Obama In Asia?
President Obama's first trip abroad after his re-election is focused on Asia, where the president will attempt to establish stronger relationships with countries in the region through increased diplomatic relations in education, trade and planning.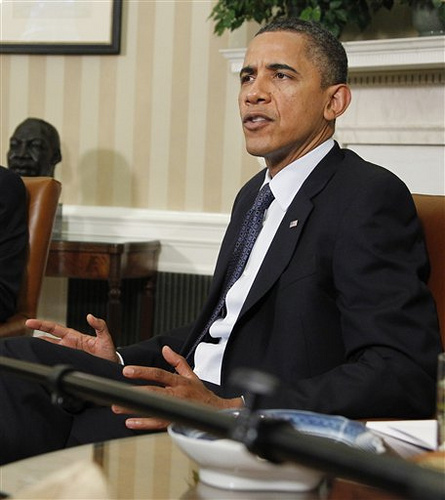 A trip to Asia is part of what Obama's administration is calling the "Asia pivot," which refers to the shift occurring towards foreign policy in East and Southeast Asia from the Middle East.
Lowell Dittmer, a professor of political science at the University of California, Berkeley, said the Asia pivot will be the emphasis of Obama's foreign policy for his second term, particularly in regards to China.
"He (Obama) hopes to promote American interests in the region," he said.
Asia is a particularly important region because it provides a large market for American goods, the opportunity to promote democracy and increase American military presence to quell worries of a strong China.
The president's four-day travel plans include stops in Thailand and Cambodia. The trip also included a historical visit to Burma, the first for any currently-serving American president to undertake, on Monday.
"The centerpiece of his trip is the visit to Burma, where he hopes to push through some reductions of sanctions through Congress," Dittmer said. "Burma is democratizing."
While some human rights activists have criticized the trip as an endorsement of the Burmese government, the Obama administration maintains that the it is attempting to establish a stronger relationship between the two countries.
"I don't think anybody is under any illusion that Burma has arrived, that they're where they need to be," Obama said in a press conference held in Thailand. "I'm not somebody who thinks the United States should stand on the sidelines and not get its hands dirty when there's an opportunity for us to encourage the better impulses inside a country."
Obama was referring to the possibility for increased relations and cooperation between the United States and Burma, which is showing signs of making progress towards increasing democracy. The country ended years of military rule with the election of Thein Sein, a reformist president, last year. Reuters reported that 518 prisoners, including some political dissidents, were released before Obama's arrival.
Burma, referred to as Myanmar by its own leaders, is strategically located south of China and could be an important player in the international relations of the region and even a potential ally.
"China is an important part of the 'Pivot to Asia'," Dittmer said. "It is implicit that international affairs in the region will relate to China."
With stronger, more solid relationships with Asian countries, the United States can help encourage the peaceful rise of new international superpowers.
In Cambodia, Obama attended the Association of Southeast Asian Nations- U.S. Leader's Meeting and the 7th East Asia Summit, where he pushed for American interests in trade and economic development in the region.
Reach staff reporter Jillian Olivas here.