USC Sports
Max Wittek Discusses His Upcoming First Career Start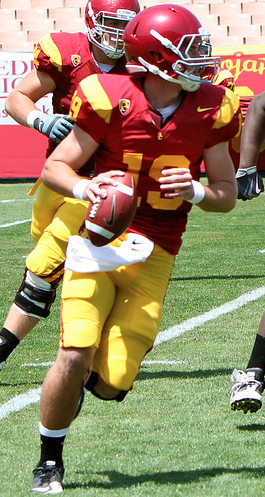 It's finally Wittek's time.
Max Wittek was named the Trojans' backup quarterback four days before the team's opener after beating out fellow redshirt freshman Cody Kessler. In garbarge time in wins over Hawaii and Colorado, Wittek went 5-6 for 55 yards and a touchdown.
But Saturday, his number was called in a critical situation when Barkley was sidelined as the result of a crushing hit. In the rain, Wittek mishandled the third-down snap and Andre Heidari would go on to miss the kick. The Trojans' fate was sealed. Wittek completed all three of his passing attempts for 40 yards. Those completions, however, came after the game was theoretically over.
On Tuesday, Wittek spoke to reporters about his upcoming challenge: He will start his first collegiate game against the No. 1 team in the country. To make matters worse, the Notre Dame Fighting Irish are especially known for their defense. Here's what Wittek had to say:
On his readiness going into the Notre Dame game:
Absolutely. I'm ready. I've been ready all season for this to happen, if it did. Obviously the circumstances aren't the greatest with such a good quarterback being hurt.
On Notre Dame's defense and how to attack it:
They're a great defense. They've got playmakers all over the field. Obviously, Manti Te'o's in Heisman contention. He's a great player. Very instinctual. And they're a great defense. One of the top defenses in the NCAA, but every defense does have its soft spots. Theirs are obviously limited in being such a great defense, but we are looking forward to taking advantage of some of those soft spots.
On whether Notre Dame's shortage of game tape on him advantages the Trojans:
I think so. Not being able to have seen me before (or) my playing style, they don't know what to expect, so I'm looking forward to having fun out there.
On his rapport with receivers Marqise Lee and Robert Woods:
It's great. I've been throwing with those guys all year; obviously not as much as Matt, but the reps are getting ramped up a little bit with them (Lee and Woods). With that speed, just put the ball in front of them and let them catch it.
On his feelings leading up to the game:
I'm so excited for this opportunity. Get out there, play in front of the Coliseum and all our fans, No. 1 team in the country, you really can't ask for a better opportunity to show what you got. I just want to get that first snap, maybe that first hit out of the way, and then I'll be ready to go.
On USC's motto switch from "Be7ieve" to "Bel13eve":
It's cool. Fun to look at, but it's not going to help us win a ball game.
On Matt Barkley's support:
Matt's been great. He's such a supportive leader, and he realized soon after that he wasn't going to be able to play for this game, so he shot me a text and he said, 'Get ready. Let's go beat the Irish.' So I take that to heart, and my teammates have expressed a lot of belief in me.
On winning despite the disappointing circumstances:
With such a great career, with such a great quarterback, with such a great legacy here at USC, it's kind of sad to see that his last home game won't be able to be played by him. Obviously that's not the ideal situation, but that is what happened, so we're going to deal with that. We're going to try to win this ball game.
For more on Wittek, go here.