USC Sports
Why Lane Kiffin Should Be Fired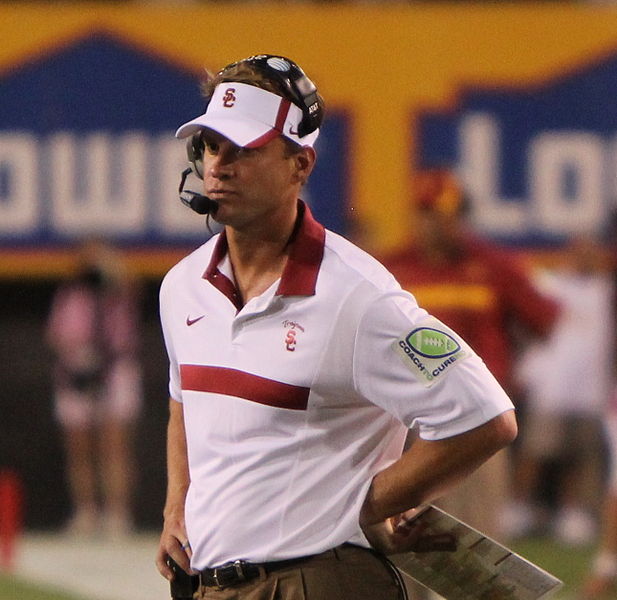 How could a season of so much promise and hype turn into the the most disappointing season in USC history?
Coming into the 2012 college football season, the USC Trojans were ranked No. 1 and were thought of the team that would end the SEC's consecutive streak of National Championships. USC had senior quarterback and Heisman favorite Matt Barkley. The Trojans also had two 1,000-yard rushers and two 1,000-yard receivers. Their offense was perceived to be unstoppable.
Yet, how embarrassing is it that there were three games this season when this juggernaut could not even muster one second-half touchdown? How embarrassing is it that Silas Redd transferred here from Penn State to have a better chance of winning, yet Penn State has one more win than USC? How embarrassing is it that the entire college football nation watched USC run eight plays and use up over three minutes inside the Notre Dame 10-yard line, and fail to come up with any points?
And yet, these three things weren't even the most gag-worthy moments to happen to USC this season. In a season full of turmoil, head coach Lane Kiffin turned the Trojans into a microcosm of himself, a group of immature and underachieving football players.
Before becoming the head coach at USC, let's see what happened to Kiffin at his previous spots. In 2007, he became the youngest head coach in NFL history when he was hired by the Oakland Raiders. He went 4-12 in his first and only full season, and he clashed with owner Al Davis. Davis wanted him gone, but Kiffin refused to resign since he didn't want to lose the rest of his money from his contract. Davis fired Kiffin the next season after only four games, and went on to call Kiffin a "flat-out liar."
After that wonderful recommendation from his previous employer, Kiffin signed a six-year contract to become the head coach at the University of Tennessee. He ruffled quite a few feathers during his short time in the SEC, including those of Urban Meyer and Nick Saban. He went 7-6 in his first year, and ended the year on a low note, losing by 23 points against Virginia Tech in the Chick-fil-A Bowl.
Kiffin then decides to leave for USC after only one season at Tennessee, and is perceived as a traitor by everyone in Knoxville. He left the team in the middle of recruiting season and with the team facing inquiries of many NCAA violations. The Volunteers haven't been able to recover since, as they just fired their head coach Derek Dooley after his lackluster stint there.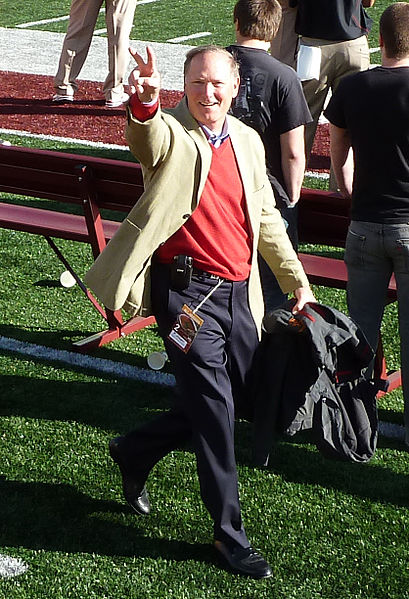 I have no idea why USC decided to hire Kiffin in the first place. Why would USC want to hire a guy with such a shaky track record to lead them out of the darkness? After a mediocre first season, Kiffin gave many USC fans hope after finishing 10-2 in his second year. Even though they couldn't play in a bowl game, the Trojans were considered the hottest team in the nation after upsetting Oregon and beating UCLA 50-0. Kiffin, for quite possibly the first time in his life, was perceived as a winner.
But boy can things change.
Losing five games is bad enough, but Kiffin routinely embarrassed himself and USC's football program throughout the season.
Preseason: Kiffin offers advice to Penn State head coach Bill O'Brien about how to deal with other teams recruiting his players, while Kiffin is recruiting Silas Redd. Additionally, Kiffin said he would not vote for his own team number one overall, even though he did in the preseason coaches' poll. He relinquished his vote after the incident.
Week 3: Kiffin loses his third straight game against Stanford. What made this loss most embarrassing is that USC lost to a quarterback that was replaced in the middle of the season. This was the first of three games in which the Trojans did not score a touchdown (in fact, they scored zero points) in the second half.
Week 4: Kiffin immediately ends a press conference when a reporter asks about a player's participation that practice.
Week 8: USC switches the jerseys of the normal extra-point holder, punter Kyle Negrete, with backup quarterback Cody Kessler. This was possibly to fool the opposing team on a two-point conversion attempt. Only problem is, Kiffin was facing the mighty Colorado Buffaloes, a team USC was favored by 40 points again.
Week 10: A USC student-manager was accused of deflating USC's footballs. Deflating the footballs makes it easier to throw and catch them, and USC had access to only those footballs. It didn't help the defense though, as they allowed a USC record 62 points in their loss to Oregon.
Week 12: One year after beating UCLA by 50, USC manages to lose against the Bruins 38-28. That loss knocks USC out of the top 25.
Week 13: Kiffin gift-wraps the game for Notre Dame by calling a timeout which took away a possible USC touchdown. Additionally, as mentioned before, his time- and game-management skills failed him late in the fourth quarter against Notre Dame. Besides deciding to run the ball three straight times against one of the best interior defenses in football, Kiffin also decides to go for it on fourth down instead of taking the field goal in a nine-point deficit.
USC currently has the third-most penalties in the nation and is tied for fifth-worst in turnovers lost, showing the team under Kiffin is often undisciplined, unprepared and just plain sloppy. He completely wasted his talent on offense by consistently calling awful plays. This led to a down season for Barkley, preseason All-American wide receiver Robert Woods, both running backs and both tight ends (Kiffin not utilizing Xavier Grimble and Randall Telfer infuriates me every game). It's clear that being the offensive play-caller is enough trouble for Kiffin, let alone being the head coach as well.
Don't even get me started on the defense. Monte Kiffin is even more deserving of getting fired than his son is. His Tampa 2 defense is ineffective against the spread, and it turned USC's defense into a joke.
USC needs a new leader on the sidelines, not one that constantly underachieves and wastes talent like Kiffin. USC needs a coach that is a disciplinarian and motivator. Look at Northwestern coach Pat Fitzgerald or Vanderbilt coach James Franklin. Those coaches get the best of their players every game, and have completely turned around those programs. USC could use one of those guys as their next coach, not a coach who's as immature as his players. Heck, USC fans may be happier with Phil Jackson as their head coach than Kiffin.
I know it's rare to fire a coach after one bad season, but can USC risk any more? With star receiver Marqise Lee almost certainly leaving after next season, 2013 could be the last chance for a while that USC has at winning the championship. Also, what was Kiffin's second biggest coaching victory at USC? A 50-0 win against a team that went 6-8 isn't all that impressive, even if it is USC's biggest rival. USC lost all four games this season against ranked opponents, which shows that USC couldn't rise to the occasion against their top competition.
Several people are arguing that Kiffin should stay because of his recruiting abilities and so that several recruits in his most recent class don't uncommit. However, don't be surprised if a few commits do so anyway because of USC's disappointing season. One player, Max Redfield, already has. Plus, any head coach of USC will do well at recruiting because of the location, tradition and academic prestige of USC.
USC can't afford another Kiffin-esque game, let alone a season. Playing in a bowl game before New Year's Day when the team had National Championship aspirations is downright pathetic. Even though athletic director Pat Haden said a few weeks ago that Kiffin will be back next season, he should reconsider after brutal losses to UCLA and Notre Dame. It's time to fire Lane Kiffin.
Reach Associate Sports Editor Max Meyer by email, or follow him on Twitter.