Sports
Lakers Search For A New Coach: Five Names In Line For The Job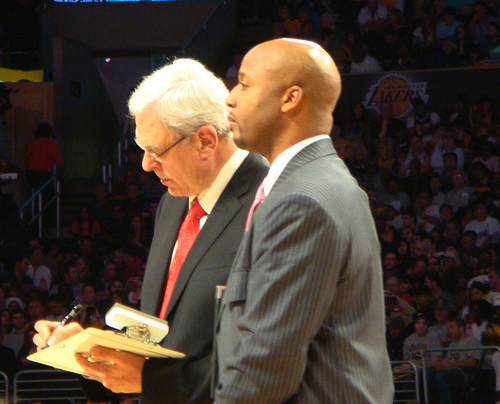 Mike Brown's tenure with the Los Angeles Lakers' All-Star quartet of Kobe Bryant, Dwight Howard, Pau Gasol and Steve Nash had about the same lifespan as a Taylor Swift relationship.
The former NBA Coach of the Year likely didn't get serenaded with, "We Are Never, Ever Getting Back Together," on his way out. But his exit was cruel and abrupt -- although expected -- after guiding the star-studded team to an uninspiring 1-4 mark, the franchise's worst start since the 1993-94 season.
SEE ALSO: Lakers Fire Mike Brown
Brown did not have much luck out of the gate with nagging injuries to Bryant (foot) and Howard (surgically repaired back), in addition to Nash going down with a left leg fracture. And to be fair, the Miami Heat did not look sharp at the start either as the team sorted through chemistry issues, but LeBron James and company made the NBA Finals in 2011 and won it all this past June.
But his hiring was an unpopular choice to begin with. It became not a matter of if, but when L.A.'s front office would push Brown aside once more viable options became available. Now that the search for a replacement is underway, here are the five suitors who could be called upon to settle down the unrest in Lakerland.
Phil Jackson
Without question, the Zen Master is the sexy pick among many Lakers fans. Jackson's 11 NBA titles -- five with the Lakers -- as a head coach command respect from players. General manager Mitch Kupchak has not ruled out the possibility of the 67-year-old making his third arrival in L.A.
"When there's a coach like Phil Jackson, one of the all-time greats, and he's not coaching, I think you would be negligent not to be aware that he's out there," Kupchak said.
In a locker room that became bloated with even more egos with the additions of Howard and Nash, Jackson's people management ability could be the perfect fit for this scenario. The infamous Kobe death stare that may have foretold the end of Brown's tenure in La-La Land won't likely rattle a coach who isn't shy when it comes to butting heads with the 34-year-old star shooting guard.
Holdovers like Bryant, Gasol and Metta World Peace are already familiar with Jackson's patented triangle offense so that should ease the transition process. With a core made up of players in their 30s (aside from Howard), the Lakers probably have about a two-year championship window with this group, so Jackson -- who's had hip and knee replacement surgeries -- won't need to make a long-term commitment to the job.
Jerry Sloan
Other than Jackson, the former Utah Jazz head coach is the only man on this list who has led a team to the NBA Finals.
Sloan famously ran the pick-and-roll offense with Hall of Famers Karl Malone and John Stockton, and would probably have two title rings around his finger if not for Jackson and somebody named Michael Jordan. Nash's role was somewhat diminished under Brown's Princeton offense, but a pick-and-role duo with him and Howard has potential.
Sloan's no-nonsense persona could help turn around a team prone to committing turnovers and defensive lapses.
SEE ALSO: Los Angeles Lakers Should Not Have Fired Mike Brown
Mike D'Antoni
Nash racked up two Most Valuable Player awards playing under D'Antoni's seven-seconds-or-less offense and will be the Laker to benefit the most if the team front office goes this route.
The question is, would D'Antoni be the perfect fit in L.A.? Unlike his Phoenix team, which had a stable of three-point shooters in Joe Johnson, Quentin Richardson and Eddie House to complement Nash, the current Lakers squad is thin with those type of specialists.
Bryant grew up a fan of D'Antoni, who played for Italian team Olimpia Milano. Consider the headlines generated from the Lakers refusing to consult with Bryant before hiring Brown, it's safe to say that having the Mamba Seal of Approval is crucial in the hiring process.
Nate McMillan
McMillan's career .514 winning percentage might not make him seem qualified to lead the most glamorous franchise in basketball. But in his defense, he's had some less-than-stellar rosters to work with.
The former Seattle Supersonics and Portland Trail Blazers coach seems to have a knack for doing a lot when having very little to work with, as was the case when he guided the Blazers to three playoff appearances, despite recurring injuries to Brandon Roy and coveted draft pick Greg Oden.
If given the keys to this Lakers team, McMillan will have his first real chance to showcase what he can do with a contender.
SEE ALSO: Lakers Firing Mike Brown Was Rash Decision, But Makes Sense
Brian Shaw
Shaw is another possible choice whom Bryant is on good terms with. The 46-year-old won three titles with Bryant as a player (2000-2002) and two more as an assistant coach (2009-2010). Bryant lobbied for the team to hire Shaw when Jackson departed in 2011 before management chose Brown.
Shaw, the current associate head coach for the Indiana Pacers, would bring to the table knowledge of Jackson's offense, which he helped run as a player and coach for 12 years with the Lakers' organization. Unlike Brown, Shaw has championship experience that would give him more credibility with the players.
Lakers supporters are an entitled, impatient bunch, so bringing back a face linked with those title runs could be enough to appease a fanbase that's already pushing the purple panic button in early November.
Read more Neon Tommy coverage of the Los Angeles Lakers here.