Los Angeles
Jackie Lacey's Supporters: Women Can Make History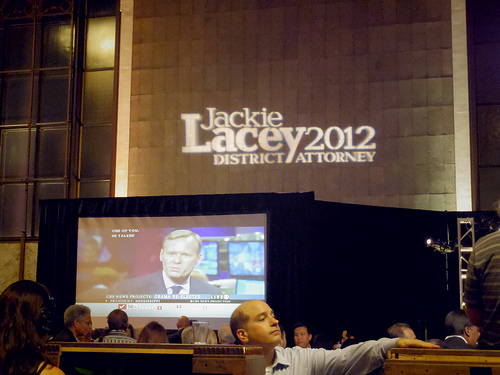 The latest update of the district attorney campaign is 55 percent goes to Jackie Lacey and 44 percent to Alan Jackson with about 15 percent of Los Angeles votes in. Hundreds of people gathered at Lacey's party at Union Station Tuesday night. Lacey's friends and family both applauded her success as the first African American woman running for the office.
Juanita Watts, Lacey's college friend at UC Irvine, said Lacey worked very hard. She gained her law degree at USC, which set the root of her success. She added that 50 percent of people in the office are women, but none of them is in the leadership. Lacey is taking the first step to run for the office has encouraged women in all colors, she said.
"Her story is heartfelt," Watts said. "Because she comes from the community."
Addie Philips, Lacey's mom, said attributed Lacey's success to USC law school. She said Lacey struggled in her career path, being a colored woman. But her daughter has been a living proof that women can be a history maker, and no one can deny strong women.
Jeremy Gole, a supporter of Lacey, said he is very impressed by Lacey's experience in her field.
"She is the right person for the position," Gole said, "regardless of gender or ethnicity."