National
Gulf Oil Rig Explosion Leaves Eleven Injured, Two Missing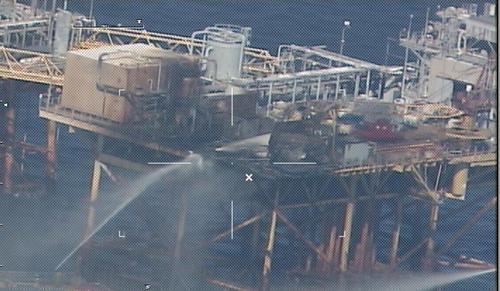 An oil rig exploded in the Gulf of Mexico during its maintenance period Friday where two people went missing after the explosion and eleven have been injured, according to
Reuters
.
Twenty-two workers were on the platform when Black Elk Energy West Delta oil platform 32 erupted in flames. Coast Guard Capt. Ed Cubanski told the Times Picayune that eleven of those were transported to four area hospitals. Nine others were evacuated from the platform uninjured, and two remain missing. Response boats and aircrafts have been dispatched to find the two missing crew members.
Grand Isle Shipyard released a statement that 14 of its employees were on the rig when it exploded to perform maintenance services:
"Our primary objective at this juncture is to provide the highest level of care to our employees that were involved in this incident," according to the Grand Isle Shipyard statement. "We are in the process of notifying family members, and thus will not release names of those injured at this time."
Early indication showed some oil had escaped from the platform, but Coast Guard officials said it was not "a major oil spill response" and that no oil was leaking from the rig.
Black Elk, the company which owns the oil rig platform, issued a statement on their website:
"We were doing general maintenance and upgrades on our water treatment facility," he said. "The early indications were that the procedure called for cold-cutting a line and putting in a valve. That line was connected to a tank that had some oil and vapor.
Officials say a sheen of oil about a half-mile long and 200 yards wide covers that ares around the platform, but the oil came from residual oil, said the Huffington Post.
The company has a safety video displayed below to explain their safety practices.
A previous report cited by Sourcefednews shows that West Delta platform 32 had released about eight gallons of crude oil in a blowout preventer on September 21st.
The fire on the rig had been put out but and the oil rig platform has been declared "structurally sound." The cause of the incident is under investigation by the Bureau of Safety and Environmental Enforcement with assistance from the Coast Guard.
News of the oil rig explosion follows the BP settlement for the Deepwater horizon oil spill. Unlike the Deepwater Horizon oil spill, the Black Elk oil rig is a production platform in shallow water and the fire was put out within a few hours.
Despite the regulations and precautions provided for oil rigs, statistics show that working affords a level of risk. The US government documented 69 offshore deaths, 1,349 injuries and 858 fires and explosions on offshores rigs in the Gulf of Mexico between 2001 and 2010.
A half-mile sheen of oil covers the Gulf of Mexico, remincent of the previous BP oil spill.