Nation and World
Governor Brown Visits South L.A. Churches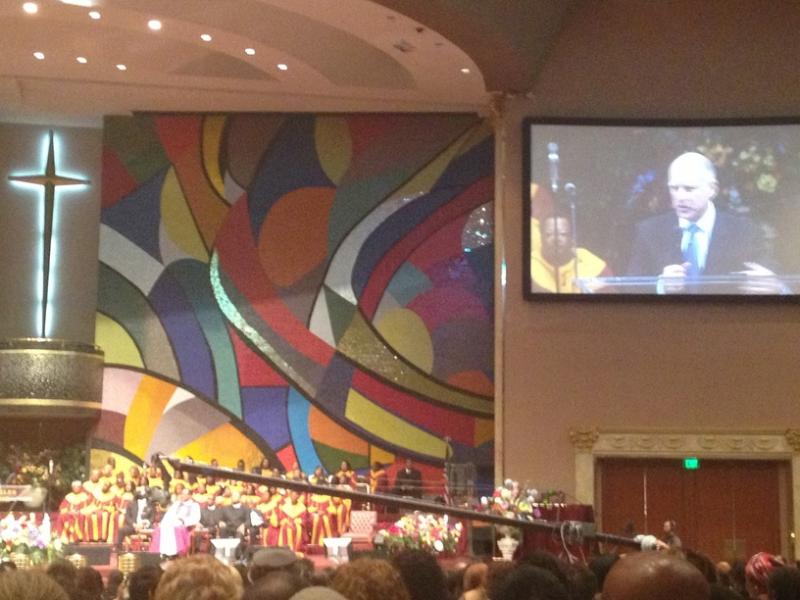 Gov Jerry Brown began his rounds around South Los Angeles' predominately African-American churches at 7:45 Sunday morning. The governor was trying to rally up some last minute support to pass Prop 30 this upcoming Tuesday.
The first church on his schedule was the West Los Angeles Church Of God In Christ in South Crenshaw where he addressed an enthusiastic early morning crowd. He thanked them for having given him their vote last time he visited (while campaigning for governor) and once more, asked for their support in passing Proposition 30.
"First we first we depend on the lord, and then we depend on our community . . .
the power of the people, the power of the many are asking on Tuesday just take a little bit."
The governor explained the proposition as two tax increases:
"The sales tax goes up one quarter of one percent. So you pay four dollars, you pay one more penny . . . not a lot. The other tax is a tax on high income: if you make 500 thousand dollars a year, you don't pay anything, but if you make 500 and one thousand, you pay one percent of that, and then if you get up to a million, you pay three percent."
Governor Brown finished off strong by summing up the measure through a quote from the Gospel of Luke Chapter 12:48.
"'To those whom much has been given, much will be required'. Let them give back a little to all the rest of the community in our time of need. That's Proposition Thirty."
Governor Brown went on to visit the Greater Zion Church in Compton followed by the Ward AME and The First AME Church.
View photos from his visits:
Reach Executive Producer Francesca Martens here. Follow her here.