International
Euro Zone Faces Second Recession In Three Years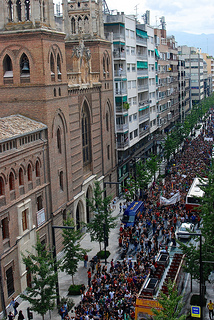 The Euro Zone has fallen into its second recession of the last three years, according to new statistics released by the European Union's statistics office Eurostat.
A recession is categorized by two consecutive quarters of diminishing economic growth, and the 0.1 percent drop in GDP of 2012's third quarter makes two for the euro zone.
Even the union's two leading economies, France and Germany, whose GDP's both grew by .2 percent, were not capable of rescuing the 17-nation group, with the floundering economies of Spain, Portugal and Italy, along with a depression in Greece, stifling collective economic growth.
So far, the effects of economic strife in Europe have already been felt, before recession was even declared.
Many southern European countries have started austerity programs to curb spending by reducing benefits and public services, which has not gone over well with their citizens. On Wednesday, coordinated protests against austerity were mounted in countries across the European Union.
Collective unemployment in the euro zone has grown to 11.6 percent, an all time high for the union. Unemployment reached 25.8 percent in Spain and 25 percent in Greece.
At Bocconi University in Milan, European Central Bank Mario Draghi urged policy makers to action in resolving the crisis. President Barack Obama was said, "Spain cannot be allowed to fail."
Not everyone had such an optimistic response, with economists at the London School of Economics telling Reuters that, "[w]e are now getting into a double dip recession which is entirely self-made. It is a result of excessive austerity in southern countries and unwillingness in the north to do anything else."
The U.S. economy has yet to feel the strain of the European recession, with its GDP growing by .5 percent, compared to .3 percent in the previous quarter.
In spite of recent U.S. growth, however, the euro zone's economic troubles do not spell good fortune for the future, as Europe is the United States' largest trading partner. The state of the European economy will have a significant impact on that of the U.S.
Reach Staff Reporter Derek Belle here. Follow Derek on Twitter.